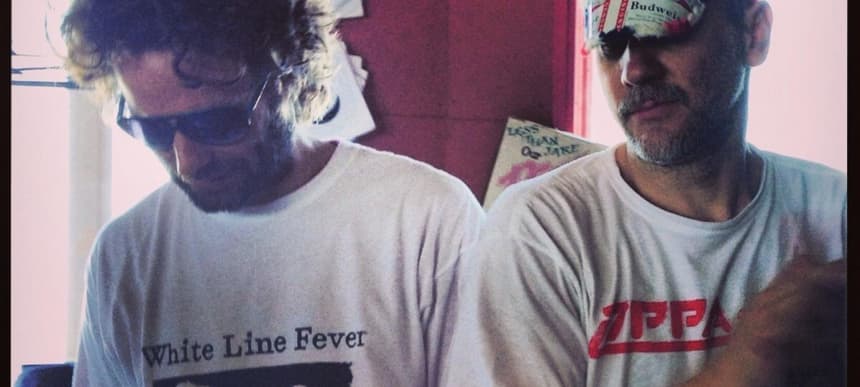 03.09.2014, Words by dummymag
Dummy Mix 224 // Rub 'N' Tug
This week's Dummy Mix comes from two of the most respected individuals in the New York house and disco underground, Thomas Bullock and Eric "Dunks" Duncan, aka Rub 'N' Tug.
A crash course for the unfamiliar: Thomas cut his teeth at the legendary Tonka Crew parties alongside DJ Harvey, before moving Stateside and starting Rub 'N' Tug with Eric "Dunks" Duncan in NYC. So the legend goes, they started their Rub 'N' Tug parties in the loft space of a 'rub-and-tug' Chinese massage parlour, tearing down its walls to make more space for the ever-growing crowds. A few influential mix CDs later and they ended up an international touring DJ team, eventually being asked to make remixes, beginning with their version of !!!'s Hello? Is This Thing On? (one of the finest things to have come out during the mid-'00s NYC dance punk boom) and moving through names as big as Roxy Music, Zero 7, and Coldplay.
Besides their reputation as DJs, Thomas and Eric are involved with various musical projects, all of which are worth tracking down: Still Going, Dr. Dunks, Welcome Stranger, Map of Africa, the Laughing Light of Plenty, and the Spirit Bear Mezcal Ensemble, as well as the releases on edits labels C.O.M.B.i. and Keep It Cheap.
They're not "DJ's DJs", but there's a reason why they get namechecked by everyone from DJ Harvey to James Murphy, and there's a reason why Erol Alkan has invited them to play at the launch party of his forthcoming Fabriclive mix. We're stoked to have a mix from Rub 'N' Tug on the site: stream it, and read their answers to the inane questions we sent them over email, below.
Hey, Rub 'N' Tug! Where was this mix recorded?
Rub 'N Tug: "Eric's flat in New York."
Are you stoked to be playing in London again?
Rub 'N' Tug: "Yes. We are excited to be adding fuel to the fire."
How do London crowds differ from the NYC lot?
Rub 'N' Tug: "Besides being far away from each other geographically, they're usually more fucked up on K. Also, the fashion is different, I think because some things you can get in New York you can't get in London, and the other way around. So there's more I Heart New York t-shirts in New York then there are in London. They should make an I Heart London t-shirt."
I hear you're splitting you're split between London and New York.
Rub 'N' Tug: "Yes, that is true; Thomas lives in London, and Eric in New York."
How do you keep up your working relationship?
Rub 'N' Tug: "We meet in night clubs around the planet. We drink, talk, and play records. All at the same time."
I once read that you were doing the final mix down of the Rub 'N' Tug debut album. This was back in 2010. Did we miss something?
Rub 'N' Tug: "Rub 'N' Tug recorded an albums worth of tunes about five years ago. The music is finished, but not the mixing. So to answer your question: no, you have not missed anything."
What else have you been working on recently?
Rub 'N' Tug: "Thomas has recently cranked up a new music output called STD Records; Thomas is also deep into the international Mezcal scene. His Spirit Bear Mezcals company is helping to spread the word. Eric is involved with a new radio, art multimedia gang called Know-Wave in NYC. Eric has also started a new crew called Happy Family with Justin Vandervolgen in New York. We're both keeping busy."
What was the last party you went to where you felt the magic was still there?
Rub 'N' Tug: "You hear this question all the time. It's personal. So hard to say something was magic for everyone just because it was magic for me. Find your inner magic. And then all will be magical."
Rub 'N' Tug play Room 1 at Fabric, London on Friday September 12th 2014 for Erol Alkan's 'Fabriclive 77' launch party (more information).