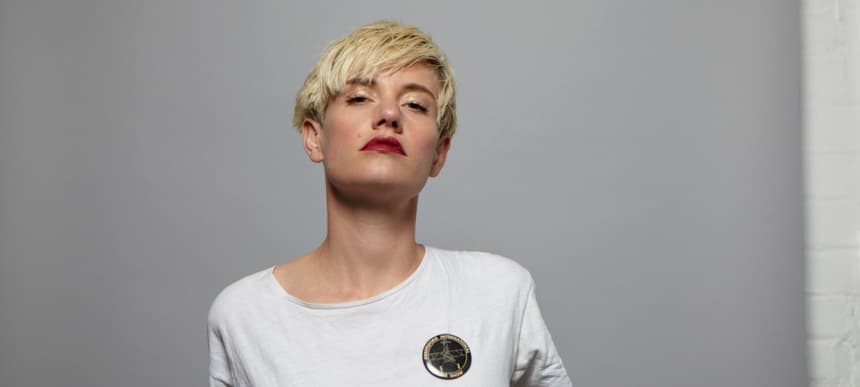 23.10.2014, Words by dummymag
Dummy Mix 228 // C.A.R.
C.A.R. is the latest project of Chloé Raunet, formerly a singer with coldwave group Battant and co-host of the Latete Atoto show on NTS Radio. Following a handful of singles for Kill The DJ, Raunet is readying 'My Friend', her first full-length statement under the alias. Bringing a pop sensibility to a mixture of post-punk, synth pop, krautrock, and psychedelic disco, it's an electro pop album that's quite self-consciously weird.
Before the album's release – and before its launch party, taking place on October 29th at The Waiting Room in London and featuring the very appealing lineup of C.A.R., Ivan Smagghe & Nathan Gregory Wilkins, and Lord Tusk – Chloé has put together our newest Dummy Mix, a selection covering weird synth pop from the '80s, minimal wave, motorik rhythms, psychedelic disco, and Yello's best song. It's a wild ride – we caught up with C.A.R. over email to talk about the mix and the album.
Hey, C.A.R.! Can you introduce yourself to Dummy's readers?
C.A.R.: "Hello, I'm C.A.R. (Choosing Acronyms Randomly), aka Chloé. I make music on the french label Kill The DJ and co-host the fortnightly Latete Atoto show on NTS Radio."
What's in store for us with this mix?
C.A.R.: "It's quite an eclectic journey. From spiders to Hungarian cowboys, love songs to backwards dreams."
I tried to find some information around this project through interviews and things, but basically everything I found was written in French – which is funny, because I gather you've lived in London for ages? Was there a reason your music often took off more in France than in the UK?
C.A.R.: "Well, I'm half-French, but I was born in Canada and have been living in Hackney since I was 16. My first band, Battant, got signed to Kill The DJ a bit by chance – we shared a studio with Andrew Weatherall, who at the time was doing a night with [label head] Ivan Smagghe. They worked really hard to develop us over there, but things are a lot trickier for a small, foreign label in this country. Plus, I've never been much of a local figure. I have a small circle of friends and keep myself to myself, ya know?"
How did you approach the making of 'My Friend' differently to your previous EPs?
C.A.R.: "This is the first time I've written and composed entirely on my own, so in that sense, everything was different. I was going through a lot of intense stuff and was able to rely on a pretty organic process for most of it. The songs kinda came out on their own. In saying that, it was a pretty sharp learning curve. Once I had everything down, I worked with an arranger named Rupert Cross, fine-tuning and padding things out. He taught me loads."
What sort of music were you finding yourself listening to the most when making the album?
C.A.R.: "My own?! Haha! I was a right old hermit back then. If it wasn't for the radio show, I totally would have been capable of loosing myself in my own world. Thankfully, I did have that fortnightly contact with the outside world, and because of it, I listened to a lot of different music. I think this mix I've done for you is a good indication. There's always a lot of strange electronic, weird pop stuff snaking through."
Besides the music, what else influenced the record?
C.A.R.: "Ermm… Intense emotion? Personal experience? As I said, I was going though some heavy stuff and needed an outlet. That's not really selling it though, is it? Haha! It's not all doom and gloom, promise! I draw a lot from the world around me. Ten Steps Up is about my neighbour, the true meaning of Angelina is disguised with hobo slang, A Ticket talks about a weekend bender… all sorts."
What's your favourite song from the album?
C.A.R.: "I think the lyrics I'm most proud of are Idle Eyes. It was one of those that just wrote itself. Musically, I love the intenseness of My Friend D, but am also proud of La Petite Fille du 3eme. It's a cover, but I think I pulled it off quite well."
Kill The DJ release 'My Friend' on October 27th 2014 (pre-order). A launch party takes place at The Waiting Room in Stoke Newington, London on October 29th 2014 (more information).