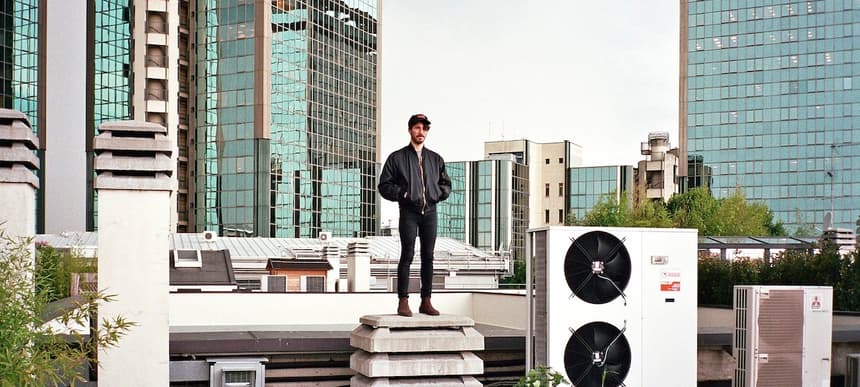 29.10.2014, Words by dummymag
Dummy Mix 229 // Lorenzo Senni
Before he makes an appearance at Club to Club in Torino, Italy, the man who coined the term 'pointilist trance' or, as he now prefers to refer to it, "Pointlist T", Lorenzo Senni, shares a rare exclusive mix for Dummy.
Senni has been making music for a few years now, also using the words "computer music" and "neo trance" to describe previous material. He's founder of the label Presto!?, who've released records by Florian Hecker, Palmistry, and DJ Stringray, amongst others. As well as this, he's involved in a number of other musical projects, including being STARGATE and part of trio One Circle. Plus, he wrote synth lines on two of the tracks from How To Dress Well's new album, 'What Is This Heart?'
A couple of months ago, he released his latest record, 'Superimpositions', which evolves his ideas, experimenting equally with fuller and more airy textures for something that feels like Senni's most advanced music to date. The mix swells in bending waves of sound that pause and reappear abruptly, creating a disjointed journey with harsh low-end mixed in next to euphoric moments.
Hi Lorenzo! Not too long ago you released 'Superimpositions' into the world, how do you feel now it's been out for a little while?
Lorenzo Senni: "Yes, it's already two months that 'Superimpostions' is out, and honestly I'm very happy about the feedback I'm getting. To me, that is not a proper 'new album', and by this I mean I'm not saying that it isn't a crucial release for me but, even if the length corresponds to an LP, I just conceived and compiled it with a different approach and focus.
"I see this record as a display of post-'Quantum Jelly' possible directions. So basically, I tried to open up this approach to a wider range of musical possibilities. This has been probably confirmed when I wrote down synths on two songs of How To Dress Well's new record 'What Is This Heart?'. It is always me, but I'm relating with other musical fields and I'm always ready for the challenge.
"'Quantum Jelly' went really well in 2012, but after that I have been always in the studio recording almost everyday. 'Superimpositions' came out as a box for these tracks. The most difficult thing has been choosing the recordings to shape and develop – which one would have the potential to became an interesting track, and then put everything together and make it sound coherent because of the release. Also, the cover art for me is very important, and as you probably know, Boomkat Editions follow a rigid serial graphic design. That's another reason why, even if I'm very happy on how it looks, I can't consider it the new record."
Your mix for Dummy is charting the journey between 'Quantum Jelly' and 'Superimpositions'. What has changed in your process in those two years?
Lorenzo Senni: "I would say that nothing is really changed – like sometimes in my tracks, seems like nothing is happening. But actually, the process of trying to force this approach, and making it to collide with other musical structures, took me to very different territory, and I'm sure my next work will be deeply influenced by the unexpected result that I got, more than to refine again the Pointillistic idea.
"You know, 'Quantum Jelly' is there, and now I'm pretty good at it, I could make another five records like this in a couple of months (maybe not true), but I think that if there was something good on that record is that is describing pretty well an idea and a mindset. 'Superimpositions' intensified and consolidated it, but explaining that now I'm looking in other directions. In a more pratical way, I got new VSTs and hardware synths, a Waldorf Microwave TX, a TB-303, working deeply on Albino III… will see. But my preset on the JP8080 and JP8000 are always ready to give me what I need, and I find it difficult to go away without a progressive detachment."
The only other mix of yours that I can find online is an hour long one for Disjecta/NTS, which featured a mixture of your self-coined pointillist trance and some more straight-forward trance. What can we expect from this one?
Lorenzo Senni: "Yes, that's the only mix I made since 'Quantum Jelly' came out, and went viral, probably in the more official trance scene, with almost 500 shares in one month that was up on the NTS website – crazy for my standards.
"Putting together a mix, for me, is a lot of work. It is a kind of study – I need to learn while I make it, or at least be surprised and discover something that can be then useful in the future (to find an idea for a new track, for example). I'm not the guy that makes one mix a week – I'm a horrible DJ (I'm rehearsing every day trying to be better, though) and can't really improvise with these kind of things, especially because I need to cut and paste every single bit, make the right loop etc., even if I like brutal shifts and mutations. If I put together a mix, the main reason is because I want to show my process of thinking, but at the same time I want to run away from that and use this chance to try out new things, be brave in some other direction, and blow some people's minds. So yes, what I really hope is that you can get what you already expect from me, but not just that… a bit more."
When you sat down to make the mix, did you have a clear intention or narrative to tell or was it a case of planning the tracklisting as you went along?
Lorenzo Senni: "I've been collecting build-ups and interesting parts of trance tracks for many years, and now I have a big archive, so I was not looking trough my iTunes library when I started to think of this mix. But I have playlists that influenced me a lot on the way I work on music, and I'm always looking there to get inspired, and it is not trance at all. That's why there is a Robert Hood track (named Method B) and a Pita track from the album 'Get Down' mixed with three trance build-ups from my collection, and then a more recent track from Head High's 'Megatrap' named Hex Pad.
"I feel lucky, because i have great friends who send me links on chat every second, and I discover many things while I'm working on my stuff. I wouldn't say that I have a tracklist in mind, but the process of putting together a mix is more like, 'OK, I want to deal with these things now, let's try to make it work in some way.' I don't even want to use Traktor or beat-matching – this is not interesting for me; I'm here trying to open a dialogue between something that is not easy to put together sometimes, and try to find solutions to musical problems. The goal is not to please the listener, 'cause this sound material already has this implicit property."
You accentuate the pointillism on some tracks more than others on 'Superimpositions', leading to a fuller, more airtight sound, whereas in previous material there has been a lot more negative space. Was it important for there to be a variation in approach?
Lorenzo Senni: "I noticed that when I was starting to work on a track, my first move was to set the envelop of the synth in the way that I could make the shortest sound possible without losing the note, the sound texture, and the other important characteristics. This is already a clear sign that I was thinking in a pointillistic way, and then I realized that I was using the delay in the way that notes overlap each other with a minimum phase shift and that was another thing in common with pointillism painting.
"I coined the term ['pointillist trance'] because it's easier to me to describe what I do actually. Lately I try to avoid the term 'trance' and use only 'Pointillistic T'; I find it less dramatic. But, yes it is true, some tracks are more dense, and that is also the result of working with multiple sound sources. 'Quantum Jelly' was just the Roland JP8000 recorded on a stereo channel, nothing more. On 'Superimpostions' I have accumulated points sometimes yes, I made them bigger for my anthems, and very close to each other as an ideal energy stream."
I like that your music is so choppy and at points harsh yet it still evokes those same feelings of nostalgia and euphoria that conventional trance does. It's unfortunate that trance can sometimes be considered cheesy or not serious, are you hoping to change people's attitudes about the genre?
Lorenzo Senni: "I think it's not that. I'm not here saying trance is cool, and I'm not even thinking it is. This could be a very long talk, but my brain is full of this shit because of my teens and I just love that. Now I put my hands on it and I probably find something interesting, that is not the genre in itself, nor the culture that gravitates around it. It is how this stuff works if I pull out the very basic structures and analyze it – I place it neatly in my desk, and I re-consider it in relation to what I want from music and my action range.
"I fight everyday about what I can and what I can't accept from the results I got. I like to see if that someone that encounters my music reacts in the same way I do, if they may feel guilty to like this kind of stuff. I work hard to be in the edge."
Since you coined pointillist trance, have you heard other people's music that adopts elements of your idea?
Lorenzo Senni: "Yes, but not in the most advanced way. I like it when the students surpasses the teacher."
Boomkat Editions released 'Superimpositions' on August 25th 2014 (buy). Lorenzo Senni plays Club to Club festival, taking place in Torino, Italy from November 5th to November 9th 2014 (more information and tickets).