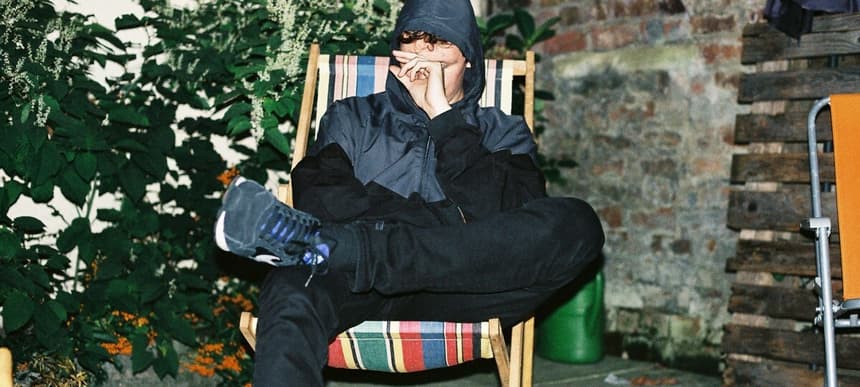 05.11.2014, Words by dummymag
Dummy Mix 230 // Acre
Acre's coarse-edged, head-nodding club music – something like techy grime, or grimy techno – has already caught the attention of DJs like Pinch and Visionist, both of whom have released records by Acre on their labels Cold Recordings and Lost Codes. With future releases lined up for Tectonic Recordings, a collaboration with Filter Dread forthcoming, and even an album planned, it seems like the Manchester-based producer is just getting started.
This Friday, Acre plays Emerald City – a clubnight averse to genre but unified by bass, run by resident DJs E.M.M.A., Etch, and Parris taking place at Powerlunches in Dalston, London. Two of the artists appearing on the night already have Dummy Mixes under their belts – Mokadem and Parris – so you can add Acre's new Dummy Mix, consisting entirely of his own productions, to that list.
Hi Acre! How's it going?
Acre: "It's going good, thanks."
You've been working in EP form for the past two years through various labels, is an album on the cards at some point or is that a format that doesn't make sense yet for you?
Acre: "I'm currently working on an album, scheduled for next year. I can't really talk about the details surrounding it right now, but it's coming along. It seems like a pretty daunting task, but I'm looking forward to seeing how it turns out. I've always been interested in the idea of doing an album, but for me it's getting the relationship between the tracks right; it can't just be a bunch of tracks thrown together. That seems like the really hard bit – creating a cohesive selection of tracks that are all different, but gel, share some common ground, and have context within the album."
There's not really a lot of information about you out there apart from your music, not even your real name, the only picture of you shows you shrouded in a cloak – what can you tell us about yourself and the music that you make?
Acre: "I don't really feel like I need to put that much information about myself out there apart from my music. It's what I want people to engage with, not my identity or what I look like or anything like that. I think everyone who uses the internet or social media creates a persona to some degree, either voluntarily or subconsciously. They pick and choose what elements they want to exhibit to achieve a desired perception of themselves. I don't think it's necessarily a bad thing – it's just the evolution from putting on your best suit on to go out on the town. Everyone wants to be seen in their best light.
"The cloaked picture you mention is an example of what I'm talking about, but I often think: 'Is it better to just have that one photo as a persona, or to create a whole personality which isn't really you?' I think it's an interesting subject, but with regards to myself, I think having a bit of anonymity can be relieving. I feel it gives me a bit of breathing space.
"As for the music, I have a similar stance, which is that I don't really bother to try and explain it too much. It's out there for people to interpret, and they can do if they want, but I'm not really interested in burdening it with my perceptions of what it's trying to achieve – it may achieve different things for different people. That, and I always find it awkward and difficult to come up with sufficient words when I'm asked about my music, so I've kind of given up."
More recently, you've been combining the instrumental grime influence with dark, more abstract techno territory – it's interesting since the former is having its time at the moment – what draws you towards those areas?
Acre: "I think the aesthetics of both genres suit what I'm exploring at the moment. A lot of grime has that unpolished aspect to it; I hate when music sounds too overly produced. I like things to sound like they have a slightly flawed, organic quality to them. It's the same with the kind of techno I'm into, I guess because I'm not gonna sit there for five hours EQing a snare. It's just a natural progression to be drawn to those genres."
You've done a mix for Dummy, can you explain the thinking that went behind making it and the track selection?
Acre: "The mix is a kind of production showcase, comprised entirely of my own music, I wanted to make something like that because I'm just getting into the idea of playing only my own music. It's weird that I don't do it that much, because I have tons of it. I guess in the past I've been too shy or self-conscious, but recently I've been getting into it. I played a gig in Prague last month where I played all my own stuff and I really enjoyed it, so I'm just continuing on from that – seeing what works, testing the water."
You're playing at Power Lunches next weekend for E.M.M.A's Emerald City night, how did you get involved and become introduced to her?
Acre: "Etch played my track City on the radio, and E.M.M.A asked what it was, so we swapped some tracks and we both really liked each other's stuff, so we just got chatting. I first met her in person when she came to play in Manchester, and it was really funny, because she turned up in heels and a fur coat with her CDs in her purse. The promoters were like, 'Erm, can we help you?', and she had to explain who she was – they seemed well surprised. I thought it was fantastic. I'm really looking forward to Emerald City though, looking forward to playing some new stuff."
The 'Symbols' EP came out a while back which was a continuation of your heavy, gritty sound, are you working on anything at the moment?
Acre: "I've got a collaboration coming out with Filter Dread called the 'Interference' EP on an offshoot of Visionist's label Lost Codes – it's called Codes, and is a sublabel of Bill Kouligas's label PAN. I've also got an EP coming out on Tectonic called the 'Icons' EP, which is out on December 1st."
Tectonic release the 'Icons' EP on December 1st 2014 (pre-order). Acre plays Emerald City with Mokadem, Herman Brahns, E.M.M.A., Parris, and Etch at Powerlunches in Dalston, London on Friday November 7th 2014 (more information and tickets).