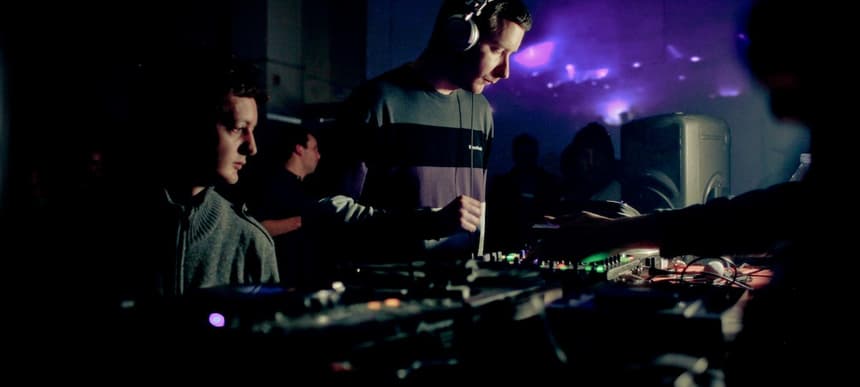 04.12.2014, Words by dummymag
Dummy Mix 234 // Dusk + Blackdown
Dusk + Blackdown have been on top of the various fluctuations and permutations within London's sound system music cultures for years now, dilligently supporting new artists and movements through their DJ sets, Rinse FM show, blog, music writing, and record label Keysound Recordings.
It's no secret that we're big fans of Keysound here at Dummy: besides stellar releases from label regulars like Sully and LV (with Joshua Idehen), recent years have seen an extraordinary wealth of talent introduced to the label's roster – EPs from Etch and Moleskin, full-lengths from Logos, E.m.m.a., and Wen, and future material set to land from Parris.
The label's new compilation 'Certified Connections' dropped last week, featuring a stack of unreleased tracks from members of both the immediate and extended Keysound family, and having been eyeing up the label heads for a mix for a while now, it gave us the perfect excuse to approach them.
Thankfully, they obliged, putting together a mix focused on label exclusives – these are all Keysound-certified bangers past, present, and yet-to-come. We hit up the duo over email to find out more about the mix.
It's nearly Christmas!!! What will Santa be putting under Dusk + Blackdown's trees?
Dusk + Blackdown: "A run of 20 unbeaten wins for Liverpool for Blackdown, the same for Dusk but for Man United, which will be difficult should they have to play each other…. unstoppable force meets the immovable object and all that."
Speaking of Christmas gifts, what's going on in this mix that you've gifted us with?
Dusk + Blackdown: "So here's the thing. Generally we don't look back much, but at Outlook for the boat party, we couldn't exactly play the same set as the Friday night, so we put together a 'Keysound Bangers' mix, where we sliced through the last 20 or so releases and picked out all the bangers. It went offfff.
"Well, this is the sister mix, the 'LowKeysound' mix, where we found a more mellow path through some of our back catalogue. Thing is, though, that we get bored going backwards and we suspect fans of the label feel the same, so we added in a bunch of unreleased stuff we're excited about and that people can hear on our Rinse show, but is more mellow than pure club focused. Devil mixes, weightlessness, emotional reverse bangers."
Keysound's new compilation is called 'Certified Connections'. Who's the most certified badman that you know?
Dusk + Blackdown: "Here's a list of badmen:
Everybody's publishing their end of year lists right now. What has been unfairly overlooked?
Dusk + Blackdown: "Videos on YouTube that don't have clickbait cover images with girls in their pants. The influence 696 form has on the road rap scene, aka where all the new generation of London voices should be emerging from."
It's generally foolish, and impossible, to accurately predict the future of music… but fuck it: what's the most exciting thing that's gonna happen in music in 2015?
Dusk + Blackdown: "Well at some point we won't even need a physical object to access the internet. And someone may find a way to digitise – in a realistic way – physical experiences, so we can have what happened to music with the MP3, happen to real world events like gigs. All borders and boundaries will be dissolved."
Dummy Mix 234 // Dusk + Blackdown tracklist:
01. Parris DJ Untitled
02. Dusk + Blackdown Epic Jam
03. Logos Metropolis
04. Logos No Skyline (Beatless)
05. Dusk + Blackdown Wot Do You Mean?! (Movin' Parro Mix)
06. Logos SN_571
07. Logos Fairlight Clouds
08. Amen Ra Gateway
09. Atlas Solitude
10. Mumdance & Mao Truth
11. Dusk + Blackdown Lonely Moon (Android Heartbreak) (feat. Farrah)
12. Moleskin Slow Dancing With Ms Haversham To Moments In Love In Satis House
13. Amen Ra Yielding
14. E.m.m.a. Jahovia (feat. Rebel MC)
15. Amen Ra Triumph
16. Facta Quince
17. Luke Benjamin Asha
18. LV & Joshua Idehen Angry Hiss
19. LV & Joshua Idehen That Old Darkness
20. Epoch Aerospace
21. Luke Benjamin Fate
22. Wen ft Riko Play Your Corner (Kahn remix)
23. Luke Benjamin & Strict Face Will You Remember
24. LV & Joshua Idehen Island
Keysound Recordings released 'Keysound Recordings presents… Certified Connections' on November 24th 2014 (buy).