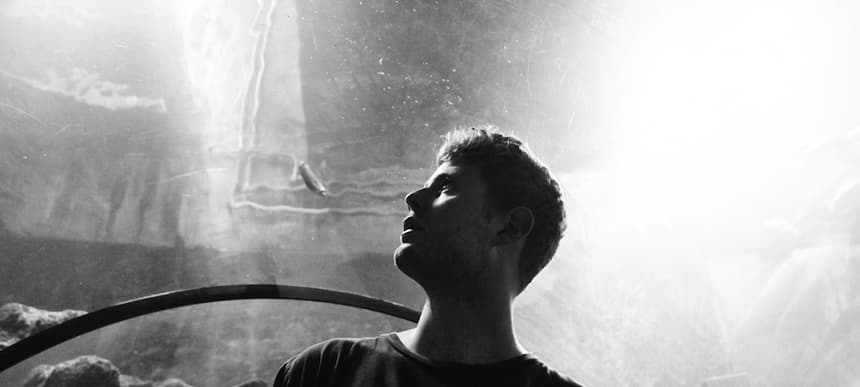 08.12.2014, Words by dummymag
Dummy Mix 235 // Toby Gale
Toby Gale is from London, he makes songs, he's causing a stir in the abyssal deep-sea environment of the online underground. Virtually unknown to us until he appeared on Kero Kero Bonito's very amiable 'Bonito Recycling', where he delivered a glitteringly late-nite "Pixel Pounce" remix of Pocket Crocodile, he has since made some dynamic strides past our peripheries to right in front of our noses.
Mainly this is due to the release of his 'The Good Of The Night' EP he released on Slugabed's online fortress, Activia Benz. True to its name, this is a nocturnally-driven quintuplet of tracks that summon the glitz and calm of night time. The influence from video games is evident not just in the all-encompassing, head-chilling sounds, but also with titles like 3 Up and World 8. Add to this a hyperactive, VGM-flavoured remix from wunderkind of synth, Maxo, and you have a floating bastion proudly flying the flag of geekery in the online music world.
His Dummy Mix is a delight of upbeat vessels of smooth funk, like Kashif's MIDI-pioneering Baby Don't Break Your Baby's Heart and So Fine by Howard Johnson, among other groovesome numbers, whilst also incorporating the frenetic synth of Lindsay Lowend's remix of Money by Lido and Maxo's jostling Honeybell. It's as fresh and polished as it is warm and vintage-feeling, a welcoming sound indeed.
Toby is playing the Activita Benz Christmas party at London venue Birthdays on December 12th alongside Slugabed, Sega Bodega, Tielsie, and The Range. We communicated via email to say hi to Toby and ask him some questions.
Hello Toby Gale, how's it going?
Toby Gale: "Very good thanks Dummy. Home Alone 2 just put me in festive man mode. You okay?"
We really liked your Activia Benz-released 'The Good Of The Night' EP. How has it been creating that and then watching it go off into the wild?
Toby Gale: "Yeah, it's been ace. I took quite a big chunk of time out this year to write it – I left London and hibernated a bit. I think it's slightly different direction for Activia Benz, but I actually feel it sits comfortably in their catalogue. The response has been really positive."
Slugabed described the EP as Link from Zelda riding a chocobo in the Golden Saucer area from FFVII. Would you say that's an apt treatment of the vibe you were going for?
Toby Gale: "There's been quite a few comparisons drawn from that side of things. It wasn't a conscious decision, although Slugabed did actually buy me FFVII for my 11th birthday. I was listening to this one a lot actually (the description takes me back)."
I've read that you started making music on PlayStation. Was that with Music 2000?
Toby Gale: "Yes sir! So fun. Thinking about it, the basic concept of that sequencer hasn't changed a huge amount. The multiplayer jam mode was real good too. I wish I still had the memory card with our stupid music on."
Do you think videogames have made experimental music more accessible for a mass audience?
Toby Gale: "Yeah, although I think music is experienced in a different way if you're playing a game. I love the way the internet is helping pair super insular or personal, intricate productions with underground club culture in London and all over the world at the moment. Video games certainly add to that too."
'The Good Of The Night' feels at least partly videogame-inspired. Would you say that these played a big part in your musical development?
Toby Gale: "Maybe a bit, yeah. I learned jazz drums when I was growing up, and I used to love sifting through my parent's old records. It's hard to pin point exactly where the inspiration behind a track comes from – supposedly a weird combo of all of these moments.
You studied Music Production at Kingston University, right? Since a lot of producers seem (at least) to be self-taught, how would you say this has helped you? For a budding producer, is it a good choice?
Toby Gale: "University is an expensive party. Obviously you learn about collaboration and production techniques, which is definitely valuable, but seeing the success that can come from bedroom producers using Youtube and basic software makes it that much harder to justify. I think you get a lot more than that though, so do it if you can."
And if you talk us through your very smooth and very MIDI mix, that'd be lovely!
Toby Gale: "Okay, well, this is probably 75% quick-fire digital disco feat. various edits and unfinished projects from me and friends, 25% stupid. Ableton is amazing for this type of harmony mixing because you can step edit pitch real easy and have a good time with no skills – like badminton, or Movember."
Dummy Mix 235 // Toby Gale tracklist:
01. David Joseph You Can't Hide
02. Kashif I've Been Missing You
03. George Benson Love x Love
04. Oliver Cheatam & Jocelyn Brown Get Down Saturday Night
05. Ja Rule Livin It Up
06. Stevie Wonder Do I Do
07. Howard Johnson So Fine
08. Charles Jackson Lovin Me (Kon edit)
09. Light Of The World I'm So Happy
10. Lindsay Lowend GT40 (ABSRDST remix)
11. Maxo Honeybell
12. Kashif Baby Don't Break Your Baby's Heart
13. Cherrelle Dub On You (Todd Terje edit)
14. Cherrelle Dub On You (??? edit)
15. Luke Vibert & Jean-Jacques Perrey You Moog Me
16. Logg I Know You Will (JM After-Session M&M Mix)
17. Barbara Pennington Raise The Curtain
18. Paul Hardcastle Rainforest (??? remix)
19. Grand Master Flash The Message (??? remix)
20. Aged In Harmony You're A Melody (Extended Disco)
21. Toby Gale Showdown (Opal Block remix)
22. Lido Money (Linday Lowend remix)
24. ??? ???
25. Toby Gale 3 Up (Maxo remix)
26. Dexter Wansel Life On Mars
27. Marcos Valle Girassol
28. Sugar Hill Gang Lover In You
29. ??? ???
30. Beathops Hot Heavy Heat (Dimlite's 'Hot Air and Thick Plastic' remix)
31. Dimlite Poppy So Good (Short Version)
32. Toby Gale World 8
33. Miguel Atwood Ferguson When We Were Friends (For A Race Of Angels)
Activia Benz released the 'The Good Of The Night' EP on November 10th 2014 (download). Toby Gale plays Activia Benz's Christmas party at Birthdays in Dalston, London alongside Slugabed, The Range, Tielsie, and Sega Bodega on December 12th 2014 (more information and tickets).