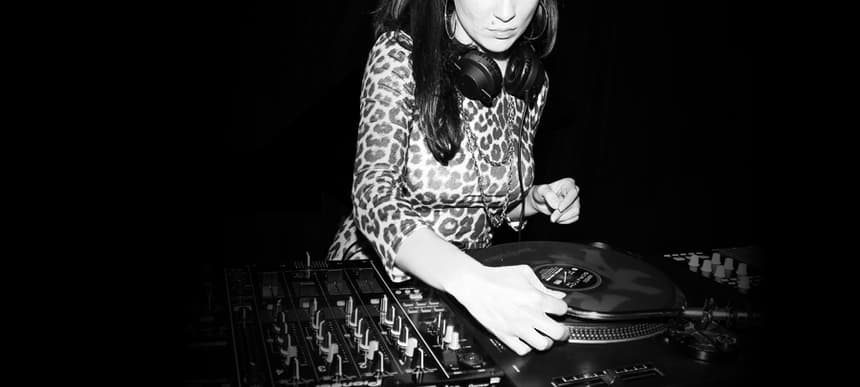 15.12.2014, Words by dummymag
Dummy Mix 237 // Nightwave
Nightwave is the latest name to take the reins of our Dummy Mix.
We've been a big fan of Slovenian-born Maya Medvesek since hearing her 'The Feel' EP back in 2011. With a production style that draws on rave, grime, rap, and notably juke and ghettotech (she collaborated with the great DJ Deeon on Hit It earlier this year), Nightwave's no-nonsense club rattlers have caught the ears of labels like Unknown to the Unknown and Svetlana Industries, and DJs from Salva to Armand Van Helden to the LuckyMe crew.
Her new EP, 'Nightlife', is out via her own Heka Trax label, and sees Medvesek continue to open her world out to a range of collaborators: Ashnikko and TT the Artist feature on two of its tracks. Stylistically, 'Nightlife' is one of her most diverse releases so far – its title track sees her return to a techno tempo without sacrificing the usual swing and groove of her drum patterns.
Nightwave's Dummy Mix also favours techno, with tracks from Jon Convex, Randomer, Total Fitness (a New York-based DJ, so probably not named after the gym chain sadly), and Juan Atkins all featured alongside her own productions. We caught up with Nightwave over email to find out more about the mix.
Hey Maya! What are you up to at the moment, have you been working on any new music lately you can talk about?
Nightwave: "My latest EP 'Nightlife' came out recently, and that's been taking a little while to finish, so I'm not really sure what my next release will be – but I've been making quite a bit of ambient music recently, as well as writing vocal stuff. I worked with two rappers, Ashnikko and TT the Artist, on 'Nightlife', and that was really fun, so I'm planning more collaborations for next year."
You're a pro at mixing, what can we expect from the one that you've crafted for Dummy?
Nightwave: "I went a bit more techno with the Dummy Mix. Didn't really put in any juke or rap that I often play. I've included mostly new stuff, with the odd classic Detroit tune and a couple of my own tracks."
Is there a certain mindset or setting that you want people to listen to the mix in?
Nightwave: "Might be a good one for an afterparty or a car ride to/from from the club!"
Heka Trax has been running for a year now, what have you learned so far about being a record label boss?
Nightwave: "I really enjoy being my own boss when it comes to releases, but it's definitely not that easy, especially putting out vinyl (we've only done one so far, maybe that's why, haha). The creative process is the most fun – selecting the music, the artwork, the concept… The most important thing (apart from the music of course) is the promo campaign around a release. That really takes a lot of love and care as the market is so ridiculously saturated. I look forward to 2015 – we're releasing some really exciting stuff from relative newcomers, and that gives me a lot of joy."
On your original material, you mix a lot of Eastern sounds – are you pulling samples from other records or do you create them?
Nightwave: "Would love to say I lived in a yurt in Mongolia just recording stuff, but that's not the case at all. It's all just sample packs, sadly."
Dummy Mix 237 // Nightwave tracklist:
01. Holly Herndon Chorus
02. Jon Convex New Scum
03. Randomer Freak Dub
04. Total Fitness Halls of Eden
05. Ikonika Wake Up Sequence
06. Bleaker Bang That
07. Capracara Digital Dungeon (Remix)
08. Inkke Load Mission
09. eDancer Heavenly (Juan Atkins remix)
10. Taskforce CDJ2000
11. Nightwave Nightlife
12. Sudanim Midrift
13. Nobel My Reaction
14. Nightwave Go Hard
15. Nightwave Hit It (VIP) (feat. DJ Deeon)
16. DJ Funk Run UK
17. Joey Beltram Fuzz
18. Blastto Windows
19. E-ternity Gamelon
20. Melé The Ritzy
21. Helix x DJ Delish Linn Engineer (Fraxinus edit)
22. Kenny Larkin Without Sound
Heka Trax released the 'Nightlife' EP on December 1st 2014 (buy).