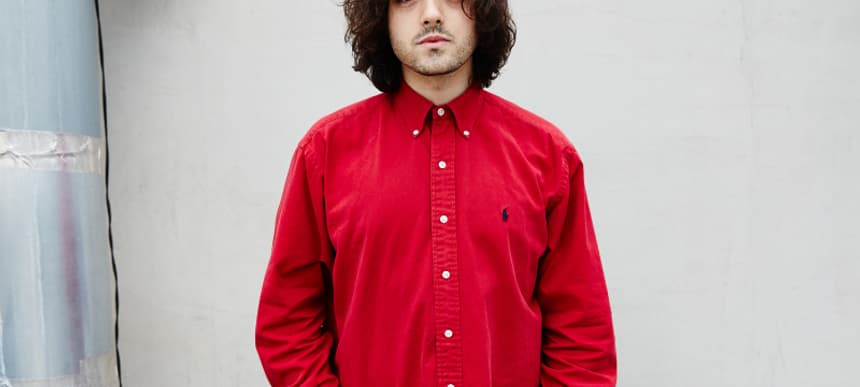 21.01.2015, Words by dummymag
Dummy Mix 241 // Limited
Limited is a project of Alex Craig, a member of Ducktails and Big Troubles.
Although primarily a guitarist, Craig has been making electronic music on the side for a few years now: his debut 7" landed via New Images (the label led by Real Estate/Ducktails' Matt Mondanile) in 2012, while its follow-up came out last year on Japan's eternally on-point Big Love Records.
His newest EP is self-released: 'Empire Parasite MP3s' sees Craig tackle weird, frazzled synth pop, drawing on his love of hi-def MIDI pop music from the 1980s and mixing it with the weirder tendencies of today's experimental artists.
Craig's Dummy Mix is a short thing, made up of all original material (excluding one song, a cover of Toto's Africa from YouTube). It's full of incomplete or scrapped songs, and it's all unreleased. Whereas the songs on 'Empire Parasite MP3s' do vaguely resemble conventional structures, this mix is 100 times more abstract.
We caught up with Limited over email to see what the bloody hell was going on in his world.
Hey, Alex! How's the view from where you're sitting?
Limited: "The view is pretty dank – I'm enjoying complimentary wi-fi on a JetBlue flight from Los Angeles back to NY.
"My seat got moved next to this super rude girl who complained to the crew about the injustice of her no longer having the entire row to herself, so then I got moved again to the seats with the extra leg room. So I'm kinda stoked."
I know you're a fiend for things like AOR, adult contemporary, etc. How do these 'soft' styles gel with your inclination toward more experimental sounds, abrasive textures, and skewed synths?
Limited: "I do have a deep fetish for adult contemporary music from the late '80s and early '90s. I've spent disgusting amounts of time browsing Discogs and AllMusic credits looking for lost AOR treasures.
"That said, I'm not interested in making music that's just recreating the past, or is just a throwback to some retro genre. The idea of the Limited project from the beginning was to merge those clean pop sounds with harsher, noisier ones, in the hopes that the contrast would lead to a sound that's more interesting and than just the one or the other, and that hasn't totally been done a million times before."
As a guitarist, how did you first find yourself making electronic music in the first place?
Limited: "I've always liked songs and and songwriting first and foremost, more so than specifically guitar-driven music. I definitely come from a 'rock' background though for sure, but somewhere along the way my interest in great songwriters led me to a batch of '80's 'sophisti-pop' groups like Prefab Sprout and Scritti Politti that heavily employed (early) MIDI programming (which I got obsessed with). That was the turning point where I went out and bought an MPC, borrowed my friend's Roland D-50, and (mostly) stopped writing music on guitar. That was about four years ago.
"I ended up getting into some more 'proper' electronic music later on – I like some new producers from the Fade to Mind/Night Slugs crew, for example. These days, though, I'm getting way more interested in writing guitar music again."
What's this mix all about then?
Limited: "This mix started out as an Ableton session I had going where I would dump my 'failed experiments'. If I was working on a track but didn't really feel like it was working or going anywhere, I would stop, bounce it out, and drop it into this 'failure mixtape' of sorts. At some point I went back into that session and started messing with those little clips and song ideas, chopping and screwing them, or quickly throwing demented stuff on them without thinking too much about it… Just having fun. I ended up really liking that process and the results, and it's some of the weirdest music I've ever made. So this mix is comprised of about 90% original material, plus a few other odds and ends thrown in (like a Belinda Carlisle re-work, and a Toto cover)."
Can you predict the future? What do you see happening throughout 2015 – personally, musically, or otherwise?
Limited: "It's funny you mentioned the adult contemporary thing, because I definitely see my music moving a little more in that direction in 2015. I've been moving away from the more beat-heavy stuff and more into some kind of sensitive singer-songwriter piano man territory. Which is not to say that the contrast of smooth/soft sounds with more skewed elements won't still be present – but I'm definitely embracing the Bruce Hornsby inside me."
Limited self-released the 'Empire Parasite MP3s' EP on January 20th 2015 (download).