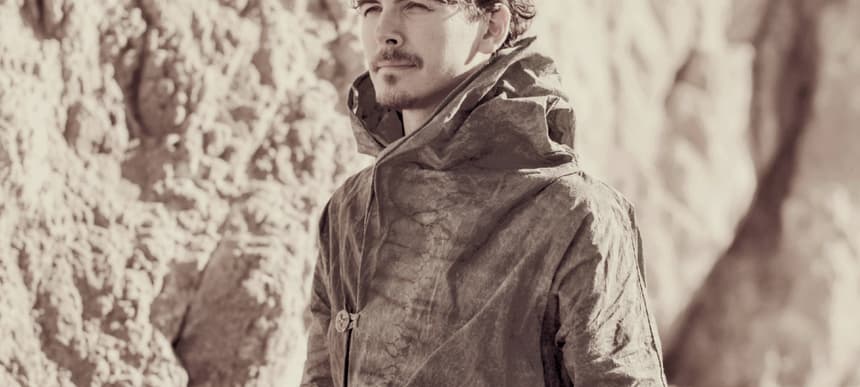 12.03.2015, Words by dummymag
Dummy Mix 248 // Eskmo
Over a 15+ year career that has seen him release music across a multitude of labels (including experimental institutions Ninja Tune, Planet Mu, and Warp), Los Angeles-based composer and producer Brendan Angelides aka Eskmo has turned his hand to leftfield beatmaking, glitchy electronica, and emotive dubstep.
His latest album, 'SOL', sees Angelides explore an expansive but warm style of ambient, neoclassical, and even vocal pop music inspired by the movements of the Sun, the Moon, and the Earth. Released via R&S sublabel Apollo Records, 'SOL's cosmic nature was equally informed by some of Angelides's more worldly experiences: journeys to Redwood forests in California, to Yosemite, to Joshua Tree, to Native American ceremonies, to Egypt, and to a medicinal retreat in Costa Rica. He was also pushed creatively through his work composing orchestral pieces with LA's Echo Society.
Eskmo's Dummy Mix is a companion piece to 'SOL', themed around space and filled with awe-inspiring ambient music. We caught up with him over email to find out a little more about what he's put together.
'SOL' is technically only your second 'official' album as Eskmo – but you've been releasing music for God knows how long, and making it for God knows how much longer. How do you approach making an album differently? How do you deal with the pressure or expectation that you get with it?
Eskmo: "I approach the album through concept, but only in a very minimal sense. For example, 'SOL' started off as a goal to write a whole album that sounded like the sun. Life happened and adjusted the narrative in directions I couldn't see. This is also the beauty of it. With the EPs and singles, things can be a bit more random, but with the album it's important to me to have a cohesive (even if fluctuating) vibe.
"In terms of the pressure or expectation, I don't really think about that as much until after the fact. Any of that pressure during the writing and creating phase can be used as fuel and an opportunity to write as best as you can in the moment."
What is the general idea behind this Dummy Mix?
Eskmo: "The Dummy Mix is my take on a 'space' themed mix. Interplanetary travel covering a wide range of exploration. It's something that has always intrigued me since watching E.T. and Dune as a little one."
The album's conceptual focus is very much geared towards the elements. How did you end up getting back in touch with nature?
Eskmo: "Being in touch with nature is a huge part of my life and just as important to me as anything. In the past two years I have hiked and swam countless times in LA, ridden horses across the desert in Egypt, slept in the jungles of Costa Rica, spent time in the desert, in national parks and redwood tree groves, mountain biked, done wood working, visited Native American reservations, and a lot more."
Can you talk about what happened at the "handful of Native American ceremonies" you attended that are mentioned in the press materials for the album?
Eskmo: "I've had the honour of visiting a Lakota Sun Dance near the black hills of South Dakota. Its a beautiful four-day long ceremony filled with prayer, dancing, sweat lodges, and piercing. I honestly went just as a white person wanting to support a friend who was dancing and fasting.
"I have also sat in a handful of Native American teepee ceremonies over the past few years that focus on singing, prayer, family and connecting back to the Earth in a good way."
The record adds elements of your work composing for live performance with Echo Society. Has this experience changed the way you're approaching your own live shows?
Eskmo: "Yes, absolutely. I recorded a small string ensemble for 'SOL'. The album for Ninja Tune back in 2010 changed the way I performed live. It grew into me singing live, playing live percussion, and looping found objects into the stage performance. With this new album, I see incorporating orchestral and symphonic mindsets to parts of the show."
Do you ever feel insignificant in this overwhelming universe?
Eskmo: "Absolutely. We are all completely insignificant. And at the same time, tremendously significant. Embrace it all."
Dummy Mix 248 // Eskmo tracklist:
01. NASA Voyager 1 Three "Tsunami Waves" in Interstellar Space
02. Eskmo SpVce
03. Lorn Sega Sunset
04. Jon Hopkins Abandon Window
05. Hundred Waters No Sound
06. Gas Pop 01
07. Eluvium Covered In Writing
08. Julianna Barwick Vow
09. Oneohtrix Point Never Meet Your Creator
10. Panda Bear Lonely Wanderer
11. Acid Beth We Landed
12. Arca Wound
13. Clark There is Distance in You
14. Riceboy Sleeps Howl
15. Tim Hecker Live Room Out
16. Deru Three Cheers For Existence
17. Sun Ra & John Cage Side B
18. Christian Loffler Alpine Sketch
19. Thom Yorke Pink Section
20. Aphex Twin piano un10 it happened
21. NASA Voyager 1 Three "Tsunami Waves" in Interstellar Space
Apollo Records released 'SOL' on March 2nd 2015 (buy).