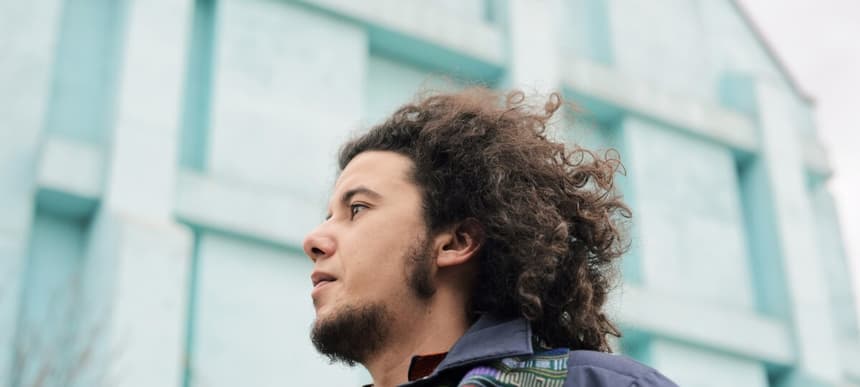 18.03.2015, Words by dummymag
Dummy Mix 249 // Mo Kolours
Since his first EP landed in 2011, Mo Kolours has been steadily releasing new volumes of his rhythmically guided, hazy beats. They've mostly found a home on Alex Chase's One-Handed Music, including his self-titled, debut album which was released last summer: a densely packed 30 minutes which navigated 18 short-but-sweet tracks while managing to never feel cluttered.
The one exception is last year's split EP, shared with musical collaborator and sibling Reginald Omas Mamode IV, released on the 22a label with which Mo shares a close affinity. We profiled the 22a crew last year and discovered the dusty influences shared by those two and their likeminded beatmakers Al Dobson Jr, Jean Bassa, Tenderlonious, and Henry Wu.
This mix is in part a nod to those same influences, with observations from the likes of Bob Marley and Gil Scott-Heron punctuating track breaks. Aside from that, it's "mostly home brewed loops", as Mo says, although if you listen carefully there's one or two cuts from his excellent new EP, 'How I (Rhythm Love Affair)'.
A lot of the vocals that weave in and out of this mix seem to talk about music itself. Would you say that you're interested drawing on those figures, like Gil Scott-Heron, to talk about what music's about?
Mo Kolours: "Yeah, for sure. I'm really interested in the people who inspire me, and the things they say. To hear the greats talking about anything is interesting to me."
You received a lot of positive response to your debut album last year, and your style of making music seems like it's well-suited to that format. Is working on another long player something that you're aiming for in the near future?
Mo Kolours: "I tend not to think of making long play/short play, just a set of bits and pieces that feel good together. Squeeze as much as I can on to a piece of vinyl without it sounding bad. Got a stack of stuff, so gonna be squeezing that vinyl real soon."
The opener on your new EP, How I, has that really nice female vocal which seems to add something which is a bit poppier than a lot of your previous productions. Is that something that was intentional?
Mo Kolours: "No. Just a hook that got me hooked. I found that loop and just rolled with, and the track was the end product."
You've continued doing some regular live sets recently. Has recreating your music live changed the way you approach recording it in any way?
Mo Kolours: "When I was first considering doing a live thing, I wanted to loop live. I looked for a looper I could use with my hands (rather than feet and pedals), and found one that was also a four-track looper. Messing around with that, in prep for the Iive stuff, was fun, so I started making beats with it. Now I use the four-track looper for every beat I make – switched up my whole method."
In the interview we did for the 22a feature last year, you mentioned your big collection of drums and percussion. Have there been any interesting additions to it recently?
Mo Kolours: "It's only a small collection – it's not like a drum shop or anything. It does keep growing though. Last week I found a Caxixi and an Ocarina in a charity shop and got them both for under three quid!"
One Handed Music released the 'How I (Rhythm Love Affair)' EP on March 8th 2015 (buy).