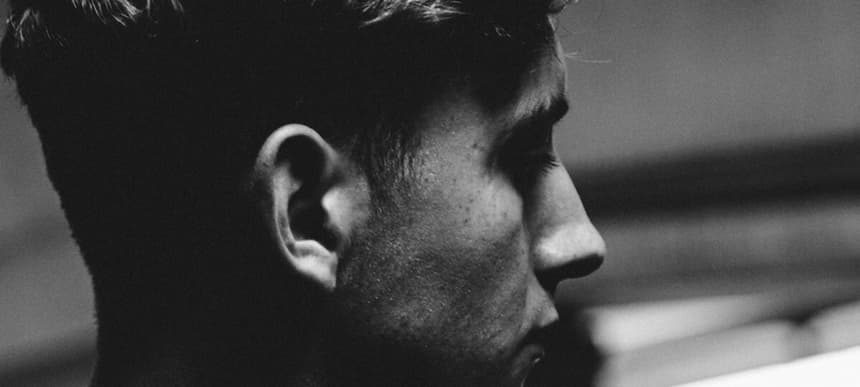 14.05.2015, Words by dummymag
Dummy Mix 257 // Oceaán
Oceaán flitted into view on a summer day in 2013 with Neéd U, a light, open, and joyful piece of heart-on-sleeve bedroom pop. Neéd U didn't break any major new ground – it was quite close in spirit to your usual James Blake, Jai Paul, How To Dress Well, and Sampha-style artists – but it did mark Oceaán out as an artist with talent and potential. Since then, he's been realising that potential, growing to embrace a more playful, experimental, and ultimately more distinctive approach to production to complement his songwriting and falsetto singing, releasing the 'Grip' EP with Chess Club and collaborating with artists like the XL Recordings-singed Låpsley.
Proof of that development comes in Oceaán's new Dummy Mix, which sees him mix up a lot of leftfield electronic music ranging from the pioneering work of Kraftwerk to Oni Ayhun's transcendant techno excursions to the hypno-industrial music of L.I.E.S.-associated producer Jahiliyya Fields.
You'll be able to catch Oceaán at The Great Escape in Brighton on Saturday (May 16th), while his next major show is a headline set at London's The Courtyard Theatre on June 11th that will see him debut a new live A/V show.
We caught up with the Manchester musician – whose real name is actually Oliver Cean (no, we didn't believe it at first – something compounded by the fact that Cean initially appeared as an anonyous artist) – over email to see what's going on in his world.
Hello Oliver. How are you today?
Oceaán: "I'm very well, thank you. It's raining outside, but I'm staying positive for some sun at The Great Escape this weekend."
I remember back when you emailed Dummy with your first song you were anonymous (anonymous-ish, anyway – sorry, we just didn't believe that could be your real name!). Why did you decide to keep it mysterious at first?
Oceaán: "It was one of those things where I just didn't feel a name was important. Yes, you need an alias / moniker / pseudonym to upload tracks online, but I didn't feel a name was a defining factor in creating an authentic musical identity. Those were my thoughts at first, and to be honest they haven't really changed. Though, the plus side of using a name like Oceaán, I think, is that it adds a lot to the aesthetic of the sound."
At first you were getting a lot of comparisons to your James Blakes and your Samphas, but it's fair to say you've moved beyond easy comparisons now. Do you personally feel like you've defined your sound yet, or is it still a constant sense of discovery?
Oceaán: "When exploring something like anonymity, when a project started as an online entity, I think it's very easy to be pigeon-holed. When a track like Neéd U was released, I think publications felt as if they had to draw comparisons; I do accept this as natural, though. When most people listen to something new, they have to go through this process of comparison – it ultimately aids their judgement as to whether they enjoy it or not.
"That aside(!), I do think that the second EP displayed a progression from the first. I also think that our sound isn't fully defined yet – there's a lot more ground to explore, many more artists to work / collaborate with, and many more shows to play. We're excited to see where things organically move."
How have your live shows been going?
Oceaán: "They've been going great. It's extremely satisfying to hear music you've always imagined in a studio setting translated to the live stage – Maida Vale was the peak of that, where we managed to get some very talented string players involved. It's also been interesting playing in such varied venues – whether it's in a club or a concert hall, new nuances of sound always manage to show up."
What's going on in this mix?
Oceaán: "It begins in ambient territory – the second being a great Peur Bleue release from a few years ago. Gradually it becomes more melodic, to more rhythmic, to straight-up trippy. I'm a huge fan of the Lobster Theremin releases, so was sure to put some Rawaat and Privacy in there, plus two back-to-back cuts from Enemy Records. There's a mesmerising Suicide cover in there too, by a talented artist called Adam Ralph (now releasing under the name Crownii)."
What else has been floating your boat recently?
Oceaán: "A fair amount of mixes really: Daniel Avery's recent Electronic Explorations was pretty. Beatrice Dillon's mix for Truants is also pretty inspiring."
How did you celebrate finishing your degree?
Oceaán: "How did you know that?! I feel like I've been Nardwuar'd. We actually went to Dublin to play a show – it was an amazing night. Thanks for asking!"
Tracklist:
01. God Destroyer Kererū
02. Gohan Le Tigre Qui Pleure
03. Muslimgauze Sikh Out
04. Kraftwerk Tour de France
05. Oni Ayhun Untitled
06. Birth Of Frequency In Their Steps
07. Moteka Lost Drum Tape 1
08. Rawaat Day Laborer
09. Fade To Black Insistent Rhythm
10. Privacy New Wake Trace
11. Wesley Matsell Corridors of Xalaxi
12. Flug Monotone
13. Nikola Gala Exhale
14. Stenny Trilith
15. Adam Ralph Frankie Teardrop (Suicide cover)
16. Jahiliyya Fields Water Breaker
Oceaán plays The Courtyard Theatre, London on on June 11th 2015 (info).