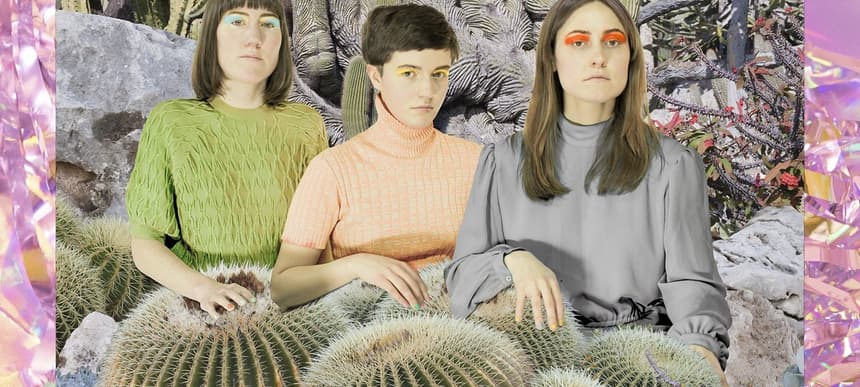 01.06.2015, Words by dummymag
Dummy Mix 258 // Stealing Sheep
Stealing Sheep, fresh from releasing second album 'Not Real', are the latest artists to contribute to our Dummy Mix series.
The Liverpool-based three-piece released their debut album, 'Into The Diamond Sun, via Heavenly Recordings back in 2012. That album was a collection of psychedelic folk pop, but three years on the band are quite a different proposition: although there's no mistaking the songs (and the harmonies) as anything but the work of Stealing Sheep, 'Not Real's sonic palette is all bright synths and punchy drum rhythms, resulting in a more adventurous and more modern-sounding pop record.
Take a listen to their mix below, featuring plenty of album influences (Miguel, Todd Terje, garage, Aphex Twin), and read a short Q&A with the band – answered collectively, rather than by any one member of the trio – that was conducted over email last week.
How has 'Not Real' translated to the live stage?
Stealing Sheep: "We are using lots of samples now to trigger live sounds taken from the actual recording. There are so many layers! Too many for us to actually play live so we have devised different ways of playing them. The legs from the cover art could be seen as a visual representation of all of us each trying to play all the different parts from the album! We've taken the legs from the cover art (by Louise Mason, with photos by Charlotte Rutherford) and developed them so that they join us live on stage using our own legs, mannequin light up legs, and live dancing legs yet to come, continuing the 'Not Real' surreal theme.
"I think the 'Not Real' live version translates really well and we hope to make it more and more surreal as time goes on!"
What are the magic ingredients that make a song Sheepy?
Stealing Sheep: "Each member of Stealing Sheep brings their own identity to the music… Whether it be a song, a sound, an idea, or an image. Lucy brings her sophisticated sonic drumming and meditative visual performance, Becky brings the synth heavy bass and disco arpeggios, and Emily brings some of the more retro old school sounds and watery guitar. Therefore I would say that each member of The Sheep is a magic ingredient!"
"Psych rock" has certainly come back into fashion over the past few years, so I'm wary of chucking the term about, but the new album does feel very 'psychedelic' in that English tradition of psychedelia. Do you consider 'Not Real' psychedelic record in some ways?
Stealing Sheep: "I think some of the concepts behind the album could be seen as psychedelic, an alternate way of seeing the world a different way of dealing with conflicts and the day-to-day. I think the sounds we have chosen sometimes represent a sort of dreamlike state taking the listener to a sonic landscape, asking important questions under a veil of lightheartedness."
'Psychedelia' also becomes a bit of a shorthand for certain retro stylistic/sonic signifiers, but 'Not Real' is a very modern-sounding pop record and a unique one at that. Was there ever anything that consciously pulled you towards modernity?
Stealing Sheep: "The three of us listen to a huge array of different types of music and more recently modern pop and dance due to a lot of parties we have been going to over the past few years! I think we really wanted to make a more modern dance-y record, but still have the pull of certain sounds taking us back to a more retro sound. I think the mix of these sounds is interesting, with the synthetic plastic sounds alongside the warm old school keyboards creating something sort of nostalgic yet modern."
Your visual style is very distinctive and you don't really present yourself in an easily digestible, codified way – your press photos and music videos aren't exactly the 'dainty folk singer stood in a field' or 'nerdy techno producer surrounded by synthesizers' sort of things you see everywhere else. What are some of your visual influences?
Stealing Sheep: "We are influenced visually by many different unlikely sources. We love Grayson Perry, Grace Jones, Maya Deren, Björk, Paule Vézeley, Mother Nature, The Kazimier (a liverpool based arts group), Busby Berkley, lots of art based ideas and fashion culture magazines like i-D and POP, plus many many more. We are constantly looking for new ideas and morphing into the next version of ourselves."
What is going on in this Dummy Mix?
Stealing Sheep: "This is an amalgamation of all of our tastes combined representing the past year or so, and something for people to listen to when they are getting ready to come to one of our shows!"
What does the rest of 2015 have in store for Stealing Sheep?
Stealing Sheep: "We have a really hectic schedule for the rest of this year which is really exciting. We are playing Field Day in London, Glastonbury, Festival No. 6 (where we will be taking our Mythopoeia procession), ON Blackheath, The Kazimier Heavenly 25th Birthday Party, Port Elliot, In Dreams (a David Lynch retrospective). Our own show 'Mythopoeia' which will be held at The Kazimier on the Dec 12th, which has lots of exciting surprises in store. We are supporting First Aid Kit too! It's gonna be exciting!"
Heavenly Recordings released 'Not Real' on April 13th 2015 (buy).
Stealing Sheep play Field Day 2015 at Victoria Park, London on Saturday June 6th 2015 (tickets).