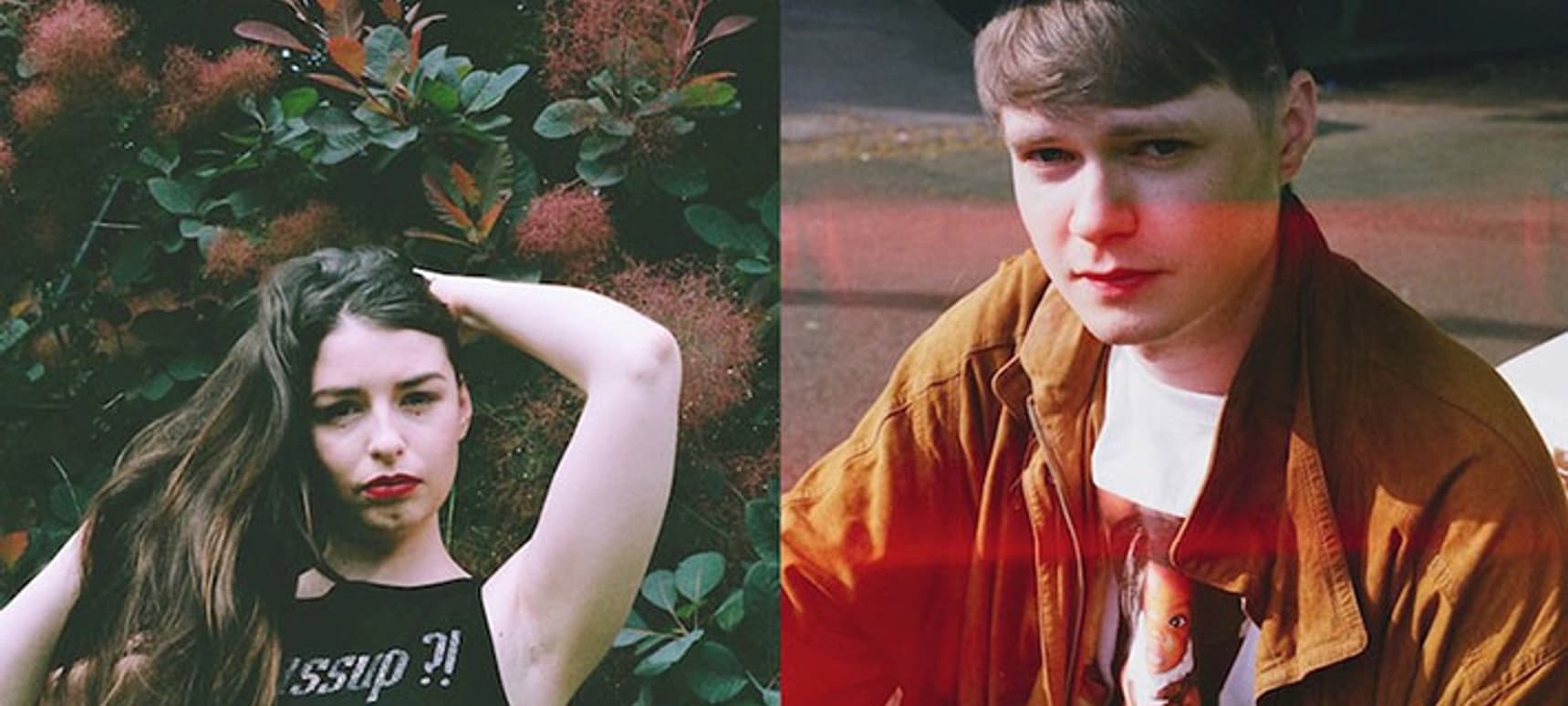 15.06.2015, Words by dummymag
Dummy Mix 260 // Bernard + Edith
Last month, Bernard + Edith – a dark pop duo named after its founding members, Nick Bernard Delap and Greta Edith Butler – released their debut album, 'JEM'. Smoky, dark, and alluring, it's an album that blends experimental production and sound design with some rock solid songwriting and stunning, jazz-informed vocals.
There's a sense of intrigue to 'JEM', where each of the album's tracks seems to be carrying some sort of murky mystery beneath the surface – something which might come from Bernard + Edith's unashamed love of Twin Peaks, where there's always something else underneath outward appearances.
Bernard + Edith's new Dummy Mix compiles some of the key influences heard across the album, from the performative talents of Kate Bush and Fever Ray to the dark electronic atmospheres of Evian Christ and Fatima Al Qadiri. In length and structure, it makes us think of something closer to a mix CD that you might make for a friend than a traditional DJ mix.
Listen to the selection below, and read a short interview with Greta about the mix, the album, and an unexpected meeting with Fimber Bravo of legendary steel pan group 20th Century Steel Band.
Hello, Bernard + Edith. Or Bernard or Edith, if it's only one of you answering these questions. How does it feel to have your album out and into the world today?
Bernard + Edith: "It feels like the beginning of our new life. It's amazing that we have had this opportunity to show off what we have been working on for the last two years, especially in a physical form of a vinyl and CD. The beautiful thing about music is it's a very personal thing to experience and you never know what the people listening to your music are doing in their lives. They might feel a song represents how they are feeling at that moment in time. I love the idea that someone might be listening to our album on a bus home from work, or in their bedroom getting ready for a night out – I like to think about who is listening and what they are doing."
When we first spoke to you, you were still getting used to recording in the studio, having previously been making it at home on your laptops and with cheap gear. Did recording the album go smoothly in the end?
Bernard + Edith: "I think we will always be a DIY band – the studio is really something we used to smooth things out and mix everything properly. It was a really fun experience to use a proper studio though. We ended up exploring more avenues and experimented a lot with things we wouldn't have access to at home."
Tell us about JEM, who this album is named after.
Bernard + Edith: "Jem is the name of my dog; he is one of the most precious things I have ever met. He's always in the moment and never frets about troubles in the past, he is happy just ' being', which is something people could learn from."
What did you include in this Dummy Mix?
Bernard + Edith: "We've included almost all our musical influences for the album."
What's a cool and interesting fact about the album that you haven't told anyone yet?
Bernard + Edith: "At one point I was recording my steel pan for Tidal Wave and this man comes in the room and asks 'Can I hear a steel pan?' Then he took me to the next room and he was recording his own amazing steel pans, one of them was one of only two in the world, and he let me play it. I got on with him really well and when he left he gave me a big hug. Everyone looked at me like 'Greta, do you know who that was?' I was completely oblivious. He was Fimber Bravo – he's a legendary steel pan player. He's worked with Hot Chip and loads of others. So that was an amazing thing that happened."
What's coming up for you guys, tour-wise?
Bernard + Edith: "We're playing festivals this summer – quite a few are yet to be announced but so far we can say that we're playing at End of the Road and Standon Calling. After summer we want to go on tour around Europe and, hopefully, the US."
Lastly, what do you want to see happen in the new season of Twin Peaks?
Bernard + Edith: "I'm scared to watch it, I don't want it to be ruined. I would like it to be tasteful and not like a novelty Twin Peaks. I hope the soundtrack is stunning and clever and has still got the same feel. And of course I wanna see the Black Lodge."
Dummy Mix 260 // Bernard + Edith tracklist:
01. Fever Ray When I Grow Up
02. FKA twigs Weak Spot
03. P.i.X. A Way To Say Goodbye
04. John Maus The Law
05. Kate Bush The Sensual World
06. Lil Spook Black Silk (Prod. by Greaf)
07. Evian Christ Thrown Like Jacks
08. Samaris Góò Tungl
09. Sega Bodega Security
10. Ayshay Warn-U
11. Bernard + Edith Heartache
12. Björk Venus As A Boy
13. Nouvelle Vague Making Plans For Nigel
14. Dean Blunt 50 CENT
15. Fatima Al Qadiri Dragon Tattoo
16. Burial Come Down To Us
17. Nina Simone I Loves You Porgy
Bella Union released 'JEM' on May 11th 2015 (buy).