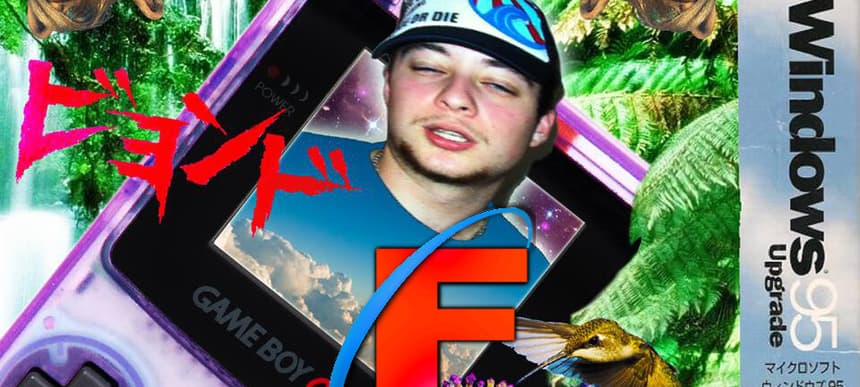 18.08.2015, Words by Natalie /
Dummy Mix 265 // FAIK
FAIK lays the smackdown with his mix for Dummy ahead of the Activia Benz label showcase shelldown at Ace Hotel. The artist fomerly known as Stay + and Christain AIDS is a no holds barred producer, who has embarked on a audiovisual cocktail with the new project FAIK which includes (but is not limited to) sexy mannequins, Beyonce Sims, your dads favourite trucker cap and cartoon characters making yelpy noises. All in a days work, Internet Explorer on Hoxton Radio is FAIK's outpost for sick jams to ooze out of the internet. No loitering.
FAIK flexes his production muscle too with his recent 'Fake' EP (which is defintely real). His productions are just as hyper and varied as you expect, with Swole mixing up vocal samples from Prodigy's No Good into a pitched up whirlwind of body contorting madness. Happy hardcore for generation Soundcloud.
We caught up with FAIK for a few words on the mix and a quick double check on what alternate realities appeal to him ahead of his appearance at Ace Hotel.
Bonus fact, his Twitter @ is complex.
What is the best thing to do whilst listening to this mix?
FAIK: "I'd advise you to browse your dankest memes whilst listening to this mix. Not on 9gag though – that website is shit. Go in deep. Go to /r9k/ and see if you can survive with your sanity intact. Or r/spacedicks (disclaimer: please don't go there)."
Are there any tracks in the mix that stand out for you, or any new FAIK joints?
FAIK: "I may have stuck a sneaky lil' unreleased one in there yeah *WINK*. To be honest I love all these tracks. I've been doing my own radio show Internet Explorer over the last month, so I'm permanently knee-deep in amazing new tunes. I'm especially in love with the Lil QT track come to think of it. Some of these Soundcloud kids are sickeningly talented y'know? Like, scary talented."
If you could live in some weird alternate reality where would you choose?
FAIK: "Holy shit what a question. Most other realities are a legitimately terrifying prospect aren't they? I think there was a Terry Pratchett story where the protagonists end up inside a child's drawing and the gap, the nothing-ness, between the super-green ground and the strip of blue that represented the sky made some of the characters physically sick. I imagine most movie or game realities to be a bit like that. That being said – there are definitely some realities I'd like to visit (rather than live in) – like the one in the Ursula Le Guin short story where everyone's made out of sweetcorn. Or something with loads of fucking mental stuff like wizards and magic and dragons (and respawning) like Dota 2. I'd have to steer well clear of something like the Tim & Eric dimension though – that'd break me."
If you could take away all the barriers in the world (time, money, inhibitions) what would you wear to the party at Ace on Thursday?
FAIK: "A 100% accurate scale model of Ace Hotel. Originally I was thinking my head would stick out the top but actually it would be super good if there was just a cutout in the middle for my face and the whole thing was really tall. It would also have to be a bit too wide so I had kinda t-rex arms and playing my set would be comically hard. I guess it'd be like about a 1/24 scale."
Catch FAIK at Dummy presents Activa Benz on August 20th at Ace Hotel (RSVP).