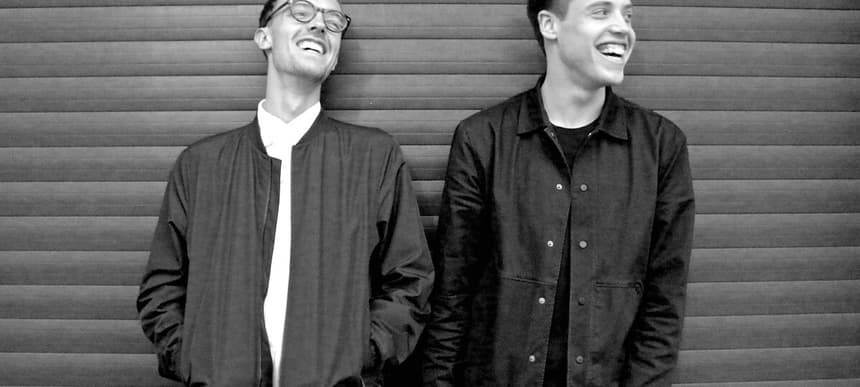 18.09.2015, Words by Natalie /
Dummy Mix 273 // Chaos In The CBD
Chaos In The CBD just rolls off your tongue. It rolled off my tongue naturally for so long that I didn't even know what CBD was even an abbreviation of. If you're also in my shoes, the answer is Central Business District: a name which to me evokes sun glistening from silver skyscrapers, that weird sensation of being in a part of town you don't really belong in, money changing hands, all the different shades of insurance policies and causing chaos by wearing socks and slides whilst a load of suits swarm around you. I don't know if that's what brothers Louis and Ben thought of when they grouped together to form Chaos In The CBD, but its a cool idea. Originally from Auckland, the laidback duo are now firmly anchored in South East London, a tell-tale sign being track names like Midnight In Peckham and 816 To Nunhead.
Chaos In The CBD's release schedule has remained very steady since their initial EP 'The Moving Image' in 2011, with cuts raining down annually on labels like Hot Haus Recs, Amadeus and Rhythm Section International. The 'Slab' EP on Parisian club label ClekClekBoomRecordings in 2012 was a pounding mix of screwed lyrics from Dom P shouting, thong touting players in the club that layered up with rolling bass and clashing ballroom samples, making it worthy of a dance workout. Their productions have matured slowly with the years – kind of like an exquisite single malt – adding a more jazzy and ethereal lick with tracks 816 To Nunhead being a shining example. I tried to find the 816 bus to tell you where it goes but instead just imagine its back home to Nunhead via Paradise Garage, with a quick stop off in Canavans Pool Club.
Midnight In Peckham, taken from their Rhythm Section International EP of the same name, is so chilled its almost lying down but andromeda cruising jam DeLorean Dreams on Hot Haus is still a blinding showcase of how much Chaos In The CBD can make you sweat on the dancefloor.
We caught up with Ben and Louis after their flatmate had just demolished a tin of chicken nuggets and beans (yes, in a tin) to chat some breeze about the mix and what's coming next for the twosome.
Hey guys. Are you sitting comfortably? Whats the day entailed for you?
Chaos In The CBD: "I'm sitting on my bed, it's not bad thanks. I imagine Beans is sitting in a not so comfortable chair on an Easyjet flight bound for Cologne. My day involved caring for children at a local primary school (mainly watching Horrid Henry and stuff). Beans would have been working at YAM Records in Peckham."
Tell us a little bit about the mix. Is this a representation of your sound, inspiration or just what you're feeling now?
Chaos In The CBD: "Yeah just a bunch of stuff we've been feeling lately."
Are there any exclusives or personal stand out tracks inside?
Chaos In The CBD: "There are a couple new tracks in there from us. New bits from the ClekClekBoom camp. An old Sasha track. Lots of drums. That Master C & J is definitely a percy for me, those vocals make me a little weak at the knees."
Is there an optimum time or mood to listen? Like underwater in a moonlit swimming pool or something poetic like that?
Chaos In The CBD: "Over a candlelit dinner in ya local Morley's with ya best mate."
What did you have for dinner last night?
Chaos In The CBD: "Went halves on a can of this…"
Whats up next for the CBD?
Chaos In The CBD: "We have a couple whites due out before the end of the year. Something also exciting lined up for the beginning of 2016 too…"