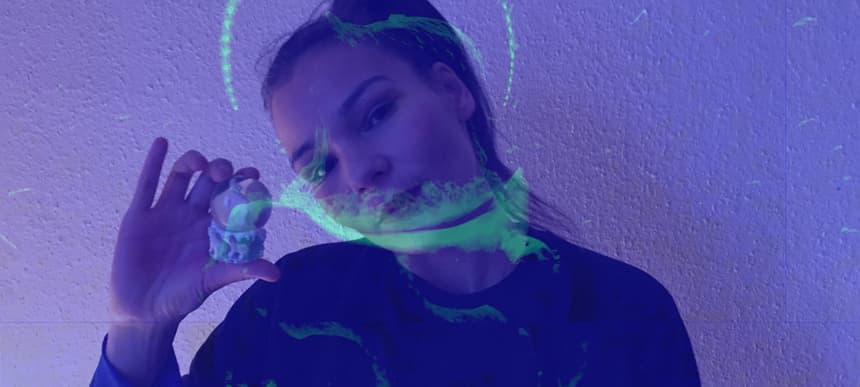 16.11.2015, Words by dummymag
Dummy Mix 286 // Aïsha Devi
Aïsha Devi is cruising alternative realities. Her techno-folk sensibilities are a pathway to enlightenment, channelled in her recent LP 'Of Matter And Spirit', which was released on Houndstooth early last month.
From the techno drones of Adera through to the candy cane tinged lyrics that brush over the freaky ritualistic scenes of Mazdâ (think PC Music, on a bad acid trip) – Aisha's output is far from generic. Attempting to shed the world of its hyper-materialistic greed and self-destructive tendencies, her work is a heady mixture of stilted chanting, earthy beats and radicalised slants on mainstream genres like house and techno (many call her deviant strains 'techno-folk', which sums it up quite well).
With a mix that effortlessly throws together Elephant Man and Bounty Killer in a blend with Dead Can Dance (yes, did you ever expect that to happen?) plus incorporates tracks from Abra, Objekt, KLF and a Nepali Prayer Chant; I'd imagine listening to Aïsha's mix back in Hebden Bridge, maybe sat around a campfire or a stone circle, potentially watching for UFOs and holding hands with somebody who just took some psilocybin mushrooms. I'm wearing a rune necklace and just threw my Nike Air Max '95s in the bin. I'm transformed. I'm not thinking about my bank balance. I'm free godammit.
Tune into Aïsha's mix below and…maybe drop out for a bit. Take your shoes off before you enter utopia and see you on the other side.
Hey Aïsha – how's life right now?
Aïsha Devi: "Hello Dummy. Life is hectic and magic. As I'm touring a lot, my horizon gets wider in a mental and empirical level. It's an enchanting and constant stimulation of the senses with surreal places, enlightened humans, awesome venues and scary planes…I'm doing a lot of meditation to regenerate my body cells, 'coz right now I'm a dead fish. But I feel blessed – as touring artists, we are fucking privileged."
Tell us a little about the mix – how would you describe it and was it recorded with any mood or vibe in mind?
Aïsha Devi: "Yeah, the title would be 'The society of spectacle is convulsing, let's talk about the invisible world.' I'm looking for music that leads me to an altered state of consciousness – via frequencies, ritual pulses, and earthy beats. I think music is gaining its magical function back and will lead humankind to oneness and the fifth ethereal dimension, which will allow us to separate from the hyper-materialistic and anthropophagic system we leave in."
Are there any stand out tracks in there for you?
Aïsha Devi: "I love all of them. It's a fluxus, a continuous breathing…but I love all John T Gast productions."
There is a lot of strong imagery in your video for Mazda including worship, sexuality and intense use of colour. Tell us a little bit more about what inspired this video?
Aïsha Devi: "The video was made by Tianzhuo Chen, an artist emerging from the Chinese avant-garde scene. I've discovered his work at the Palais The Tokyo in Paris this summer and I felt an instant magnetism – his cosmos was echoing with mine like a soul crush. We are using ancient symbolics, alchemy, ritual practices and sacred geometry on a same lexical level, in their original forms, as a path to transcendence.
In our contemporary society, holistic symbols are used in a repressive, religious and exclusive way – but I love these symbols as cosmic, inclusive representations. Religion is dogmatic and leads to tyranny yet holy symbols in their primordial essence are spirituality, and spirituality is freedom. The video is about human emancipation, towards any kind of ideological oppression."
Finally, shock us – what did you have for dinner last night?
Aïsha Devi: "Healthy shit. I needed it after live orgies in Leipzig/Berlin this weekend."
Any famous last words?
Aïsha Devi: "We are thoughts, we are are light and that consciousness is immortality."
'Of Matter And Spirit' is out now on Houndstooth (buy). Aïsha plays Birthdays in London on November 20th (info).