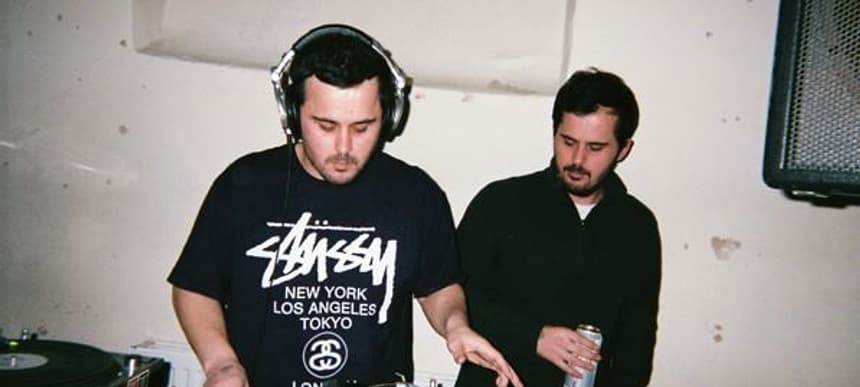 04.03.2016, Words by dummymag
Dummy Mix 313 // The Kelly Twins
The Kelly Twins are a DJ duo from Bristol, who in their own words, "play music that sounds like it was made in space." Since founding their own personal imprint Happy Skull around three years ago, the label has since played host to releases from producer's they dig, including Throwing Shade, Creta Kano, Rhythmic Theory and Andreas Gehm, amongst others. The next stop for Happy Skull is a release later this March from "studio sparring partners" October and Borai. Entitled 'Neccessary Force / Nine Tomorrows', it's a two-tracker of epic proporitions, doused in the jackin' throb of classic house and horror-influenced electronics.
Alongside a super special mix served up for us by the guys below, we caught up with the pair to discuss the current climate of Bristol's music scene, the sort of stuff that goes down on a weekend at Turbo Island, and what's on the horizon for The Kelly Twins.
Hi guys. Most people will be aware of you guys from your incredible label, Happy Skull, which last year had some powerful releases from the likes of Creta Kano and Adreas Gehm. Both artists seem to put out slightly different music, but what are the main traits you look for when signing artists?
The Kelly Twins: "We wan't to hear something that stands out. We like artists that take risks and think outside of the box. Other than that there is no strict criteria. We try to be very instinctive with it all, we both work day jobs so we are in the fortunate position where we don't necessarily have to worry about selling a thousand records and making loads of cash on every release. This allows us the freedom to be uncompromising and sign things that we genuinely get a vibe from, regardless of commercial appeal. Happy Skull is a very personal project and very much a reflection of our tastes, the way we enjoy music and what we do as DJs."
You're also mainstays of the new guard in the Bristol underground scene, how do feel Bristol is in 2016 in comparison to say, the last 10 years? Who from your peers is up and coming?
The Kelly Twins: "When we first came here, it was all jump up drum and bass and UK hip hop (which was cool), but there were only a handful of select heads that were brave enough to push a more house, disco and techno sound. Obviously, a lot has changed since then. House and techno is big business here now and with that comes positives and negatives. On the plus side, we have had the opportunity to see people like Jeff Mills in Bristol but on the downside we've seen the rise of the dance music 'brand'. What's wrong with simply putting on a party? It's all very business-like now. Thankfully, there are still crews like Young Echo and Metro who keep the faith and maintain that old school Bristol ethos.
"What's wrong with simply putting on a party? It's all very business-like now." – The Kelly Twins
We're not necessarily in to the idea of what is 'up and coming'. However, there are loads of DJs and producers here that we think are sick. Our designer Anina, is a fierce jungle / drum and bass DJ, with an amazing record collection. Definitely one to keep on your radars. Ossia is true Bristol underground with a no bullshit DIY approach to what he does, constantly pushing boundaries with both his DJ / live sets and his labels. He is someone that we have a huge amount of respect for and we think he is going to have a great year. People like Rhythmic Theory, Bruce and Facta are also moving things forward in an interesting way.
We could write an essay about all of the amazingly talented artists in Bristol right now. The best thing to do is come and see for yourselves, if you haven't already. Don't always go for the hype choices though, scratch beneath the surface and you will be greatly rewarded. Trust us!"

Tell us a little bit about the mix, how were you feeling going into it and perhaps more importantly, how do you feel now that it's out there for the world to listen to?
The Kelly Twins: "In our mind we envisage something very high concept, spanning genres, tempos and styles with ease. Three hours of seamless blends that transport you to a higher state of existence. However, in reality we always end up just buying in some cheap import lager, digging out a load of records and jamming it out. We treat mixes like this very much like a DJ set, we're not really producers so this is all we know and what we do best.
We are particularly happy with this mix, it contains very few current or unreleased tracks. Amazing music is timeless, so we wanted to dig deep and unearth some forgotten gems. Misty eyed Detroit futurism, some UK braindance business, deep electro and loads more."
Word round the campfire is that you live above Idle Hands Record Store, which is adjacent to the notorious Turbo Island. What's the strangest thing you've seen go down on that legendary piece of turf?
The Kelly Twins: "I did indeed live there for a year or so, and I saw some outrageous and frankly harrowing things on Turbo Island from my bedroom window. One night a guy decided to have a free party on Turbo Island, which would have been great if the music they played wasn't so awfully bad. It went on for four days straight and I heard the donk remix of Lou Bega's Mambo Number 5 about five times. I always remember this, as it's the closest I've come to actually going insane. At 7am on day number four of the party, at my most sketchy and sleep deprived, some absolute saint hijacked their sound system and starting playing Fleetwood Mac. A strangely magical and surreal experience.
"One night a guy decided to have a free party on Turbo Island, which would have been great if the music they played wasn't so awfully bad. It went on for four days straight and I heard the donk remix of Lou Bega's Mambo Number 5 about five times." – The Kelly Twins
What's next for The Kelly Twins and Happy Skull in 2016?
The Kelly Twins: "We are feeling very positive about things this year, there are going to be more sets from The Kelly Twins, both here in UK and abroad. Label wise, we plan to continue doing what we are doing. We have some big stuff in the pipeline but we don't like to give too much away. Watch this space."
Dummy Mix 313 // The Kelly Twins tracklist:
John Beltran Mutualism
Stephen Brown New Waves
Soul Dhamma Flower (Scuba Underwater Garden Mix)
100HZ Catching Spiders
XON Dissonance
Insyc & Mysteron Exit 9
Signal Type Future Funked (ADJ & Junq Remix)
AFX Halibut Acid
Jeremiah R Pineal Gland Stimulation
Yennek Dancing Tides
Jacen Solo Forbidden Medicine
Electrosmog Tranceformer
Alexi Perala ?
Cute Heels Silence Complot
Unknown Unknown
Retape EMN
Luke Eargoggle Harbours Are Magic
EOD Phontron
The Black Dog 4.7.8
69 Puntang
The Kelly Twins release October & Borai's 'Neccessary Force / Nine Tomorrows' on Happy Skull at the end of March (ish).