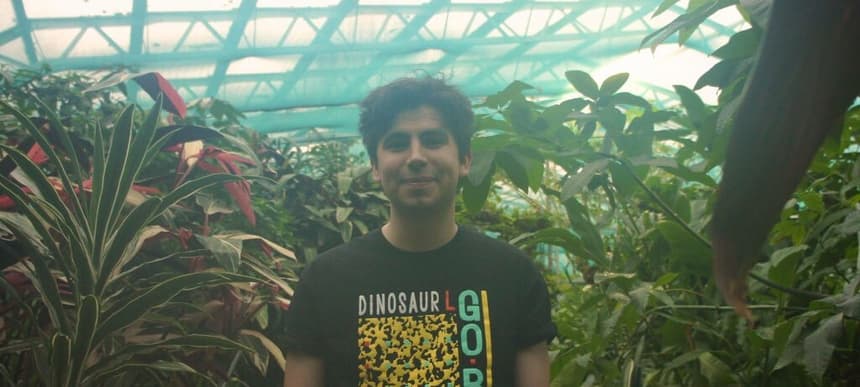 22.04.2016, Words by dummymag
Dummy Mix 326 // T_A_M
Not too long ago, T_A_M gave us a virtual tour of club music from his hometown Aberdeen. The North-East region of Scotland may be filled with grey buildings and even greyer skies the majority of the time but T_A_M's productions and particular style of DJing come as a complete antithesis to that. He kept it local with his first two releases, with Aberdeen-based label Tuff Wax becoming a home for his experiments with both bassline and techno.
This year he's branching out, with EPs on two UK labels: rising grime imprint Coyote Records and Local Action, who're going from strength to strength. On the latter, he's newly released four tracks of filter house that are perfect for humid spring evening listening. As a DJ, he travels from genre to genre seamlessly – exploring crunchy techno, hip-hop, beaming house and '80s classics as well as weaving some of his own productions in between. His mix for Dummy is no exception, taking its form as a sun-drenched journey that traverses from Steve Miller Band to Skee Mask and Samoyed, alongside a handful of unreleased gems from T_A_M himself and Yamaneko.
Press play and soak up the rays.
Hi T_A_M. How are you?
T_A_M: "I'm not too bad thanks. I'm sitting outside my work and listening to the mix in the sun actually."
You've just recently released a great EP of filter house on Local Action. How were you introduced to the label?
T_A_M: "I'd been listening to Local Action releases since that Cassie Skydiver release in 2010 – so it's cool to put out a release with them. I sent Tom demos around a year ago and kinda just went from there. The release started out a lot more uptempo and synthy but I'm glad it turned into what it did."
How or where did you record your mix for Dummy?
T_A_M: "All vinyl and acetate in the lab. Nah, this was actually mostly done on Ableton whilst lying in my bed one day feeling a bit shit, hungover, and unwilling to go to my decks."
What time of day or environment do you recommend that people listen to the mix in?
T_A_M: "I'm sitting in the sun listening to it whilst hosing down bins but I'd say replace the bins with beers and it would be pretty good."
When you come to make a mix, do you plan ahead and create a certain narrative or do you just go wherever the mix takes you?
T_A_M: "I normally have a bit of an idea but I often just play through tunes and it has some sort of feeling by the end of it."
There are a few unreleased tracks on the mix, what can you say about them?
T_A_M: "The unreleased tracks are just a few of the things I've made in the last month or so. A few feel quite in line with the Local Action release but maybe a bit more summery. The opening track is just a bit of a mess around with guitar and vocals which I may or may not end up doing more of."
Dummy Mix 326 // T_A_M tracklist:
T_A_M You Don't Come Back
Moodyman Why Do You Feel
T_A_M Shame & Luxury
Delroy Edwards Can U Get With
T_A_M Dewy
Steve Miller Band Abra Cadabra (Ali B's Extended 45 Edit)
Yamaneko Misty Jam
Yamaneko Drake Sword Lucina Roller
Skee Mask Japan Air
Distal – Above Nimbus
Stevie B Dreamin Of Love (Dub)
Jeremih Planez
Broshuda AMA
Sam Kidel Disruptive Muzac
Yeasayer Prophet Gun
Samoyed Fir