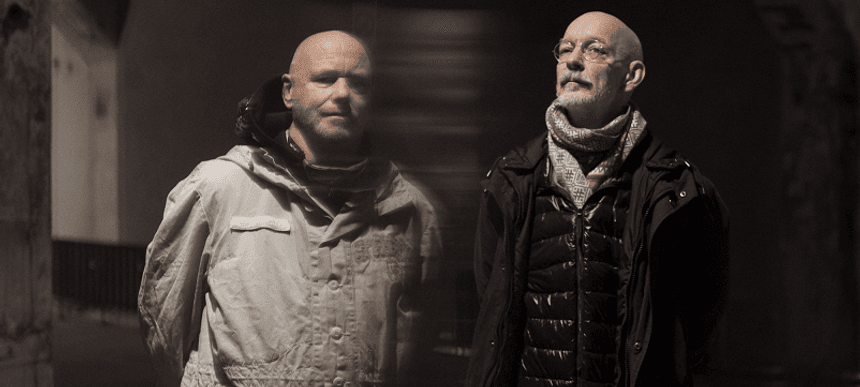 14.10.2016, Words by dummymag
Dummy Mix 458 // The Orb's 'cow shed beyond the hills' mix
The Orb—established in the late '80s by roadie-turned-A&R Alex Paterson and the KLF's Jimmy Cauty—are nothing short of timeless. Starting out by meshing together slowed down classic Chicago house rhythms with field recordings and samples inspired by the muted and experimental soundscapes of producers such as Brian Eno and Tangerine Dream, they pretty much pioneered ambient house as we know it, producing a unique blend of mellowed out music that sat very pretty on the essential "comedown friendly" post-club playlists of the time.
Whilst The Orb's member base has seen various fluctuations over its near three-decade lifespan – Cauty departed in the early '90s before Kris Weston slid in – Paterson met German producer Thomas Fehlmann whilst recording The Orb's first studio album for Island Records, 'Pomme Fritz', in his Berlin studio around 1994. Finally, the founder had met his match, and Fehlmann has been his right-hand man ever since and they have recorded over 10 albums together as The Orb.
A label the pair have always had a strong bond with is Kompakt. Establishing a relationship almost 20 years ago, the pair first debuted on the Cologne-based imprint in 2005 with a self-explanatory title: 'Okie Dokie It's the Orb on Kompakt. Since then, they've recorded several EPs, placed tracks on the much-loved annual compilation series 'Pop Ambient' and Fehlmann has also released solo material on Kompakt. Picking up on where they left off with last year's 'Moonbuilding 2703 AD' album, The Orb make a return to Kompakt with 'Chill Out, World! (COW)', of which they describe as a renewed forced in their core music production.
Deciding to simply "make an ambient album", the pair set their sights on crafting what they saw as a focus on The Orb's vision in 2016. Not fogged by the past – they took their genre-bending curiosity and armed themselves with samples, crate-digging hauls from their globe-trotting tours, and field recordings from far-flung places put straight into Ableton from their phones – they found themselves completing 'Chill Out, World!' in an impressive six months.
Each track on the album is a conceptual work in its own right, brimming with artistic undertones that draw on the diverse places and experiences encountered by Paterson and Fehlmann. Even the 'COW' track names have a deeper meaning, with freight-train led cut 9 Elms Over River Eno (Channel 9 mix) consisting only of material amassed during their stint at North Carolina's Moogfest in May, when they happened to stumble across the state's very own Eno River on Google Maps. There's no clutching at straws or odes to one-night dalliances with girls named Theresa here.
As 'Chill Out, World!' drops on Kompakt today, it's all eyes on The Orb, so we're quite thrilled to share an exclusive mix from the invincible masters of ambient house. Gliding from paranoid reefer-madness-style vocal nuances to Ryuichi Sakamoto's weightless Dawn Comica to the pair's very own reworking of Chris Coco's timeless velvet ambient wash of Albatross, it's a mix for midnight listening that will whisk you off into some other-worldly realm of mood-swept and trippy chillout.
Dummy Mix 458 tracklist:
Adrian Younge Black Noise Interlude
Ryuichi Sakamoto Dawn Comica
Chris Coco Albatross (Orb Ambient Mix) [Unreleased]
The Orb 4am Exhale
Leandro Fresco Sonido Español
Prins Thomas H_Orbient Mix
Cloudhead Dead Dogs Two
Barry Gray Century 21 Sting
The Orb 9 Elms Over River Eno (Channel 9 Mix) [Taken from COW]
Teebs Burner
Daniel Lanios Carla
Thore Pfeiffer Allzh Nah
Brian Eno An Ending (Ascent)
Third World 1895 (96 Degrees In The Shade)
The Orb The Orbots Surround The Trojan Horse
Lee "Scratch" Perry Black Shadow '
The Orb's album 'COW / Chill Out, World!' is out now on Kompakt (buy / stream). Lunar Orbit – a film on The Orb will be shown at Doc'N Roll Film festival on Friday, November 11th, 2016 at Picturehouse Central, London (info).