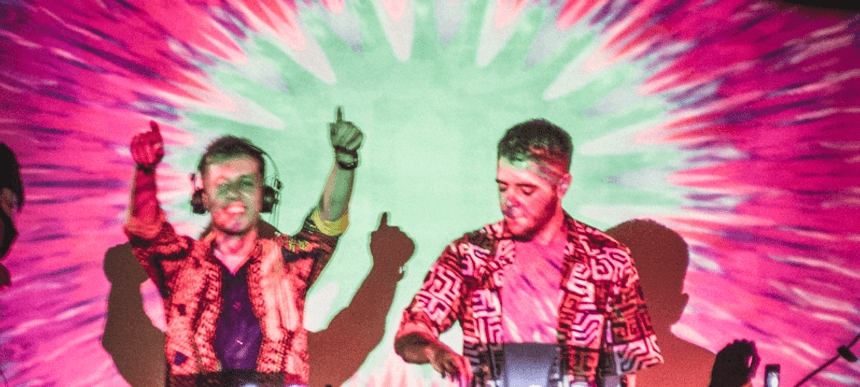 09.01.2017, Words by dummymag
Dummy Mix 476 // The Busy Twist
One of the stand-out staples of the vibrant South London club scene has served up the perfect antidote to 2016 with the first Dummy Mix of the year. Having produced tracks in Ghana, Columbia and London for the mix, The Busy Twist's selection and influences are just as far-reaching. From the Baile Funk scene in Brazil through to UK Garage, Funky and Bass soundscapes, the mix brings together the most colourful and exciting new club music from all over the world.
As Ollie from the group said over email "We want to bring people of different cultures, from other sides of the world, together – and dancing to the same beat." That message was clear when, before sending off the mix to us, the boys packed the mix with some forthcoming exclusive heat from themselves, alongside enlisting group member and vocalist/percussionist Zongo Abongo to add hypercharged vocals over from Ghana.
With a live show featuring Zongo Abongo on the horizon and a slew of releases forged from Columbia due out later this year, The Busy Twist's 2017 is set to be as rowdy as this mix.
The Busy Twist play at Kartel's 4th Birthday Friday January 13th at The Bussey Building.
Tracklist:
Brothers – Kouslin
Bunda Bailar – Terick Abigail & Alfonzo
La Party – Dj Lilocox
???? – D j Lycox
Ewe – Dotorado Pro
Arcadas – Kking Kong
Celebration – Heavy K
Faluma (Africa Latina Remix) – Yakki Famirie
Afribiza! – Dj Keanu
Angolan Trip (Breyth Latin Remix) – oLIVS
The Thing (Zulu Remix) – Atumpan
Lightning & Thunder – D-Dots
???? – The Busy Twist
???? – The Busy Twist
Cannon – Champion
Ana N'gola la Dila (The Busy Twist Remix) – Artur Nunes [Forthcoming]
Surinam – Marcus Visionary
Kivelenge (The Busy Twist Remix) – Kalambya Boys
Friday Night – The Busy Twist