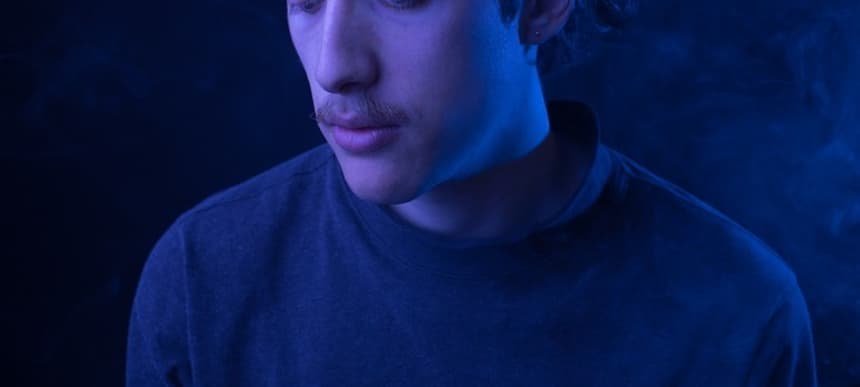 27.07.2017, Words by dummymag
Dummy Mix 482 // Orlando
Brooklyn-based producer Orlando, formerly known as Orlando Volcano, first came to our attention after releasing his 'Concrete Complete' EP on Liminal Sounds last summer. His latest record, 'The Tide That Moves Me', drops tomorrow on Mr. Mitch's influential Gobstopper imprint — a label revered for giving new and emerging artists the space to leave their mark.
Orlando's sound fits the Gobstopper mould perfectly, honing in on the same futuristic view of the club that many of the label's artists share. Tying together classic dancehall flavours with shimmering melodies and glistening textures, 'The Tide That Moves Me' also carries plenty of its own emotional weight; "My work explores themes of landscape and environment and a constant longing for the unobtainable", Orlando himself explains.
In his Dummy mix, he looks more to the dance for inspiration, pulling together a selection of tracks bursting with attitude and colour. Music from Vybz Kartel, Popcaan, DJ Nigga Fox, NSG and 45 Di Boss all features, as well as some of his own exclusive material.
Tracklist:
Lava Dome – Satla Riddim
DJ Nigga Fox – Só Nós 2
Orlando – The Smoke Descends
Busy Signal – Bounce It
Sonia Calico – The Cuddle Dance
Orlando – Cyaa Done (ft. Nemesis)
Young M.A x Imaabs – OOOUUU x Extravio (TDP bootleg)
NSG – Whine & Kotch
GBM Nutron x M1 – On D Inside
Don Sinini – Buff
45 Di Boss – Guh Deh Gyal (ft. Ice Kydd)
Popcaan – Bad Yuh Bad
Lardow – So Sick (BK beats re-edit)
Maxx Revenue – Glue
Orlando – Sensory Deprivation Tank
Jay Boogie – Malandrina (prod. Orlando) (vip)
Asmara – Let Ting Go
Vybz Kartel – Vices (ft. Zone)
DJ Spinall – Ohema (ft. Mr. Eazi)
Orlando – Avery's Dark Side
Alkaline – Money Man
stud1nt – Be Could
Orlando 'The Tide That Moves Me' EP is out July 28 on Gobstopper.