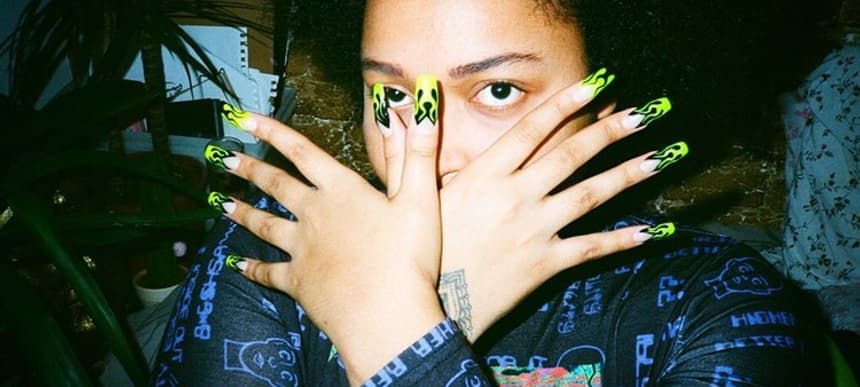 20.05.2020, Words by Felicity Martin
Dummy Mix 587 | Yazzus
"I've been listening to nothing but straight fire this lockdown, so I'm spreading THE V I B E ZzZz!!!!"
Yazzus is part of 6 Figure Gang – the rising London club crew which comprises herself, LCY, Dobby, Fauzia, Sherelle and Jossy Mitsu – and for whom the term "doing bits" can be liberally applied. Each member, though, has their own thing going on. As a DJ, Yazzus is all about high-energy selections, '90s hardcore rave, jungle and footwork, which she tessellates with her own blistering bootlegs made especially for the club.
She recently dropped a bunch of these in time for Bandcamp's most recent fee-waiving day, featuring Britney, Kelela and even Hadouken! as a nostalgic throwback to the glowstick-fuelled days of nu-rave. Her last outing proper was via EP on Mad Decent back in March, 'Delta Wave', which nodded to that passion for the rave, while she also contributed to R&Ss' recent 'In Order To Care' NHS charity compilation as well as femme culture's 'HeForShe' compilation with the wild 'GOT TO HAVE UR LUV'.
"A typical Yazzus mix is a real rollercoaster of different vibes, perfect for listening at pre's, afters, playing sudoku," she says. "I've been listening to nothing but straight fire this lockdown, so I'm spreading THE V I B E ZzZz!!!! Expect a journey from ghettotech to footwork to ravey city to lovely ethereal jungle. Big shouts out to Trax Haven, Childsplay and We Rob Rave for the new releases and loads of new ones from me including 'Impulse' taken off 'Delta Wave', 'Wonky Raver' from the 'In Order To Care' compilation and some high-end bootlegs from my latest Bandcamp pack!"
Tracklist:
James Bangura – Bad Mon Narrative
Bored Lord – Cut It Out
Osc Kins & Speed Gonzales – s3x-E-b^k
Yazzus – Pass That Ghetto Dutch
Turk Turkleton – Power Play
DJ これからの緊急災害 – EMPHASIS JIT
Ottonian – 4 THE HEARTBROKEN
Foul Play – Screwface
The Hedgehog Affair – Mystic
LMajor – Hallucin8
Samurai Breaks – Jus Like Dat
Yazzus – All Your Love (Ode 2 Hudmo)
Sinistarr – Rook
We Rob Rave – HEAVYWEIGHT
Yazzus – Mufuckin Breakbeat
POLO LILLI – Ironside
Yazzus – Wonky Raver
Yazzus – Tessela On Speed
Fixate – Wrong Foot Forward
Narc – Voodoo
AceMo – Jazz Junglist
Aquasky – Taurus
Yazzus – Impulse
DJ Assault – Big Knots (Dub)