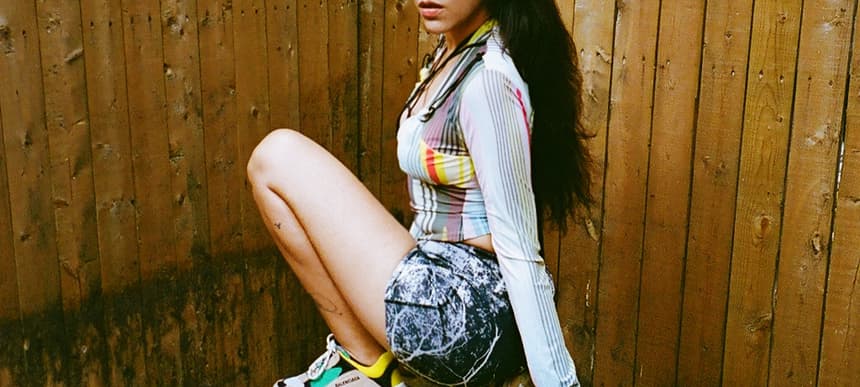 15.09.2020, Words by Felicity Martin
Dummy Mix 598 | Debit
The New York-based, Mexico-born producer matches rhythms from all over the globe in her energetic mix...
Operating in the sphere of Latinx electronics, mutant dembow and dark club music, Delia Beatriz aka Debit is a master of creating late-night, glitchy and often beat-less music that sounds at once alien and familiar. The New York-based, Mexico-born producer has become a regular face on consistently strong Mexican label NAAFI, while also recently appearing on Houndstooth compilation 'Alterity'. Her 2019 'System' EP was a highlight, channelling the triplet tribal guarachero (a style of dance music fused with patterns of regional Mexican music) of Monterrey, the city she was born in.
Following a feature slot on Gaika's recent 'Seguridad' mixtape, Debit has just cropped up on the recent 'Discos en 3​/​Cuartos' compilation from Kebrada, the new label from Dengue Dengue Dengue. The compilation focuses on the new wave of Latin diaspora producers and creatives building fresh inroads into contemporary dance culture, with artist like Nick León and DJ Python also contributing tracks.
Debit's Dummy Mix is a blend of reggaeton with the tempo pushed right down, sludgy ambient and sugary dancehall riddims, sitting alongside slamming techno, packed with twists and turns. Tune in now below.
Tracklist:
LSDXOXO – Sufrir (ariana has had it)
DJ N*gga Fox – 5 Violinos
El Irreal Veintiuno – Colapso
Tayhanna – Si pienso en ti
Wildkatz – Ginza is for lovers lol
Moro – HIHEHDHRHAHA MHAKMHANO
NA DJ – Buzz
Don Omar – Anda Sola Tokyo (Antonio Colaña 2019 Remix)
Objekt – 35
TSVI – Labyrinth
ZutZut – Te Chupo Todo
Alan Rosales – Estoy enamorado de tu culo (Ghetto Kids Remix)
Badsista – Soca Sem Parar
Björk – Pagan Poetry (El Irreal Veintiuno remix)
Siete Catorce – Desesperación
Loris – Privacidad (Remix)
False Witness – Let Your Ex Go (Vocal Remix)
Santa Niña – ???
Arthur Russell – Lucky Cloud (Acemo Remix)
Listen to the mix on Soundcloud.
Photo credit: Jeanette Reza