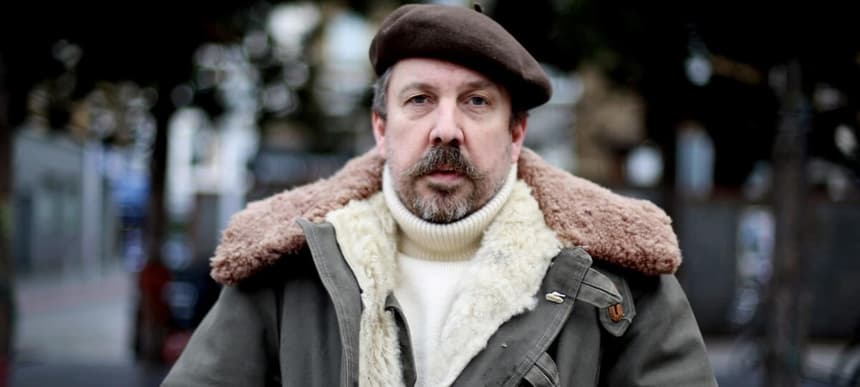 15.07.2011, Words by Aimee Cliff
Dummy Mix 80 // Andrew Weatherall
Calling Andrew Weatherall an accomplished DJ is like calling Eton mess a nice pudding. An '80s punk who was instrumental in creating the first explosion of acid house in London with the creation of Boys Own, Weatherall's remixing and production work, most notably on Primal Scream's 'Screamadelica', which is a really wonderful album and it's been too long since you played it, has always pointed new, tough shapes for pop music. Into the '90s, he made music with Two Lone Swordsmen and Sabres of Paradise, and notched up production for everyone from Future Sound of London to Bjork to Manic Street Preachers to Fuck Buttons.
He will be DJing alongside other second summer of love legend Terry Farley, Mike Pickering, Graeme Park and A Guy Called Gerald at Vintage, a retro music festival that takes place at the Southbank Centre in London July 29-31st.
Listen to Andrew Weatherall's Dummy Mix and read our interview with him below.
How's it going?
Yeah, good. At the moment I'm in Croatia at Electric Elephant, playing Love From Outer Space tonight, remixing the Horrors, two tracks, Wooden Shijps remixes. I feel like the proverbial conductor on Titanic – as the music industry sinks I'm the busiest I've ever been.
Tell us about the mix.
Although it's the vintage festival I don't want to do a straight nostalgia set – it's a look to the future through the past, making something new out of some things that are old and new. That's the thing that links all the things I like, from art to books to music; a certain timelessness, something that looks out of its period, in the way it could be made yesterday or 100 years ago. There's an F. Scott Fitzgerald quote, about someone radiating that divine vagueness that helps to lift beauty out of time which always stuck with me. Which is a very flowery way of saying I like playing old disco records.
I love 'A Pox On The Pioneers', when can we hear more Andrew Weatherall solo work?
It's on hold at moment with all the remixing offers I'm getting at the moment – there's an AR Kane / Love From Outer Space mix, the Horrors and Wooden Shijps mixes I mentioned, so times too full to get my head down to making my own stuff. It sounds mercenary, but the music industry is fickle enough that when the going's good, it makes sense to build a little nest egg of money while I'm getting the offers so I can keep up the studio and all the rest of it.
Any production on the cards?
I'm working with this great musician, Pete Molinari from Chatham, whose voice sounds like a cross between Patsy Cline and a young Bob Dylan, if such a thing were possible. I produced three tracks on spec, which his managers are now whoring around the town's labels.
Tell us about your involvement in the Vintage festival. Did you have any qualms about the whole retro thing?
I have a bit of a reputation as a luddite, but I use a computer, they're great as reference tools. Computers just do things quicker, and thus amplify whatever you put into them – if you want to use it as a reference tool, you can, and if you're an idiot, you can watch videos of cats falling over. Fighting against it is like kicking a river to make it bend.
I like vintage things but I don't let it colour my vision – I like a certain cut of trouser but I don't want to live when they were made. I've never had a better time than today, to be honest – I'm more happy, relatively wealthy and comfortable with myself than I've ever been. The past is another country, as they say – and it's nice to visit, but I don't want to live there. All pop music is folk music; you take the things from the immediate past and around you, copy it, and add a bit more into the mix; there is no inherent constant drive forward, just people who believe in what they're making, which is why enthusiasm and integrity are more important to me than originality.