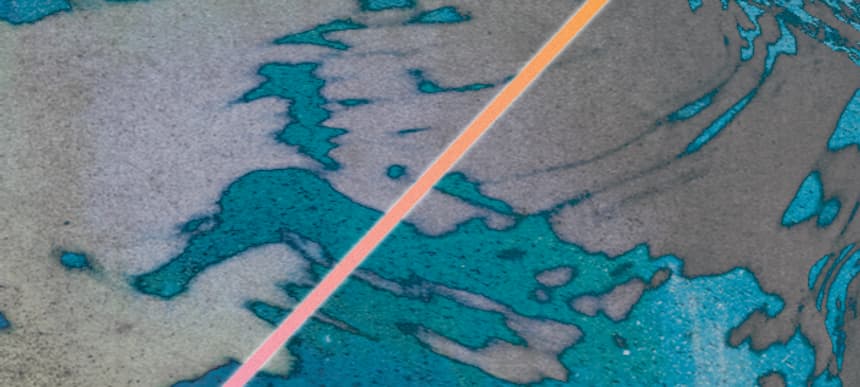 20.02.2014, Words by dummymag
Dummy Picks 014 // February 2014
Our first staff mix of 2014 comes in the middle of the grimmest February that the UK has seen in ages, but there's a bit of light coming through as winter slowly but surely recedes. It's the same with this mix – there's chilly, grey sounds from Kelela, E+E, and Actress' muted 'Ghettoville' early on, but there's some sunshine from DJ Q and optimism from Planningtorock as it progresses.
Selected by a few of Dummy's contributors, these are our personal highlights of the past month or so, and we've given a guide to each of the tracks featured.
01. Kelela – The High
Zara Wladawsky: "It's generally a testament to a track's greatness if you like it even though it's outside of your usual sphere of preferred musical styles, right? Kelela combines elements of pop, R&B, and lush deep house chords (produced by Gifted & Blessed) to produce something short, sweet, and deeply sensual. Perfect for a quiet moment, an after-hours, or most situations really!"
02. E+E – Sword
Adam Harper: "America's Elijah Crampton has been exploring his utterly unique and mystifyingly spiritual collages of pop, classical and sound effects for a number of years, and now his recent album 'The Light That You Gave Me To See You' offers a glimpse of his beautiful world at its richest. Sword is one of the highlights, taking a Rihanna vocal and placing it at the center of a chilly, Caspar-David-Friedrich-like landscape of storms and twisted metal."
03. Alauda – Honey Priest
Selim Bulut: "One of my biggest musical obessions right now, Alauda is a currently nameless pop musician who has put her name to just three songs – but they're all been utterly amazing. Nobody else is really writing songs like this right now – they don't really follow obvious rules but they're so catchy, the production is totally idiosyncratic (which is amazing as it's all home recorded), and most importantly, nobody else has a voice that's this distinctive and syrupy sweet."
04. Actress – Corner
Robert Darnell: "I was tentative about 'Ghettoville' at first. It's not all that immediate, but it's the most infectious (read: disease-ridden) Actress album for me. A work like this is ripe for criticism, so for the nerds one element of enjoyment is reading sharp analysis from the likes of Mark Fisher. But then you can also groove along to bonkers lil' tunes like Corner. I picture George Clinton at the bottom of the ocean, surrounded by sea anemones beating a bloody big drum. Fun-kay."
05. Planningtorock – All Love's Legal
Selim Bulut: "The new Planningtorock album is so much fun. I mean, it's also really serious – and it is really serious – but it's also a lot of fun, you know? The title track is one of its many highlights – it just has the most lovely melody and the most lovely message. Some of you might consider this a bit too political, or a bit too sanctimonious, or a bit too weird – but if you think that, then you're an idiot, because it's sick."
06. The Body & The Haxan Cloak – HAIL TO THEE, EVERLASTING PAIN
Selim Bulut: "I'd not heard of The Body before this – they're described as a sludge metal band on Wikipedia, which is quite outside of my usual world – but with the help of The Haxan Cloak and RVNG Intl., I'm now well acquainted with their terrible, punishing universe. Cheers, guys! This track is like having somebody pummel you in the gut and asking for seconds."
07. The Twins – Watercoaster
Zara Wladawsky: "The Optimo camp delivered an insane start to the year with The Twins, who is apparently an old friend who lived in Glasgow at some point. The vocals are otherworldly and mesmerzing whilst an armageddon of wavering, bleeping synths fervently builds and bubbles far beyond the boiling point. I first heard it on Optimo's Rinse.fm show and immediately had to know what it was, and I don't doubt that it sends any dancefloor that's heard out over the edge. What a tune!"
08. Max Cooper – Impacts (Gabe Gurnsey of Factory Floor remix)
Zara Wladawsky: "I actually heard this one browsing Dummy one day. I wasn't previously familiar with Max Cooper's work, which I've gotten into since hearing this, but I am a longtime fan of anything Factory Floor. This remix is wonderfully sparse and filthy, and I love the way it subtly evolves throughout."
09. DJ Vague – Porsche Trax 2
Selim Bulut: "I have a lot of time for Helix. His rhythms knock you out, his loops are perfectly primed, and his Twitter feed is the only light in the dark world of bland tech house DJs tweeting about airports. DJ Vague is his new alter ego, and it's dedicated to hard 'n' fast techno in a Jeff Mills kind of vein – he did us a Dummy Mix of all-original productions which was a belter."
10. DJ Q ft. Kai Ryder – Be Mine
Anthony Walker: "Huddersfield veteran DJ Q has decided to call his forthcoming debut album 'Ineffable', a perfect title for his brand of dance-pop. The latest single Be Mine had me at the first chords and clipped melody."
Tracklist:
01. Kelela – The High
02. E+E – Sword
03. Alauda – Honey Priest
04. Actress – Corner
05. Planningtorock – All Love's Legal
06. The Body ft Haxan Cloak – HAIL TO THEE, EVERLASTING PAIN
07. The Twins – Watercoaster
08. Max Cooper – Impacts (Gabe Gurnsey of Factory Floor remix)
09. DJ Vague – Porsche Trax 2
10. DJ Q ft. Kai Ryder – Be Mine