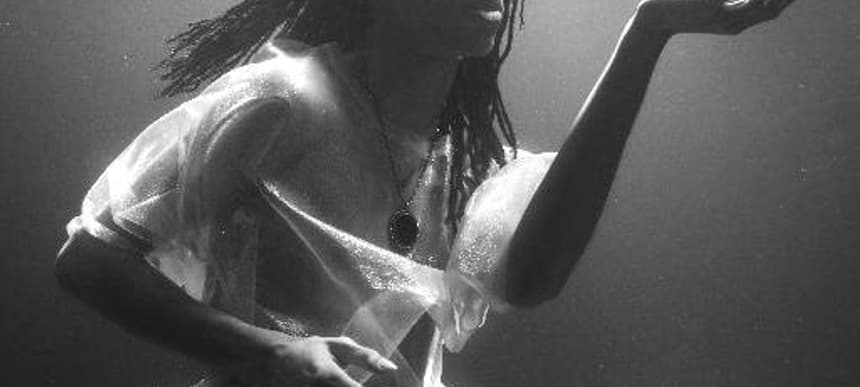 10.12.2015, Words by dummymag
Found Sound: Dream Koala
Parisian producer Dream Koala, also known as Yndi Ferreira, recently released a new EP, 'Exodus'. Accompanied by otherworldly visuals, it continues Dream Koala's sci-fi Afro-futuristic themes of cosmological scope and liberation via deep dreaming and imagined worlds. An EP inspired by how technology changed our vision of the world as humans, the French-Brazilian producer has shared a Found Sound with us recorded on a technology of convenience, the Paris Metro.
Listen to Dream Koala's recording below and read an interview after the jump.
Hey Dream Koala – how has 2015 been for you?
Dream Koala: "2015 has been made of interesting collaborations. I had the opportunity to write my first original soundtrack for a film that will be released next year. I also released the music video for Earth directed by my friends at Fabulous 3D. A few days ago, we played a special show with my friend Superpoze and the orchestra CODE, it was a really magical moment because I always wanted to work with an orchestra. I just self-released my new EP called 'EXODUS', which is a really important project for me."
Tell us about this piece of music you've sent us.
Dream Koala: "In 1913, Luigi Russolo wrote in his futurist manifesto 'The Art Of Noises' that the sounds from automobiles and other machines could be the music of the future. This is the sound from the Parisian metro that I always perceived as the heartbeat of the city. You use the Metro almost everyday when you're born and raised in Paris like me. These noises are part of your daily landscape, the rhythm to your movement in town. I hate taking the Metro but its noises make me feel nostalgic because they're linked to some positive memories."
What drew you to this particular sample?
Dream Koala: "It is symbolically interesting, the Metro is underground, there's no day or night, there's no landscapes through the windows. I thought it was interesting to talk about this sample because it illustrates some of the themes from my new EP. I was inspired by how technology changed our vision of the world as humans, how the link between us and the machines we use is deeper than we think. These noises remind me that, in spite of myself, I was shaped by the city that I perceive as a concrete prison, I am a product of this synthetic environment."
What were you doing on the Metro at the time – what part of the line where you on / or where you travelling somewhere in particular?
Dream Koala: "When you live in Paris, you use the Metro almost everyday to go to school, to work or visit your friends, but it is a place where you feel like you're nowhere."
Whats coming next for Dream Koala?
Dream Koala: "For next year, I'll focus on writing my debut album. I'm also looking forward to work with other artists and why not to score another movie."
'Exodus' is out now. Dream Koala plays Birthdays on March 4th 2016 (tickets).