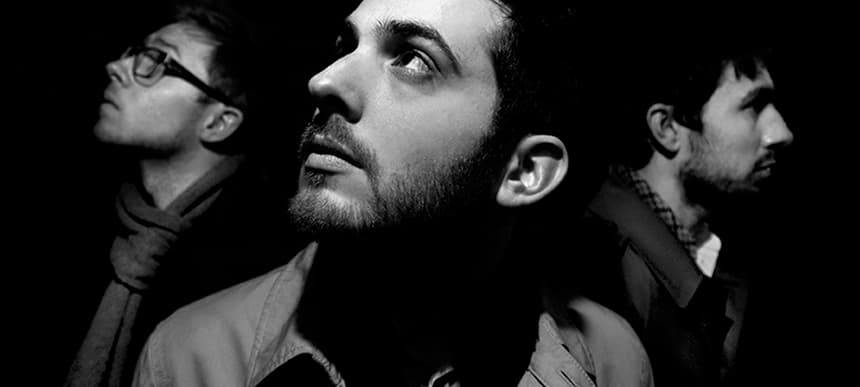 22.04.2014, Words by dummymag
Premiere: Delphic - 'Get Familiar'
Seemingly out of nowhere, Delphic have shared seven brand new tracks in the form of a new mixtape, 'Get Familiar'.
After releasing their second album 'Collections' in January last year and performing a three-night residency as part of Manchester International Festival in July, the Manchester dance pop band decamped to their city centre studio to write, record, produce and mix the material that makes up 'Get Familiar' entirely by themselves. The end result directly reconnects Delphic with the dancefloor influences exhibited on their earliest material, mixing Balearic and acid house with a thoroughly modern production and songwriting sensibility. Stitched together like a DJ mix, 'Get Familiar' also captures the relentless energy of a Delphic live show.
We spoke to the band's James Cook over email to get a little more familiar (sorry) with what was going through their head when recording the new material.
When did you record the music that makes up this wee mixtape?
Delphic: "From May/June 2013 through to New Year. In fact, the recording part was mainly during the stormy autumn/winter we had last year. Maybe you can hear that 'fuck-let's-get-in-the-studio-to-escape-from-sharp-flying-objects-and-torrential-downpours' sound we were aiming for."
What was going through your collective heads when you were writing the songs?
Delphic: "Well, I think the sound and mood of the songs came about not long after moving into our new studio space, which is an old industrial mill in Ancoats, Manchester. The size of these buildings, the high ceilings, and the reverberant hallways have obviously added to the writing and making of the mixtape, not to mention the fact that Manchester's climate will always create a drowning melancholy that we probably wouldn't find if we were based in LA or indeed Atlanta, where we recorded the last album.
"Then, after it had all been written, there was a huge desire to get it out there… spontaneously. That's a way we had never released before. With the previous two albums, we felt like we were putting everything on hold for 'the right impact date'; our last album 'Collections' was sat on the shelf for the best part of six months before anyone heard it. So this time around, we wanted to give our friends, and people who follow us in any capacity, a real time update as to where we are as a band."
Did you find yourself embracing any new or unfamiliar recording techniques with this?
Delphic: "The newest technique we've embraced is that this will be the first material we've released without a producer. I've already mentioned that we moved into our own studio in 2013 – but this has become a fantastic home for all the antique electronica we have amassed over the last few years on and off the road. We wanted to use this space as an opportunity to write and record without compromise and I feel we've really benefitted from being able to explore these bits of equipment as tools that can help define our sound.
"Also for the first time we've tried bottling part of the live show and putting it on record. Although it is something we have often talked about, releasing an album mixed in the same way as our live set has proved a stumbling block because it essentially turns an LP into a DJ mix, which breaks all the established rules about what an LP should be. This isn't a DJ mix, it is all new material, mixed together in the same way the early Delphic 30-minute live sets were, but with a modern club sound to the production. In an era when more people are going to the club than the venue, and Boiler Room mixes are more popular than gig highlights, this straddles both worlds, and gives you something to start your night with… wherever you might end up."
Is there gonna be more of this on the next record?
Delphic: "This mixtape is completely DIY and self-sufficient – from the inception of ideas through to production and mixing, and even down to the cover art, which we did ourselves. In an era where so many acts are wobbling on the ropes just trying to make a living, this is the only way for us to plant our feet. Do what you love, search the depths of what you have to offer, and treat the people who have put their faith in you right. That's something we'll carry over from this experience. Aside from that, we definitely have the self-production bug, that's for sure, but that doesn't mean we'll be ruling out collaboration or co-production – we love what new musical relationships bring to the pot."
While we're on the subject, how far off is the next record, anyway?
Delphic: "We're keeping our cards close to our chests on that one… what I can say is that the next step of our career is fully in motion. We are enjoying writing and making music so you wont have to wait too long before you hear new things from us."
Tracklist:
01. PPP
02. Only Human
03. Futureproof
04. Colours Of The Day
05. Illusion
06. The Giver
07. What If