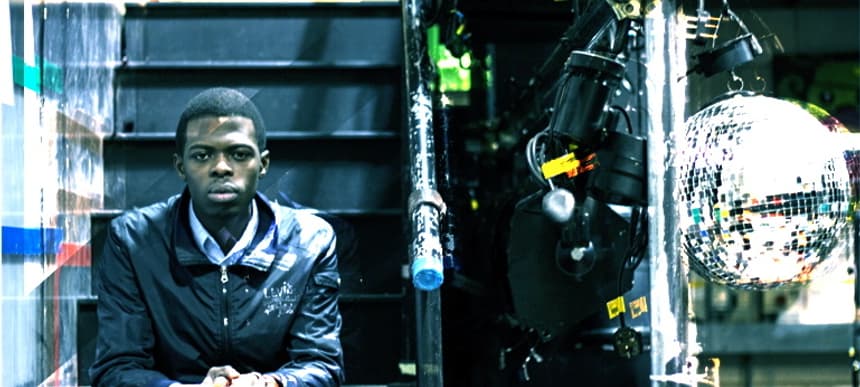 04.03.2014, Words by Anthony Walker
Premiere: G.S.ONE - 'The Art of Love And Sweat' mix
G.S.ONE is a young producer signed to Big People Music (BPM) – a Manchester based club collective set up by 1Xtra DJ Madam X, Phaze One, Darka and T.Dot, making their first foray into releasing records.
G.S.ONE's 'Lucid Dreams' EP (stream it in full here) is a great introduction to the label: all heavy bass and swelling melodies with vocals from local MCs and singers and a swinging remix for the 'floor. It's a brash and hard-edged but deeply emotional sound that you can file alongside Bristol's Purple movement, UK Funky and the left-field soul of a label like Eglo – if things like filing really matter when it comes to music like this.
With the EP's release on Monday, G.S.ONE has also put together a one hour mix titled 'The Art of Love and Sweat' – premiered here at Dummy. The blend of mushy slow jams and bump and flex tunes should give you an idea of what he is about – with many of his own tracks included in the tracklist. We also caught up with G.S.ONE to ask him about romance, debut releases and the scene in Manchester.
Hi G.S.ONE! So, what exactly is the 'Art of Love and Sweat'?
G.S.ONE: "In practice, The Art of Love and Sweat was a starting and stopping point for the mix. The track list became about music I was listening to in my house and on my phone a lot; finding a balance between soul and bass, grooves and sidechains, and passion and grime in my mixes."
On one of my favourite tracks here – There's Nothing Like This – the singer Omar offers his guest a sip of "cold champagne wine". What libations would you recommend to people enjoying this mix?
G.S.ONE: "The mix get me in the mood for dancing and shuffling though, so a nice smoothie with a straw would probably be best. Dark rum is good for any and all occasions so it's a must to keep that flowing."
The 'Lucid Dreams' EP will be your first. Can you tell us about your route to the release?
G.S.ONE: "Phaze One, Madam X and Darka had been playing a few of my tracks on their radio shows for a while and when Tunde mentioned BPM were thinking about setting up a label – it seemed right to all of us that I be the first artist they support.
"Tunde and I set up camp in his friends flat for a summer whilst they were away and created Nuff Love Studios in their living room to record Fallacy for I Was Just Thinking and finish the rest of the EP. Not long after we had finished the arrangements and demos, Darka sent the EP to Zed Bias who graciously mixed it down and gave the records that something that makes them what they are now. It's been an intense learning experience and I'm grateful to have been able to go through it with a team I consider family."
Are there any other new artists from Manchester or anywhere else you'd like to recommend to our readers?
G.S.ONE: "Metrodome from Manchester is showing himself to be one of the most diverse and talented producers in the city. His feel for grooves spans genres, styles and tempos like no one I've heard for a while and I'm excited to see where he chooses to let 2014 take him. I'm also looking forward to new releases this year from Fallacy, Acropolis Sound and Jenovah from Cergy, and hopefully some live shows from Silverclub."
Tracklist:
01. Jeremih – Rosa Acosta
02. Pusha T – King Push (instrumental)
03. G.S.ONE – Untitled (ft. Fallacy)
04. Erykah Badu – Back in the Day (Viktor Birgis remix)
05. Ossie – Love Crazy
06. Jordan Rakei – Add the Bassline (Evil Needle remix)
07. B.Bravo and Teeko – Drop It
08. Artifact – Archaic Line
09. TaKu – I Love Beyonce (Jenovah remix)
10. G.S.ONE – Duck and Wave
11. Cassie – All My Love (KK Edit)
12. Twista – Overnight Celebrity
13. G.S.ONE – My Friend The Sky
14. Cid Rim – Draw (Dorian Concept remix)
15. G.S.ONE – I Thought I (IN LOVE)
16. Kingdom – Bankhead (ft. Kelela)
17. G.S.ONE – Pillowtalk
18. Mr Carmack – Grapevine
19. Silkie – Feel (ft. Truth)
20. Omar – There's Nothing Like This
21. Outkast – Prototype (Staro Bossa edit)
22. Jo Def – Swim
23. Hudson Mohawke – ZOoo0m
24. Harmonic 313 – Lion
25. Shlohmo – Antigravity (Low Limit remix)
26. Peter Hadar – Sweat
Big People Music release 'Lucid Dreams' on March 3rd (Junodownload exclusive) and March 10th 2014 (worldwide). BPM are throwing a party to celebrate the release and their fourth anniversay on Friday 7th March 2014 at The Roadhouse in Manchester – full details of that here.