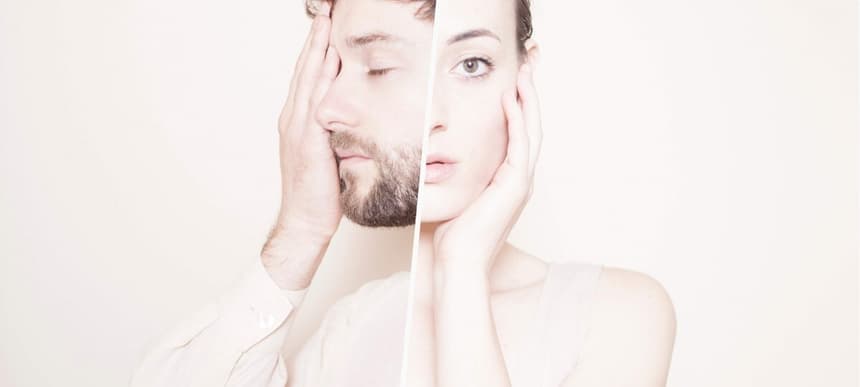 25.10.2013, Words by Aimee Cliff
Premiere: Rainer's 'Long Nights and Night Longing' mixtape
Ever since they released their cracking Girls/Money double A-side in early August, we've kept a close eye on self-styled pop satirists Rainer. Pairing together the delicate yet foul-mouthed vocals of former Stricken City singer Rebekah Raa with the dark, multi-layered instrumentals of Nic Nell's Casually Here, the duo have made a name for themselves with music that both basks in and examines the oddities of modern pop culture. Ahead of the release of their debut EP 'Hope/Satin/Glass/Dreams', which is due out on the 25th November, we sat down with them to talk rhinos, X Factor and how a sensory deprivation flotation tank has helped their creative process.
Talk to us a bit about how you first met. We've heard a lot about late night Youtube binges and a shared love of hip hop, but when did you first start producing music together?
Rebekah: "The first meeting was specifically outside the Truman Brewery on Brick Lane. We have a lot of musical friends in common so got to know each other through that. I started writing and making music on my own when my old band Stricken City split up and needed help finishing a couple of songs. We realised we could both bring to the table something that the other couldn't so started writing together. I've never been able to work so intensely directly together with someone on music so that's new."
It feels like this EP is much more upbeat compared to the Girls/Money double A-side you released in August. How do you feel the sound differs?
Nic: "Choosing what to put on the EP, we wanted to make sure that it was coherent/cohesive lyrically and sonically. We also wanted to put some totally new stuff we'd just finished on it. Having started playing a few live shows and having had to work out how to play the songs live, we felt that we wanted some stuff that was a bit more fun to play out and that would work in different settings. So a track like Hope starts quiet and a bit sombre, moving through catharsis to a kind of dancehall calypso party. We realised that despite a lot of the songs being electronic, you can't dance to them… and I guess we wanted a bit of that."
You've been described as 'pop satirists' is that a label you're proud of? Where do you think pop music has gone wrong?
Rebekah: "Our last single Girls was a bit tongue-in-cheek, especially with the video, but most of the stuff I write isn't actually looking satirically into the world of pop, more exploring my own emotions and interactions with people. I like a lot of mainstream pop but it can also often be quite bad and embarrassing and filled with novelty records which now stuff like X Factor feeds into. But pop is fun, there's freedom in it too because you can (almost) get away with anything."
Nic: "I like it. I think it's fun. It describes the Girls/Money release well thematically and kind of what we were going for with it though wasn't something we were thinking about whilst making the tracks. We both listen to a lot of pop music. I really like the big expensive American pop releases with huge budgets and great production. Records like Britney's 'Femme Fatale', the new R Kelly album, the new Weeknd album… I'm actually really looking forward to giving Miley's 'Bangerz' a listen for the craft of the whole thing. I think all the X Factor type stuff and the conservatism involved in the songs/flattened-out bland production, often in the UK just emulating their conservative major label US counterparts is pretty damn uninspiring. I don't have a problem with those talent shows per se but it's a shame that the music is so grey. I listen to a lot of Rinse FM and Reprezent on the radio (conveniently next to each other on the dial) and there's so much great garage-y interesting UK pop stuff on there… I finally installed Shazam on my phone so hopefully I can actually track down what some of the stuff is… keep missing track names. It's a shame that more of that stuff isn't getting more of a push in the world of mainstream pop."
Where do you look for inspiration?
Rebekah: "For writing? My own mental states, thoughts and experiences. Love and the highs and lows of that. Altered states of mind and strange conversations."
Nic: "I recently tried a sensory deprivation flotation tank. The first half hour was actually kind of stressful – it's amazing how loud your thoughts are… then the second half hour was pretty disembodied and interesting. It's supposed to inspire creativity but I actually just felt like I was made of jelly afterwards (which was pretty interesting in itself), to be honest, I'd recommend with starting by just having a bath in the dark with ear plugs in and see where that get's you. For one, it's a lot cheaper. Otherwise I often write just before falling asleep in that weird border state between being awake and sleep. The brain seems to make interesting connections and creativity comes easily on the edge of a dream state and with no pressures or expectations to achieve anything… you also get the interesting thing of getting to relisten in the morning with no memory of what the track sounded like."
Any dream collaborators you'd be eager to rub shoulders with?
Nic: "Our dream collaborators would be Chance The Rapper, Max Cooper, David Byrne, Jon Hopkins, Drake, Majical Cloudz and Joe Goddard."
What's now? What's next?
Rebekah: "We're preparing for our EP release in November, making a video for Satin and finishing the album."
Tell us something we don't know.
Rebekah: "Nic has a 'Bros' mirror hanging in his kitchen."
Nic: "The collective noun for a group of rhinos is a crash of rhinos."
Tracklist
Nellee Hooper – O Verona
Woman's Hour – Darkest Place (Rainer Remix)
Joe Goddard feat. Valentina – Gabriel
Polica – Lay Your Cards Out
Flume feat Jezzabell Doran – Sleepless
Alunageorge – Your Drums, Your Love (Friendly Fires Remix)Le Mepris (interlude)
Rainer – Satin
Raffertie – Build Me Up
Drake feat. Majid Jordan – Hold On, We're Going Home
Kanye West feat. Chief Keef and Justin Vernon- Hold My Liquor
Jeremih – Fuck You All The Time (Shlohmo Remix)
FKA Twigs – Papi Pacify
Casually Here – Settle
Kissability will release the 'Hope/Satin/Glass/Dreams' EP on the 25th November 2013.