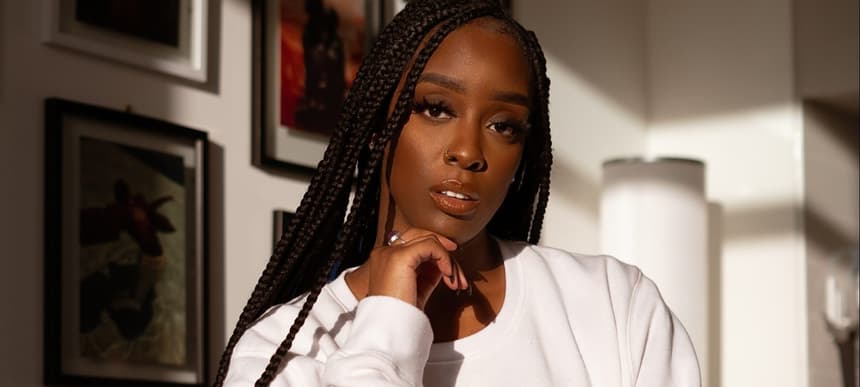 21.06.2022, Words by Billy Ward
Faiza introduces her sizzling new R&B single 'Questions'
"I didn't even really register what we made until I got in the car and played it back..."
Canadian singer-songwriter Faiza is turning up the heat with her latest single 'Questions'.
Following the success of her recent track 'Benchmark', the Toronto R&B singer – real name Fatuma Nuri – returns with a sun-soaked helping of soprano produced by Toronto's Nate Smith. 
"Making 'Questions' was very cathartic, I pulled up to Nate's studio with no real plan as to what I was going to work on. He made the beat for Questions on the spot," says Faiza. "I remember feeling very tired that day from work the night before and just generally exhausted from life. As soon as I heard the beat, the melody of the hook came to me and we made the entire song in a couple of hours. I didn't even really register what we made until I got in the car and played it back, realised I had something special with it and the rest is history."
Since releasing her debut single 'Body Babe' back in 2016, Faiza has been steadily growing her stature in both her home country Canada and throughout UK. In 2018, she appeared as a contestant on Canadian reality music competition The Launch, growing her acclaim while honing her unique songwriting voice and highly trained vocal technique.
Now setting her sights on global success as a solo artist in her own right, Faiza is currently preparing a collaborative project with producer birthday boy that aims to establish a new stylistic space for the artist and help push R&B in a new direction. 
Stream 'Questions' below or listen with your preferred player here.
'Questions' by Faiza is out now on Bare Wizardry via DMY.
Submit music for release via DMY Artists.
Read next:
Diedrick's soulful debut single 'Better' is a lesson in love, loss and faith
Pharrell Williams, Bawo, SZA and more added to our NEXT HYPE playlist