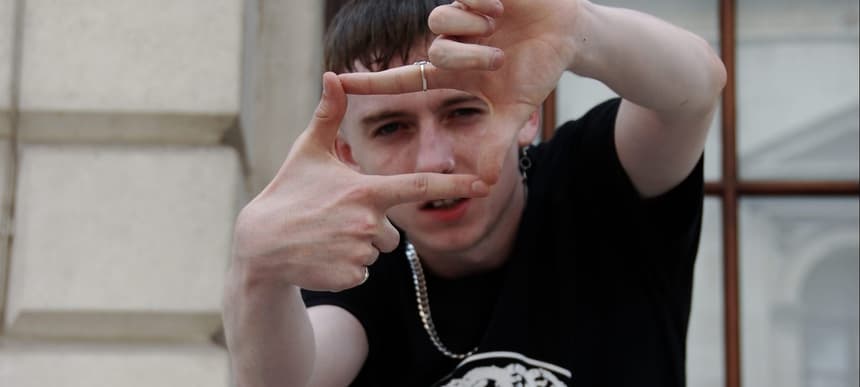 03.09.2020, Words by Billy Ward
HEN$HAW takes aim at the UK government in punk-inspired single 'GO YARD'
From first hearing the beat, the rapper had the track finished in 20 minutes
Channeling the punk spirit of Johnny Rotten and the Sex Pistols, London rapper HEN$HAW flexes his artistic versatility on new single 'GO YARD'.
He's the latest artist we've been working with via our DMY Artists, having previously hosted a live stream from him and friends.
Lyrically provocative but with an abundance of raw talent to back it up, the young rapper acknowledges his working-class upbringing and the feeling of neglect from the political class as inspiration for his latest cut.
"Some might call me ignorant for that but it is what it is. I'm not a politically-driven artist but what's stopping me from incorporating real shit that's going on in this city and country, and all over the world?" he says about the track.
Spontaneously bursting to life in a single studio session, HEN$HAW shouts over the punky, guitar-heavy production, targeting politicians such as Boris Johnson, Theresa May and David Cameron.
"In my eyes this song is a bit of fun, a few drinks with my friend/producer goodbyechase and my manager Gino in the studio, knowing we were going to come up with something fresh. Once I heard the beat I knew I was going to anger some people, but that made it better", the rapper stated. "My message was deeper than just jokes of harming politicians. It's really a metaphor for the state some of them have left the country in, and if you listen carefully I hope people will understand that."
Stream 'GO YARD' here, and watch the video below.
Read next: Your Loss return with punk-stained hip-hop cut 'Memory Hole'