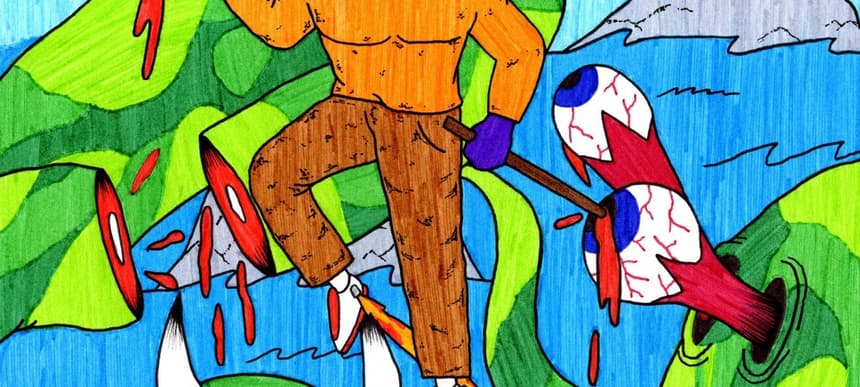 13.09.2016, Words by dummymag
Listen: Feadz & Le Dom - Big Shots
The boss fights in video games are usually the most intense parts – either ending in a victory spliff and a nice cold can of Sour Cherry KA as a reward or, ramming your controller through the television. A lot of this tension, however, isn't born from irritating difficulty, but instead from the often over-aggro music composed for such a boss encounter.
Parisian heavyweights Feadz (an Ed Banger favourite) and Le Dom (fresh from a release with Liar's Tessier-Ashpool), have teamed up for Big Shots, which is their own interpretation of an imaginary video game's boss level battle theme tune. What follows is an anxiety stricken dancefloor boiler, with sweat-inducing percussion layered over unforgiving blips and bleeps. If you yourself are a DJ and would like your next crowd to turn into a massive Tekken 3 style brawl, then whap this one on your USB courtesy of Paradoxe Club and get it on the rig.
We sat down and had a chat with, head of this new Parisian imprint, to find out more about what the label hopes to achieve. Listen to Big Shots below, and read the interview after the jump.
Can you tell us a bit more about why you started Paradoxe Club?
Birol: "I was curating some parties in Paris with Romain. We always wanted to throw parties with fresh new talents. One night I booked De Grandi, Le Dom and Sunareht who I already knew had come down to our nights before. We all met there, then became friends and hung out at Overdrive Infinity (an internet DJ show hosted by Teki Latex). I had the idea to start this label since we shared the same vision and had aspirations to release music from us and from our friends, so it was the natural thing to do."
The track from Feadz and Le Dom is certainly a hard hitter – what's your selection process when curating a release of such hard dance music?
Birol: "Our selection was primarily based on people we thought were putting out interesting music in our scene. We asked some of our friends to create the theme track of a video game boss level they imagined. This was an original starting point for the tracks and we ended up having a very diverse panel of sounds. Certainly, the Feadz & Le Dom one is hard hitting, but for example, the tracks from Oklou and Doline have totally different vibes. Of course, we could not gather everyone we wanted, but there is more to come."
Paris has always been seen as an important player in forward-thinking electronic music, but how do you find Paris when it comes to current dance music and nightlife?
Birol: "Most of the Parisian clubs are afraid to take risks and prefer to book 'safe' house and techno acts. Nevertheless, Paris definitely has become better in terms of choice and music diversity, but there's still a lot of work to be done. New radio stations are developing like Rinse France and Hotel Radio, who showcase music from diverse horizons. There are more collaborations between artists and more reflections to consider going forward.
Young people start to dance freely on unusual beats. French rap is tight and afro trap, logobi, and even ballroom battles are making their way into some clubs at the moment."
What is next for Paradoxe after this compilation drops?
Birol: "The release party with the artists from the 'Boss Rush' compilation. We will announce that in the coming weeks. Then EPs from Sunareht and De Grandi and some more releases are in the works."
What's the craziest party you have been to in Paris?
Birol: "Probably the last time Logos came to Paris at a [re]sources night, which was one of the craziest set I've seen. Also, the recent Wet Hot Teki Summer parties at the Wanderlust, Bonus Stage by Betty at La Java, and the % parties by Detente, DJ Ouai, and Miley Serious were awesome too."
Is there anything else you want to share?
Birol: "#BériteClubMusic."
The 'Boss Rush' compilation is out September 26th on Paradoxe Club.