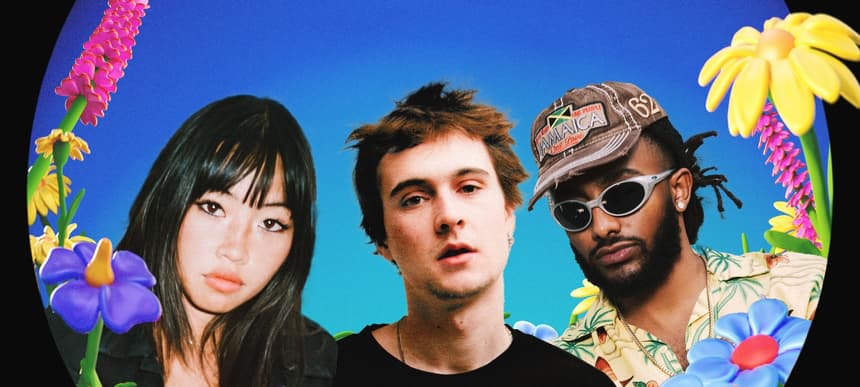 07.11.2023, Words by Billy Ward
Mac Wetha, Beabadoobee and Aminé join forces on huge new track 'Fear of Flying'
"It became a labour of love...I couldn't be prouder of it..."
Acclaimed producer and rising solo force Mac Wetha returns with a brand new single 'Fear Of Flying', featuring Beabadoobee and Aminé.
Aside from being a founding member of London hip-hop collective NiNE8, redefining the sound of the city alongside the likes of Lava La Rue, Biig Piig, and Nayana IZ, multi-hyphenate artist Mac Wetha is one of the most in-demand and talented producers about right now. 
Best known for his work behind the scenes, propping up some of the UK's most exciting names with his slick productions, the 25-year-old has spent the last two years claiming some of the spotlight for himself.
'Fear of Flying' is the product of a period of imposter syndrome for Mac, who whilst living his dream of making a living out of music full time, was experiencing self doubt and worrying about letting his fans down.
"That's what the 'Fear of Flying' means to me;" notes Mac Wetha, "A fear of soaring high for everyone to see, but no one likes or cares about what they're seeing."
Starring labelmate Beabadoobee and US rapper Aminé, whom he has previously produced for, the track demonstrates Mac's knack for collaborative creation.
Speaking about working with the pair, Mac explains: "The thing I love most about collaboration is the idea of people coming together on a track that may not necessarily make sense, but in fact it makes TOTAL sense when you hear it…I know Aminé from back in 2019 when I produced a track on 'Limbo', and Bea and I go back since she took me on tour in 2021. I've had the idea of them being on a song together for ages… and suddenly it felt like this one was perfect. It became a labour of love, coming together really naturally over the period of 2 or so years and I couldn't be prouder of it."
Stream 'Fear Of Flying' below: