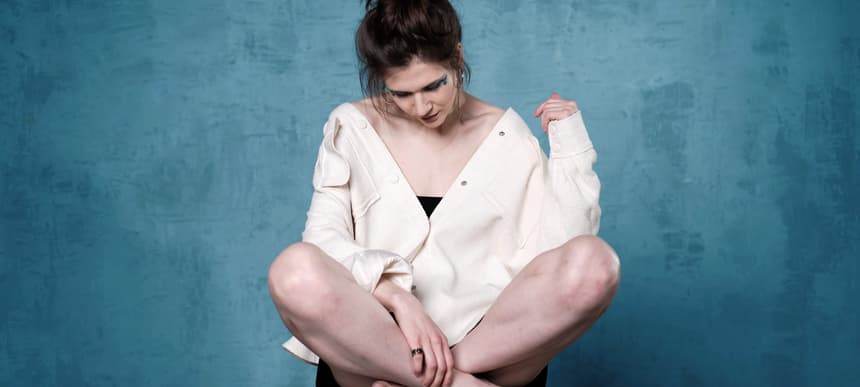 14.10.2021, Words by Billy Ward
Monikaze's personal 'Waste of Space' project intersects techno, post-punk and pop
"I think expressing your emotions is what makes people connect to one another..."
Operating between Lithuania and Bristol, composer, songwriter and producer Monika Zenkeviciute has trod a unique path to get to where she is today – becoming Monikaze. Her project rollout for 'Waste of Space' has already seen her drop two fascinating singles in 'Give Me Your Soul' and 'Jump A Lie', but as of today the rising talent is treating listeners to the complete body of work.
After finding herself at the Lithuanian Academy of Music and Theatre studying composition, it quickly became clear that the environment was too creatively stifling and the budding artist made her move to Bristol, transitioning from the from the world of polished lecture theatres to the late-night headiness of club culture.
Her new 'Waste of Space' project is an eclectic offering, pulling apart techno and diving into sounds such as post-punk and pop. Made up of eight tracks each in their own way reflecting aspects of the last twelve months, the record is as much a coping mechanism for the songstress to deal with things like physical separation from her family and close friends, as it is a showcase of her immense creativity and talent. 
"Usually, I hear my songs in my head first and then try to capture it in my laptop, either by recording vocals, playing with Ableton Push or writing notes" Monika says. "Then I leave it to 'dry' and come back with more a conscious approach, analysing what it means to me and rendering it until it's alive.
"When the quarantine happened, sitting behind the walls, separated from everyone I care about; it made me realise that I was always just sitting behind my walls. I wasn't ever being honest, not ever truly connecting with the people I care about."
The project's autobiographical title goes all the way back to the bullying Monikaze faced at school and the defences she put up to combat it, which subsequently hid her true emotions.
 "Often, people don't say how they feel because of fear or judgement. However, I think expressing your emotions is what makes people connect to one another. In my mind, you become only a 'waste of space' if you are unable to contribute to the story of someone's life. I have been a waste of space," she says. Despite thinking this, with her music and her own re-vitalised sense of self going forward, Monikaze is proving to be anything but.
Stream 'Waste of Space' below or listen with your preferred player here.
'Waste of Space' by Monikaze is out now on Moshi Moshi via DMY.