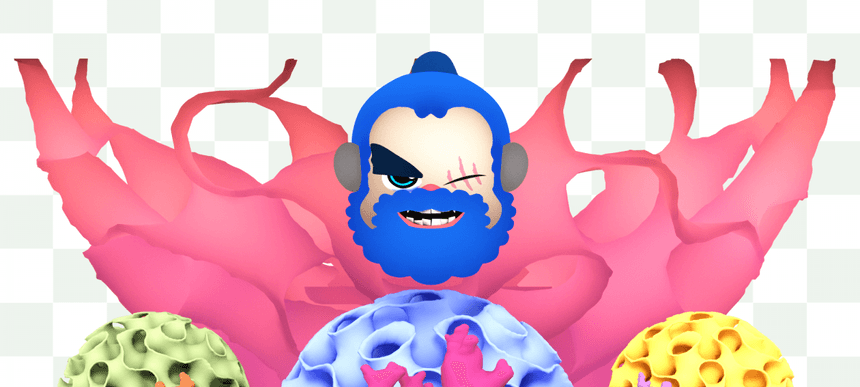 18.02.2016, Words by dummymag
Premiere: Mr. Yote - SS Mud
Powerhouse rapper Mr. Yote marks the birth of a new character in his rapidly expanding population of 'Yoteland' with his latest release 'The Terrible Tales of Scurvy Jones'. In the tradition of virtual worlds such as 'Second life' and 'Habbo', the concept of 'Yoteland' is derived from an inspired vision of a grander lifestyle than that which is inhabited IRL. In the instance of Mr. Yote, the fictional cast of 'Yoteland' is an exaggeration of people encountered in his daily existence of his home in the sunshine state of California. Currently populated by residents 'Count Torro' and 'Frank & Stein', the avatars of 'Yoteland' are concepted and controlled by Mr. Yote himself, who has presently shared the dictatorship only once with collaborator Iglooghost during their dual Activia Benz release 'Yoteghost'.
In 'The Terrible Tales of Scurvy Jones', audiences are introduced to a "ruthless and rowdy old pirate whose main intent is gathering and curating a crew as ruthless and rowdy as he is in order to conquer the sea". The trajectory of the EP follows Scurvy Jones as he "goes fishing one day and gets attacked by a monster squid. He loses his Father and his eye to the squid which triggers a bit of a revenge plot". The Terrible Tales of Scurvy Jonesindicates that outlandish storytelling is becoming instinctive to Mr. Yote. His characters are maturing as he finesses his knack for fiction. Mr. Yote claims that Scurvy Jones presently holds a small role within the depths of 'Yoteland' but insists, "with this project I really wanted to have the character develop and become more dynamic. In the end he still wants to conquer the sea, but he goes about it in a different more open minded and forgiving way".
It is difficult to decipher how these characters play into each other's existence. Is there a conjoined and logical narrative at all? Is there life beyond role-playing games and rap EPs? Will Mr. Yote and Iglooghost ever join forces again, and if so, under what alias and for what purpose?
FIND OUT ON THE NEXT EPISODE OF 'YOTELAND'!
The Terrible Tales of Scurvy Jones EP will be available via Fly High Society on February 24th.