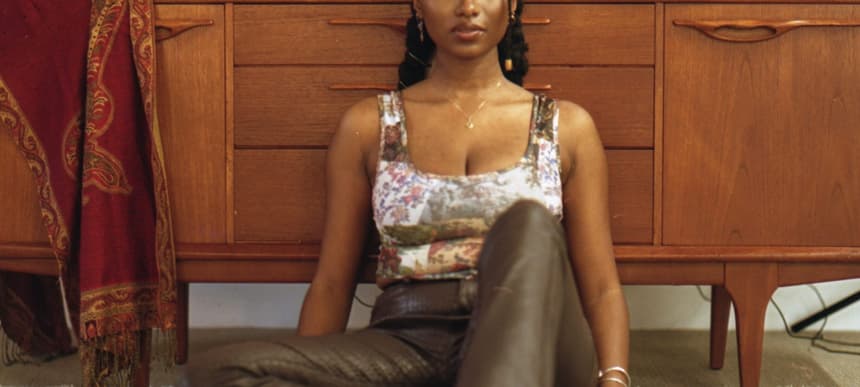 26.02.2021, Words by dummymag
Raelle deals with embracing uncertain times on 'Purple Skies'
The soul-inflected single was written as a result of uncertain times in the pandemic
South East London vocal powerhouse Raelle has turned in 'Purple Skies', a new track that marries slinky bossa nova with neo-soul and touches of R&B.
We're pleased to have worked with Raelle on the single via our DMY Artists, and it deals with coming to terms with the uncertainty of life, finding peace, self-realisation and clarity in the midst of a pandemic.
"In between the certainty of the blue skies and the radiance of the sunset, there lies in between this a sky that is a kaleidoscope of purple clouds," Raelle says. "These purples skies never seem to stay and can change in an instant. Although unstable and uncertain, they are remarkably beautiful and a sense of fearful peace washes over me every time I see them. There is so much beauty in uncertainty.
"In 2020 my life was turned upside down, in terms of love, family, job security and the fear of waking up to find out the pandemic took someone I knew. At first it was hard, and I couldn't cope with not knowing what my life would look like the following day, but then I started to realise how much of an important time in my life the uncertain periods were. They taught me to cherish those I love, how to be strong and how to be brave, you have to fall to realise where you were going wrong. Although this was painful at the time, coming back from those situations that taught me the most. So this song is about embracing the uncertain times, seeing them as lessons and understanding how much you can grow as a person from them"
Stream 'Purple Skies' below or listen to it via your preferred streaming service here.
Keep up to date with all of our DMY releases via this playlist, and follow our weekly-updated NEXT HYPE playlist.