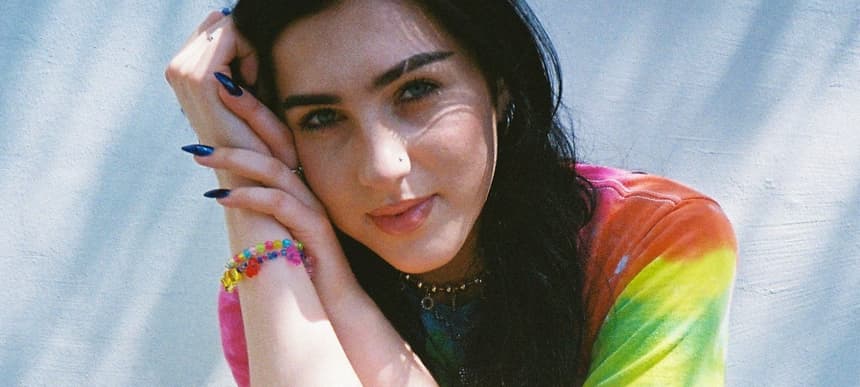 16.06.2022, Words by Billy Ward
Roma Radz shares post-break-up hyperpop anthem 'It Didn't Happen'
The new single is taken from her upcoming debut EP 'Really In Love'
London-based songstress Roma Radz returns with her new single 'It Didn't Happen', an empowering post-break-up anthem splicing country-influenced guitar lines with hyperpop.
Produced by longtime collaborator and friend phonewifey, the synth-led bop is the first single from Roma to feature physical instruments and is instantly relatable with its lyrics about kicking out a cheating boyfriend.
"The song was written on reflection about a guy who I found out was seeing other people behind my back. The second I found out, I packed all of his things and kicked him out my flat, as he had been living with me for a while," says Roma: "I never saw him again and I quickly forgot that it actually happened, even though he was a really big part of my life at the time. I am really good at blocking things out of my memory, so this song is kind of my only reminder of the situation."
After she finished writing, Roma took the song to phonewifey to get a beat produced."I wanted it to have a real instrument in as none of my previous songs do," Roma says, "so phonewifey recorded themselves playing the guitar that you hear in the song. And, with the guitar as the base, we just built off it from there."
The pop star-in-waiting is having a great year so far, recently performing in front of thousands with Hannah Diamond at Barcelona's Primavera Sound, as well as putting on her own shows across London. With her upcoming debut EP 'Really In Love' on the way, there's much more to come from the hyperpop princess.
Stream 'It Didn't Happen' below or listen with your preferred player here.
'It Didn't Happen' by Roma Radz is out now via DMY.
Submit music for release via DMY Artists
Read next: RYL0 expands her hyperpop universe with 'I'm The Worst!!' EP