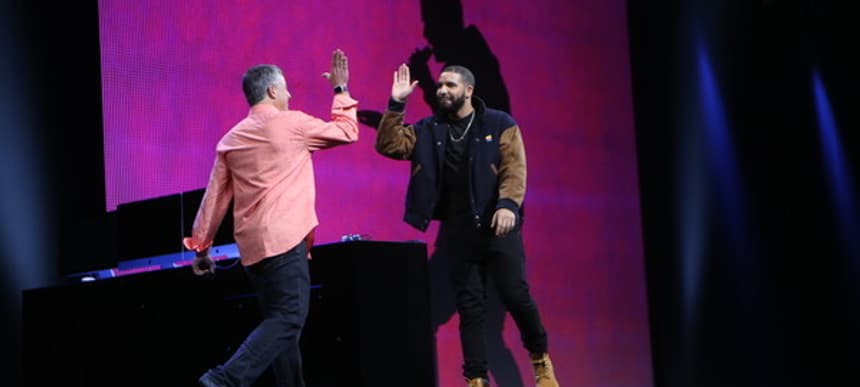 08.06.2015, Words by dummymag
Apple Music launches June 30th
Long-expected Spotify rival unveiled in San Francisco. And Drake was there.
Apple announced their new streaming service Apple Music at its annual Worldwide Developers Conference (WWDC) today. Some 5,000 developers were in attendance, having paid a silly $1,599 to be there.
People in the music and tech industries have been waiting to see what form the service will take since Apple acquired Beats Music for $3bn last year. So what is to be learnt from the new announcement?
It launches very shortly. The service will be available in 100 countries beginning from June 30th.
It costs $9.99 a month. But the first three months are free for everyone, which should be more than enough time to get current Spotify subscribers committed to Apple's new service full-time.
Apple instantly have the upper hand. With all the iPhones in circulation, and all the credit cards Apple has on file via iTunes, and the vast, vast wealth that Apple hold as a company, it won't be hard for them to force the service onto hundreds of millions of people.
There are three major features. The first is curated playlists, going way beyond typical recommendation algorithms (which most streaming services are starting to offer). The second, somewhat more interesting one is a 24/7 radio station called Beats 1, which will be presented from LA, New York, and London, and includes Zane Lowe and Julie Adenuga as hosts (which could be worth checking out to see how it develops). The third is a social networking platform called Connect that lets artists interact with fans (which is probably quite well thought-out, although these things have a habit of not really catching on).
Drake was there. He got on stage to talk about Connect and how it's great. We're sure he sincerely loves it. We're also sure he loves the reported $19 million he was paid to get on board.
It's timely. Last year marked the first time that the music industry's global digital revenues matched the revenues of physical sales. Revenues from subscription services like Spotfiy, Deezer, and Pandora grew 39% throughout 2014, while the total number of paying subscribers was 41 million. So Apple are entering the market at a time when there's never been more demand.
It's art. Much like the announcement of TIDAL, the word "art" was thrown about rather willy-nilly. "Technology and art can work together, at least at Apple," says Jimmy Iovine. Trent Reznor described it Apple Music as "a place where music is treated less like digital bits and more like the art it is." Post-Steve Jobs, there's been an increasing tendency in the tech world to try to associate their work with the work of artists. But let's be level-headed here: tech is not art.
Android get in on the fun. But Apple Music won't be available to them until later in the year.
You can stream music. Once again, cut away the hype and this is just a streaming service, a means to listen to music. Apple CEO Tim Cook might insist that it "will change the way you experience music forever", but it really won't.