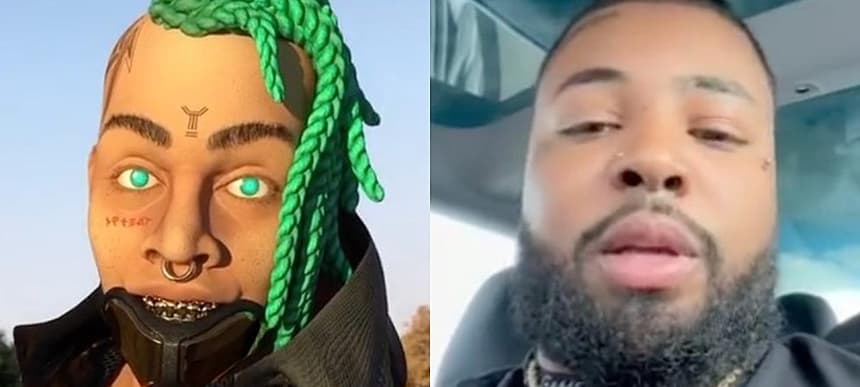 25.08.2022, Words by Billy Ward
Artist claiming to voice 'AI rapper' FN Meka says creators "used me...then ghosted me"
Capitol Records severed ties with the project after backlash for trivialising and stereotyping Black culture...
An Atlanta-based rapper claiming to be the human voice of controversial 'AI rapper' FN Meka says the creators behind the project "ghosted me" after being promised equity in the company and was never compensated.
On Tuesday, August 23, rapper Kyle The Hooligan came forward on Instagram to tell his side of the FN Meka saga, after the virtual artist was dropped by Capitol Records within a week of signing amid strong criticism for trivialising and stereotyping Black culture. The label addressed this earlier in the week by issuing a formal apology.
In the new video, Kyle claimed he collaborated with the team behind the virtual rapper but has yet to be paid for his services.
"Used me for my voice my likeness and the culture got 10million TikTok followers and a big record deal off what I created then ghosted me," he wrote in the video's caption.
In the clip he claimed: "They promised me equity in the company, percentages, all this stuff, so I'm thinking, 'OK, this about to be some collab, something different for me, so I can do my music and do some AI stuff with this FN Meka character."
"So everything going good," he continued. "Next thing I know, n**** just ghosted me. Use my voice, use my sound, use the culture and literally just left me high and dry. I ain't get a dime off of nothing, and they got record deals, all this stuff. I wasn't involved in no meetings or none of that, which is fucked up. So, I'm glad their ass got cancelled 'cause that's karma for their ass."
View this post on Instagram
The 'AI rapper' has been active on TikTok for over a year already but recently broke into the public spotlight after it signed a major label deal with Capitol Records last week. FM Meka was created by Anthony Martini and Brandon Le, cofounders of virtual record label Factory New.
Following the increased attention on the project after inking with a major label, FM Meka received heavy backlash due to the rapper's use of the N-word, trivialising police brutality and feeding into racial stereotypes.
The PR surrounding FN claims that despite using a human voice, the music and lyrics are generated through an unnamed AI program. However, others have come out suggesting that there doesn't seem to be a lot – if any – AI tools involved in the creative process.
"Let's be clear: FN Meka was never an 'AI' rapper," one user wrote on Twitter, "the persona's creative direction is still a manual process with clearly biased humans behind the scenes, and behind the cloak of 'AI rapper' they probably thought they could get away with absolving responsibility to The Algorithm."
Journalist Maarten Walraven, who previously published an article on the 100 year history leading to AI-powered robot rappers, labelled FM Meka, "a tone-deaf project in every way. It's pure marketing, it's purely money-driven."
In a statement about severing their ties with the FM Meka project, Capitol Records wrote: "We offer our deepest apologies to the Black community for our insensitivity in signing this project without asking enough questions about equity and the creative process behind it."
Read next: Rare photos of Lee 'Scratch' Perry by Dennis Morris to be displayed at new 'Super Perry' exhibition