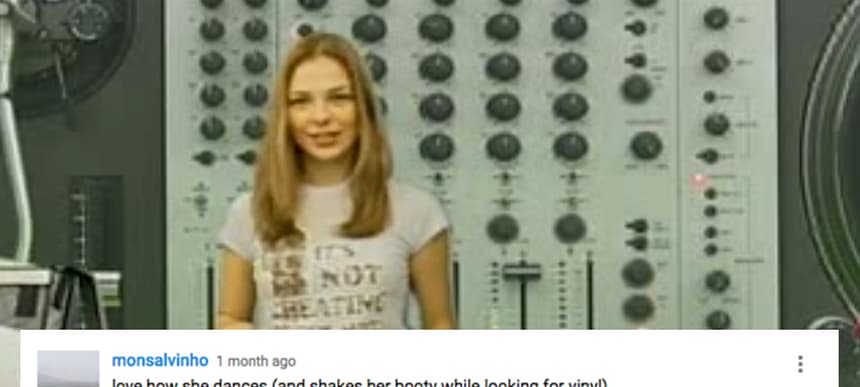 07.07.2016, Words by dummymag
I love how she shakes her booty (while looking for vinyl): some thoughts on sexism in music
Last Wednesday night, Nightwave was performing ahead of DJ Deeon on a Boiler Room live stream from Paris. She was playing a great set, but steadily became exposed to a slew of vile and sexist comments on the Facebook live stream. The same had happened earlier in the week when Toxe, a young Scandinavian member of the Staycore collective (and producer of the heaviest Britney remix ever), was subjected to similar abuse whilst playing a live stream.
Gabriel Szatan, a senior programmer at Boiler Room, saw this unfold and voiced his dismay on Twitter, which triggered a good crop of reaction pieces on how the company should tackle sexism on their streams. This saw the team speak out against sexism, racism, homophobia, and xenophobia – with the news they would hire dedicated moderators to clean up and monitor posting on the platform.
Quick Q: why do you – yes, you! – feel the burning desire to slag off female DJs on chatrooms?

— BOILER ROOM (@boilerroomtv) June 29, 2016
When I approached Nightwave for comment, she felt well supported in the event's aftermath – but showed concern about the message this degree of abuse sends to other women interested in producing and DJing. "Every performer faces critique, as it's part of the job and I don't hide from that, but as a woman in the music industry there's no doubt that I have had to face disproportionate prejudice over the years and most worryingly, I've seen first-hand how it discourages other women from DJing and making music. I had a great time playing Boiler Room last night and a few sexist trolls aren't going to ruin that for me, but if this experience helps the industry and the fans to take a look at this ingrained and blatantly unacceptable misogyny, then obviously I will support that wholeheartedly."
Speaking to Szatan and his colleague Julia Kisray last Thursday, I asked what had triggered the abusive posts. They both felt that it was the shift onto Facebook Live that had upped the levels of trolling, as anybody who had an account on the platform was now able to comment on a live stream, whereas before they were required to log in for chat room participation. There had been a conversation about trolling and abuse before, but it had been the shift to a new platform that had been a catalyst. Szatan told me that he felt that there was a new group of people who don't necessarily even follow Boiler Room trolling on streams, with their friends seeing those posts and subsequently adding to the conversation. "In the hasty tweets that I put out yesterday [last Wednesday night], I maybe insinuated that there is a large part of Boiler Room's community who are involved in hateful commenting," Szatan commented. "But looking back at it today, it's mainly people who are just mucking in to see it pop up on their timeline. So it's become a sounding board for a generalised hatred but not necessarily from our real fans or even from electronic music fans."
Whether or not this is necessarily true is going to be hard to quantify, but one thing is for sure, moderation is going to have to be an important step forward for Boiler Room now that they are using Facebook Live. Dummy also heard from Madam X, who said that she felt that the abuse on the live stream was an issue that was part of a wider problem, with men seeing women as voiceless bodies. "I think it's got more to do with the way society look at women. We are 'bodies' and mainstream media has constructed it that way. They don't offer us a voice or a brain. Advertising, music videos, headlines, everything is sexualised…we're not given a voice or an identity. It's just 'WOMAN'."
It's ridiculous that when we talk about women and queer people in music, the fact that if they are female or queer is the central issue that they represent to the media. Aimee Cliff from The Fader tweeted drily about the topic recently.
what if u did an all-female panel/interview/event about something other than being a woman. industry tips for example. or plants

— Aimee Cliff (@aimeecliff) June 21, 2016
I'd honestly much rather be reading about the sonic aesthetics of Nightwave's set than her gender and I would like to see queer producers no longer feel like they are booked to add an 'otherness' hype to a lineup.
Having looked back through the negative comments on Nightwave's set, I saw one more thing that is more specific to dance music, which I felt contradicts Szatan's assertion that the people leaving abusive posts aren't really electronic or dance music fans but rather, generally hateful men that happened upon the live stream. It is that one of the key ways in which commenters criticise Nightwave for her usage of a Serato vinyl set up, which included a laptop. The focus on the gear and on the way a DJ performs is a relatively new development, and Boiler Room has definitely played a big part in changing the dynamics of the club from being a mostly blank space for dancing to DJs being on stage with audience members facing them. Nightwave told me this was something she really dislikes. "Stressing out about the DJs equipment and appearance is really not what club music is about. I grew up in raves with the DJ stashed in the corner, crowd looking away from the DJ, getting lost in the music, and enjoying the experience of collective connectedness. I certainly don't give a fuck about Jesus poses and I hate being high up and on display. In my opinion, if you do a good selection job and make people dance and smile, it doesn't matter if you use obscure dubplates or YouTube at an afterparty. If you want to stare, and analyse, and get lost in technicality then get out of the rave and go to a turntablist show."
"Stressing out about the DJs equipment and appearance is really not what club music is about. I grew up in raves with the DJ stashed in the corner, crowd looking away from the DJ, getting lost in the music, and enjoying the experience of collective connectedness. I certainly don't give a fuck about Jesus poses and I hate being high up and on display." – Nightwave
The issue of gear fetishism is quite widely talked about and there's been a lot of chatter about the 'vinyl-is-real-and-anything-else-is-bad' debate. From what I've seen frequently – and both Julia and Gabriel agreed that this was a problem – is whereas for the most part, men are able to use the equipment they wish to DJ without receiving such severe barrages of criticism. Whereas, if a woman is a technically good vinyl DJ, she'll be objectified and fetishised (Szatan mentioned this was an issue when Volvox of the Discwoman collective played recently), and if a woman uses a controller or laptop, they receive the kind of sexist shitposting that Nightwave did. I'm not saying that sexist and abusive trolling is always focused around gear and technique, but it is becoming a very common starting point.
I've seen this happen in person too. At a night I promoted myself, a young, queer DJ was condescended to in no uncertain terms about the quality of the audio interface they were using to DJ with. I've seen female DJs flat ignored with technicians or club workers speak to their boyfriends or male counterparts during setting up, assuming that they were the ones booked on the line-up. Obviously, there are sound quality issues inherent in cheaper audio gear but for women, queers, people of colour, it is often the only access to music they have. The keys to most studios, practice rooms, and clubs are in the hands of cis-het white men and they can feel like pretty inaccessible spaces to many.
In my personal opinion, hearing a diverse music selection at a night is more important than perfect sound quality. That diversity represents a different kind of relative fidelity, which is an inclusive social quality that I place above high fidelity audio. The quality of sound speaks of its inception, its history, the bodies behind it, and the social networks through which a track finds its way to the speakers. Marginalised bodies using marginalised technology, but breaking through bland and uniformed club spaces.
This was a thought echoed by Englesia, Terribilis, and GANX – three femme DJs who run the UNITI club night in Hackney Wick. They told me that they'd all learnt from free Virtual DJ software and that for the most part, had practiced in private rather than in shared spaces. They all agreed that there's a lot of snobbery around how to DJ and promote 'properly', and that it serves as a barrier for a lot of non-male and marginalised people. Radar Radio was a space they agreed was taking some steps to combat this – notably by hosting women's music production classes that were run by female DJ E.M.M.A. – although they still described turning down their mixing whilst practicing there, for fear of judgement.'
If we are being serious about confronting discrimination and improving diversity within electronic music to the point of it being utterly unremarkable that people other than men are DJs, improving access to safe spaces with gear, and changing the discussion about what techniques are 'good' is vital. As Englesia told me, "Offering platforms to marginalised people within dance music shows others who identify with those people someone to look up to, someone who makes them think that they can actually do stuff like DJ and produce. [This makes it clear] that it's not just a boys club."
It's important to note that these issues don't only relate to not-men in electronic music. Recently a video emerged of female computer programmers taking aim at the abuse and misogyny they face from their male counterparts.
It's worth taking into consideration the sexist abuse aimed at female game producers and critics during 'Gamergate'. There is a common thread here: women, POC, and queers who work in digital and creative industries too often find themselves a target for abuse from men who seem terrified by the success of anyone beyond themselves.
I myself graduated from the Digital Music and Sound Art degree at Brighton last year (privilegecheck √). In my class we had three women by the end of the course, out of a total of over 30 in the year. The year below us were all men. When challenged, the course leader told me that they desperately wanted to encourage women and accept women them onto the course, but they weren't applying. By contrast, in the same school a Performance and Visual Art course, which shared a lot of the same facilities and skills as my course but focused on performance practices rather than production, was populated by almost entirely women.
We need to confront these attitudes that divide areas of production and work by gender. Actions like those being taken by Boiler Room to moderate and block abuse are surely good steps, but change only the symptoms, rather than the cultural bias that in part produces them. I would like to see an industry-wide push to create a space for marginalised folk to unite and share skills that would support each other to run events and clubs together, as well as refiguring the conversation about technology to support and validate those who don't have access to them, but who still want to perform. As the club landscape in the UK is shrinking, it's vital that diversity is championed, and given safe spaces to flourish.
"A lot of the time men don't wanna see us succeed. That's why we gotta fight for our own spaces, as if men wanted it to change, it already would have." – GANX, UNITI
I want to see booking and fee parity for women and queers. I want an end to all-male lineups. I'm not arguing for quotas, as I genuinely don't think there is a need for them. If, as a promoter, you can't find a non-male person that fits a bill, you're probably not looking hard enough, or have maybe created an environment that isn't a good place to be unless you're male. I want to see clubs make it easier and less intimidating for women and queer promoters to run events. As GANX of UNITI told me, "A lot of the time men don't wanna see us succeed. That's why we gotta fight for our own spaces, as if men wanted it to change it already would have by now."
It was refreshing to hear that Boiler Room has a close split of men and women working across their teams, with many of the technical and production staff that handle filming and recording for broadcasts being women. Kisray told me this likely as to why, in her experience, that they very rarely experienced IRL incidences of harassment at a Boiler Room events. One club-night that has worked hard to create an inclusive and safe space for DJs and audiences is Tropical Waste, which takes place at The Waiting Room in Stoke Newington. After complaints arose earlier this year, Seb Wheeler – who co-runs the night with producer Iydes – decided to take action and adopt a safe space policy. I asked him to expand on this. "We introduced an anti-harassment policy at our party after we received a complaint of sexual harassment earlier this year. We make it as clear as possible that harassment of any kind – verbal, physical, or sexual – against anyone is not acceptable and that anyone who's making others feel uncomfortable will be made to leave the party. We post the policy on our website, Facebook events, ticket page, and also at the entrance to the club and in the toilets. We hope that people read it before or during the party, so they know that negative behaviour is not OK and that if they have any problems, they can come to us or the security for help."
"We make it as clear as possible that harassment of any kind – verbal, physical, or sexual – against anyone is not acceptable and that anyone who's making others feel uncomfortable will be made to leave the party." – Seb Wheeler, Tropical Waste
The UNITI DJs also spoke strongly in support of safe space policies, with GANX saying that: "Everyone who complains about safe spaces has very clearly never felt unsafe in a club and therefore aren't going to understand it or respect it. Those are the guys we don't want at our nights".
At the end of our conversation, I asked Boiler Room's Szatan and Kisray if they had any plans to run any events – such as workshops, panel discussions, or skill-share events to support women, queers and others communities marginalised from club music – giving them chance to produce, DJ, or perform. They answered very positively, and it was encouraging to hear that they had a lot of enthusiasm around running these kinds of events. What is to come of that energy is yet to be seen, but I'm fully behind Boiler Room to make a in a move to not only improving moderation online, but to follow through and invest into aiding the development of a more diverse, inclusive, and safe scene on the ground.
Ni-ku plays Tropical Waste at the Waiting Room on July 22nd alongside Kablam, Air Max 97 and Uli K (info).Follow Nik Rawlings on Twitter.