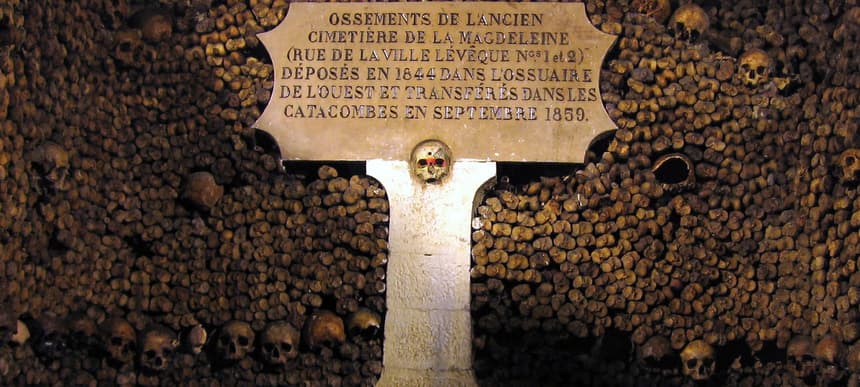 22.07.2022, Words by Billy Ward
Crypto developers throw illegal techno rave in Paris' catacombs
It went on until 4am with a rule that revellers must "leave no trace"
A crowd of around 100 crypto fans turned the site of Paris' Catacombs, a series of underground tunnels filled with the skeletal remains of six million people, into an illegal techno rave.
Hundreds of crypto fans travelled to the French capital earlier this week to attend the Ethereum Community Conference, an annual event drawing the world's top developers and cryptographers together to focus on Web3 technology and building out the community.
According to a report by CNBC, attendees of the conference descended into the catacombs to put on a secret, invite-only rave, including a DJ, bar and neon lights. It reportedly went on until 4am with a rule that revellers must "leave no trace" at the end of the event.
One of the attendees, who chose to remain anonymous for fear of being contacted by Paris police, told CNBC that the party was "very illegal but also very crypto."
It's understood that multiple groups gathered around the underground landmark late on Saturday night to sneak in, with each team being organised and assembled via an anonymous Telegram group and assigned to their own entrance.
"You got a link and a password to a survey form, and you basically answered some questions and gave your Telegram," they attendee told CNBC. "If you were chosen for this adventure, you got added to a Telegram group with a handful of other people you didn't know, and the guide dropped into the thread on the day-of to tell you a meeting spot."
The route to the rave was described by the attendee as on of the most ridiculous things they've ever done, including crawling under fences, tracing the path of old train tracks and wading through thigh-deep water. All the paths converged on a large central cave, where the ravers were found dancing to techno for the majority of the night.
Read next: Secretsundaze to celebrate 20th anniversary with 'Spirit of Sundaze Ensemble' live show