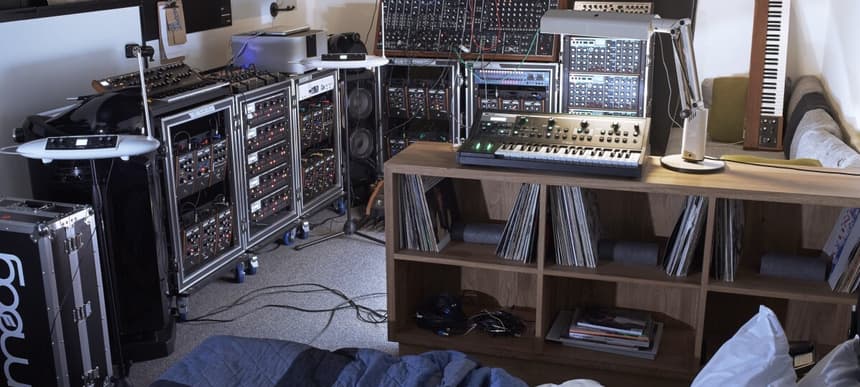 30.07.2015, Words by Natalie /
Dummy partner with Moog Sound Lab and Ace Hotel
Six artists will take residency at Shoreditch's Ace Hotel to host a month of the Moog Sound Lab project supported by Dummy.
It has been 10 years since the passing of Dr Robert 'Bob' Moog. A true musical innovator, it would be impossible to imagine a musical world without the synths he created.
To celebrate his legacy Moog Music Inc. have loaned a specially assembled, super-stocked studio of old and new Moog instruments to Shoreditch's Ace Hotel including only a handful in the world of their new reverse engineered classic '70s Moog System 55 modular and some aural muscle from Bowers & Wilkins 802 Diamond speakers.
Now Dummy brings you the latest series, which will see Moog Sound Lab literally move into one of the bedrooms at Ace Hotel for an entire month of Moog-ing. The six artists will be spending four days (and nights) cosied up to the equipment which will conclude with a live performance of their creation in the Ace's basement space, Miranda. Oh, and to save some face, it's pronounced Moog as in vogue… not Moog as in droog.
The UK Moog Sound Lab is touring the country for the whole of the year, offering artists access to make new Moog-ed music. To date the studio has appeared at the Surrey University Institute of Recording where BAFTA nominated Mica Levi worked on new pieces, The Supersonic Festival residency at Birmingham City University with Gazella Twin and last but not least, the three day 'Moog Concordance' at The Barbican headlined by a live performance by New York electronic punk pioneers Suicide along with guest vocalists Henry Rollins, Bobby Gillespie and Jehnny Beth from Savages. The gig was described by a reviewer at The Telegraph as "one of the strangest concerts I have ever seen".
The full Moog Sound Lab residency line-up is as follows:
Andy Blake
Gazelle Twin
David Colohan (United Bible Studies)
Iain Forsyth & Jane Pollard
Jim Tenor
Keiji Haino
Another exciting element to the Moog Sound Lab which will undoubtedly make the Ace Hotel residency even more unique is cult artist Brion Gysin's Dream Machine. A close friend to beat writer William Burroughs, Gysin's creation features a flickering light machine that stimulates the alpha waves of your brain. A contraption that couldn't be derived from any other decade than the '60s, he described the machine as "the first work of art designed to be looked at with your eyes closed" that offered "a drugless trip". Each of the artists working at the Ace / Moog Sound Lab will have unlimited access to a Dream Machine which will be used in the live performance. If you want to find out more about the Dream Machine watch this.
More information and tickets available from Ace Hotel (here).