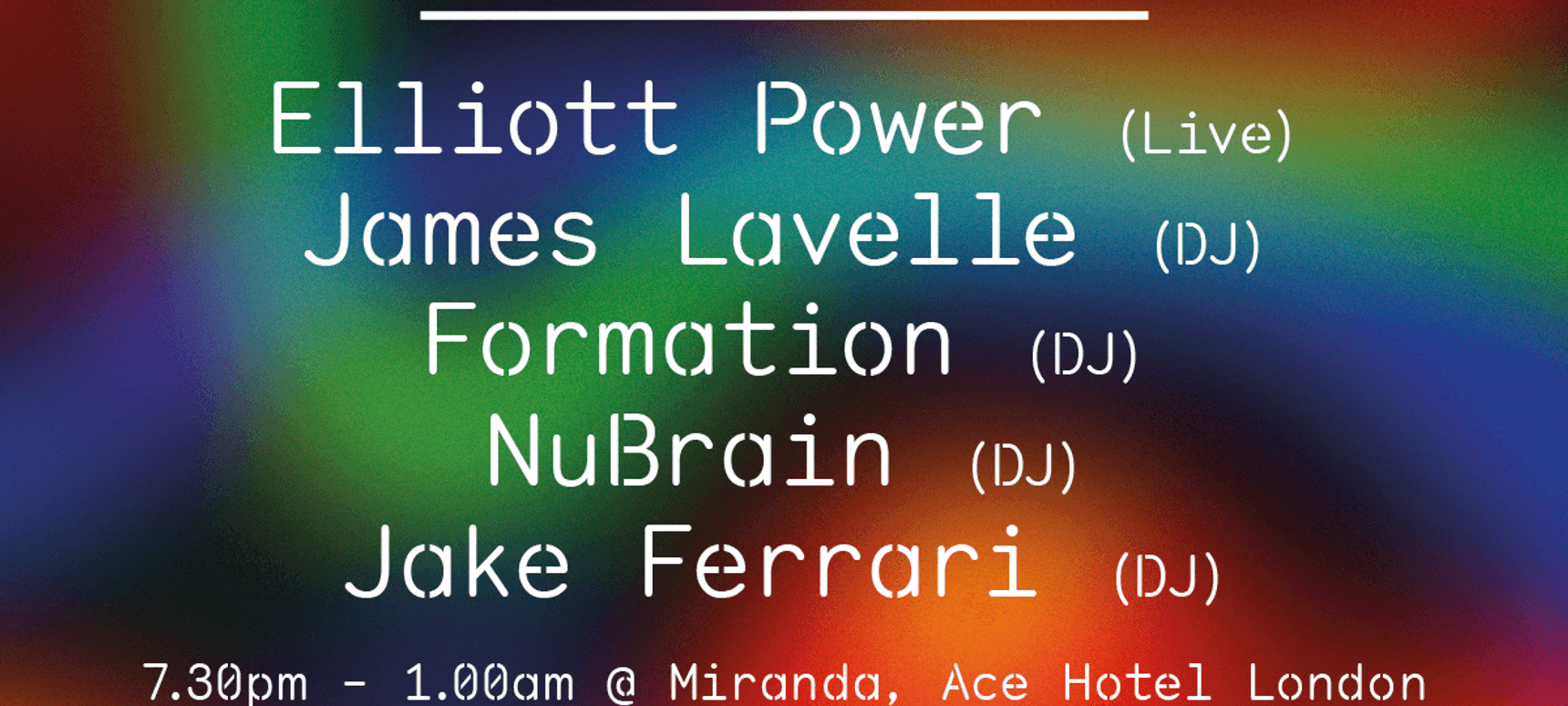 06.01.2016, Words by dummymag
Dummy Presents: Mo'Wax & Marathon Artists
Throw your new year's resolutions out of the window as Dummy return on January 21st with an extra special label showcase at Miranda, Ace Hotel London. Yeah you read it right, we're bringing James Lavelle's iconic Mo'Wax label info the fold, featuring the first ever full band performance from Mo'Wax and Marathon newcomer Elliott Power, as well as an exclusive set from Lavelle himself.
Like always, it's free with a simple RSVP.
Enigmatic is a word that has followed London-based producer Elliott Power since trickling his music online nearly two years ago. "I'm not deliberately elusive or trying to be this secretive character. I've tried to find a happy medium between being an artist and having a private life and those lines often get blurred," he told Hunger in late 2014. But then Power disappeared again, reemerging with the "cinematic excursion" Murmur in early September of the following year. Announcing details of his debut album 'Once Smitten' in December, as well as sharing the lead single Sword Souls – a track which, according to the man himself, "uses the metaphor of a samurai seeking peace by avenging his master's death as a meditation on his own goals and unquenchable drive to succeed."
What can we say about James Lavelle? The man has single-handedly shaped the face of modern dance music – setting up the Mo'Wax label in '92, working with DJ Shadow under his UNKLE moniker and subsequently collaborating with the likes of Richard Ashcroft, The Beastie Boys' Mike D, Badly Drawn Boy and Thom Yorke. Beyond his original productions and work on soundtracks (notably the bizarre Ray Winstone fronted alt-gangster flick Sexy Beast), Lavelle is also a highly sought after remixer, who has transformed tracks by a bevy of artists including Garbage and Massive Attack. A Thursday night treat for anybody who wants to sweat some festive pounds off in the Miranda basement.
Growing tired of playing music with other friends and bands, Formation was born from two brothers who were determined to find a new groove. With a connection that stems directly from the womb, Matt and Will Ritson found that sweet solace as Formation. After initially teasing their music through DIY methods, Warner Music sub-label Meno Records snapped them up for their first "proper" release, the 'Young Ones' EP, released back in March of last year. With this in mind – expect musical amalgamation of funk, soul, dance and uninterrupted groove.
Acyde was formerly known as one half of London duo We Are Shining with Hyperdub producer Morgan Zarate, who released a funked up debut single Hey You on Young Turks back in 2012. He is now a standalone producer and DJ, with his first cut producing and adding vocals to the track Back Home from ASAP Rocky's latest record. Already ticking off musical milestones with a Boiler Room set, NTS slot, and a Dummy mix we're pretty sure the now standalone producer Acyde won't be shy.
The headliners will be joined by DJs Jake Ferrari and Elliott Power's NuBrain collective, made up of a multi-talented selection of filmmakers, producers and musicians.
Dummy Presents: Mo'Wax and Marathon Artists on January 21st at Miranda, Ace Hotel London – free with RSVP.