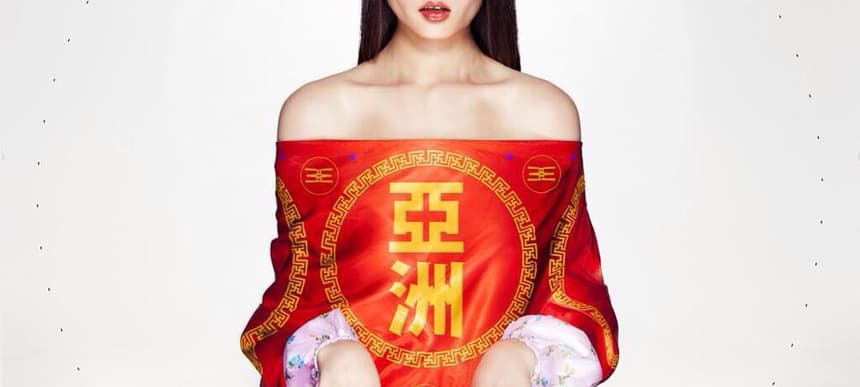 04.03.2014, Words by dummymag
Hyperdub share full details of Fatima Al Qadiri's debut album, 'Asiatisch'
The experimentally-inclined label spill the beans on the conceptual artist's debut LP, featuring a cover of Nothing Compares 2 U.
Fatima Al Qadiri – the multi-disciplinary artist and musician from Kuwait responsible for fascinating conceptual music on labels like Tri Angle, Fade to Mind, and UNO, as well as a member of DJ team Future Brown – recently announced that she'd be releasing a debut album, 'Asiatisch', through Hyperdub. The label have now announced full details of the record.
The album's conceptual nexus is the exaggerated version of Chinese culture perpetuated in Western media. Musically, Qadiri pays homage to sinogrime, a subset of grime that explored Asian motifs and melodies (and is best captured in the legendary sinogrime mix by Hyperdub boss Kode9). There's a lot to take in elsewhere: its title 'Asiatisch', is the German word for 'Asian', while the music, quoth the press release, "revolves around the fantasies of east Asia as refracted through pulpy Western pop culture, in particular, Hollywood, literary fiction, music, cartoons and advertising."
Excitingly, the album opens with a bizarre and moving cover of Nothing Compares 2 U, using nonsensical Mandarin lyrics. It really has to be heard to be believed.
The artwork was designed by Babak Radboy, from art collective Shanzhai Biennial, while the music was mixed by Lexxx (last heard on the slightly more conventional Wild Beasts album 'Present Tense').
Track list:
01. Shanzhai (For Shanzhai Biennial) (feat. Helen Feng)
02. Szechuan
03. Wudang
04. Loading Bejing
05. Hainan Island
06. Shenzhen
07. Dragon Tattoo
08. Forbidden City
09. Shanghai Freeway
10. Jade Stars
Hyperdub release 'Asiatisch' on May 5th 2014.