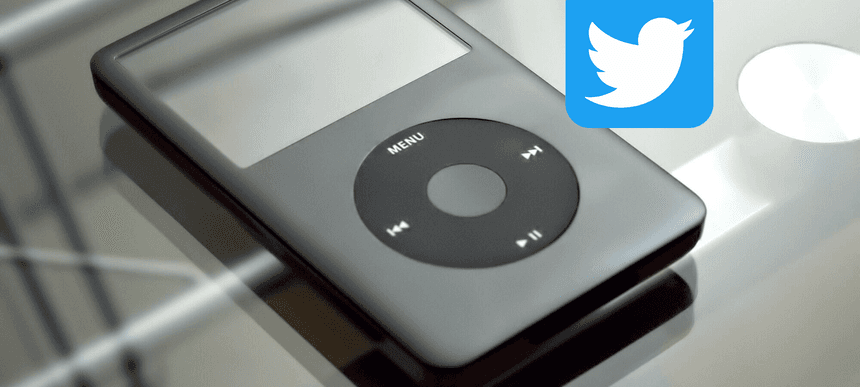 11.05.2022, Words by Billy Ward
iPod nostalgia is taking over social media after Apple discontinue the product
Fans have been sharing their iPod memories for all to see...
Twitter has been inundated with nostalgic iPod-related posts after fans woke up to the news that Apple has discontinued the widely-loved product after 21 years.
Since its introduction in 2001, the iPod revolutionised the way people consumed music and has been one of Apple's most popular products over the past 2 decades, selling in the ball park of 400 million units.
After discontinuing the Classic, Mini, Nano and Shuffle iPods, Apple announced this week that the final generation – the iPod Touch – will remain on sale "while supplies last", although the discontinuation will see stocks slowly fade away.
"Today, the spirit of iPod lives on," Apple's senior vice president of Worldwide Marketing, Greg Joswiak, announced in a statement.
"Music has always been part of our core at Apple, and bringing it to hundreds of millions of users in the way iPod did impact more than just the music industry — it also redefined how music is discovered, listened to, and shared."
News of the iPod's downfall has seemingly struck the heart strings of fans across the world, who have come out in numbers on social media to bid the nostalgic product farewell.
From digging out old iPods, to appreciating Apple's slick marketing strategy around the product, fans have been sharing their iPod memories for all to see.
Check out some of the reactions on Twitter below.
Damn… lowkey a little sad to see that Apple has officially discontinued the iPod from today.

This thing changed the music game forever. RIP. pic.twitter.com/1Oskbo7eag

— Jon (@MrDalekJD) May 10, 2022
With the Apple iPod officially sailing off into the sunset, let us all pay our respects to perhaps the most brilliant ad of all time.

"1,000 songs in your pocket"

Simple, intuitive, perfect. pic.twitter.com/ELVFB27nLY

— Sahil Bloom (@SahilBloom) May 11, 2022
Soon to be retro. My original #Ipod from 2005, still working away and travels with me every day. I thought it best not to show the song list 😀 pic.twitter.com/5l3XvWiLFz

— phil2B (@b_phil2) May 11, 2022
some of you have never had to download mp3s one by one and painstakingly change the song title and artist credits for it to appear somewhat put together on your ipod and it shows

— born_singer-2022_remaster.mp3 (@houseofwhalien) May 10, 2022
I think everyone remembers their first Ipod! Can't believe it's been more than 20 years! We have Apple to thank for such quick changes in music history! #GoodbyeIpod https://t.co/g1wNbeQyP0

— Hannah Biddle (@NJBiddle) May 11, 2022
Dug out my old #ipod collection – they all still work! Enjoying the random selection on the iPod shuffle! pic.twitter.com/5GUaxp5Bii

— Neil Hopkins (@thermalsatsuma) May 11, 2022
Read next: New CD-vinyl hybrid dubbed "the first breakthrough in analog sound reproduction" in 70 years