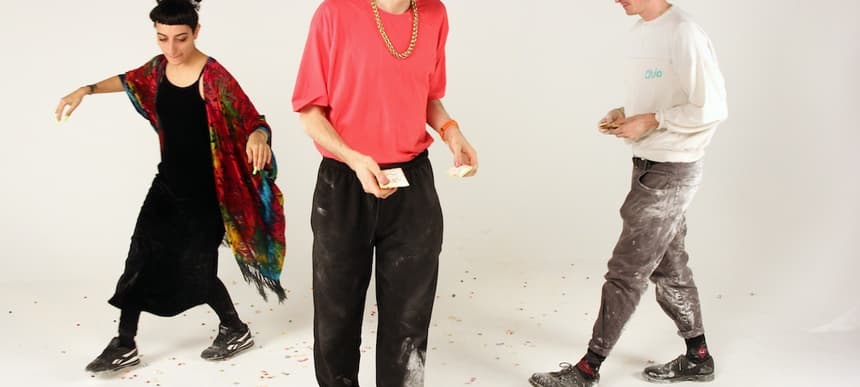 26.02.2015, Words by dummymag
Joey Fourr - Dirty Hole
Off-kilter yet accessible DIY pop from Joey Fourr's debut album.
Joey Fourr is a DIY pop musician from London. Nerds amongst you will recognise the bandleader, Joseph Prendergast, from his previous outfit, the math-y, hardcore-y group Tubelord.
As Joey Fourr, Prendergast and pals Moe Meade and Jack Barraclough write off-kilter pop songs influenced by incomparable freaks and weirdos like Lizzy Mercier Descloux and Haruomi Hosono. He's made 11 EPs already, many of them finding a home on the UK's premier DIY labels (Art Is Hard, Reeks of Effort, etc.), but now he's got an actual real life album coming out called 'To The Floorr'.
'To The Floorr' was recorded in two defiantly DIY spaces in London: ace Dalston venue Power Lunches, and Bermondsey art studio Good Job, the latter of which was demolished last year to make way for luxury flats or some sort of venture capital-backed coffee emporium or something – another chapter in London's ongoing David & Goliath story where Goliath always wins.
All of these facts should give you a hint as to what to expect from Joey Fourr: it's music that's entirely on its own path, made out of a sheer love of music and a love of community. It's got a kind of ZE Records-ish quality – bizarre, but with a good sense of humour and rooted in something accessible. It's also got a lot to do with butts – this new song is called Dirty Hole and, well, just take a look at that artwork.
Joey Fourr will play some live shows in various small venues in London over the coming months to celebrate the release of 'To The Floorr'.
Joey Fourr 'To The Floorr' tracklist:
01. My Dolphins
02. Gold Boy
03. Jewels
04. Dirty Hole
05. Cross Dresser
06. Mickey
07. Luv In The Mornin
08. Witch Hunt
09. Avg Palms
10. Believerr
11. Soak It Up
12. Boys II Girls
Joey Fourr live dates:
April 2nd: Power Lunches (Album Launch), London
April 3rd: Flashback Instore, London
April 18th: Club Motherfucker (with Bottoms) at Victoria, London
May 23rd: Bird's Nest, London
Mïlk Records release 'To The Floorr' on April 1st 2015 (pre-order).