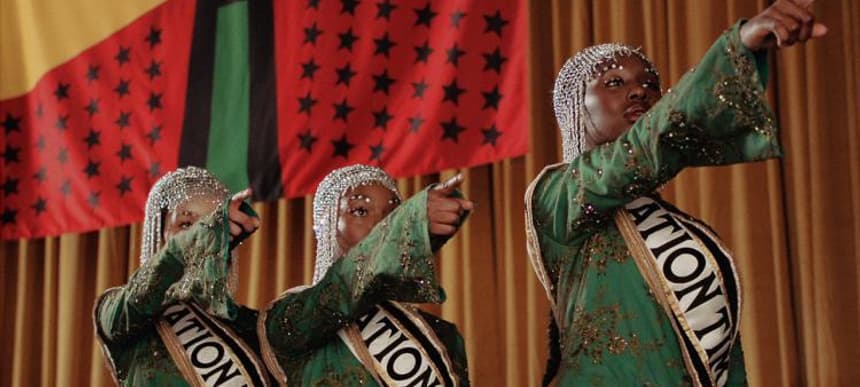 17.10.2018, Words by dummymag
Kamasi Washington's new video celebrates Pan-African ideology
It's by the London-based director of 'APESHIT', Jenn Nkiru
Kamasi Washington's 'Hub-Tones' has just gained a stunning video directed by Jenn Nkiru – the brains behind Beyoncé and Jay Z's hugely-acclaimed 'APESHIT' visuals.
The track, taken from Washington's second album released back in June, is a jubilant interpretation of a track by jazz trumpeter Freddie Hubbard.
Of the video, the London-based director said: "With the visual for 'Hub-Tones', I wanted to invoke the immediate ecstatic connection it gave me: There's a traditional ceremony called Oboni in the Ikwerre tribe, my parents' tribe – the tribe of my heritage. The idea is through repetition, instrumentation and movement, to channel spirit, going deeper and deeper with the changing of each tone within the music till it becomes hypnotic and transcendent. I felt this level of immediate connection to 'Hub-Tones' plus with this being a Freddie Hubbard cover and him being the king of tones in jazz it all felt so symbiotic and fated. I then went about giving the women featured the choreography, movement and codes to take us deeper into that spirit-space.
"I was also thinking about what an abstract Pan-African connection could feel like so I included the Pan-African Flag For The Relic Travellers' Alliance by artist Larry Achiampong, make-up and crystal adornment in the style of Nina Simone and the lighting seen in the courthouse of the hearings of Anita Hill and of course – the call to Nation Time emblazoned on the sashes of each women. There are other hidden gems too but I'll allow the audience to uncover them."
"Hub-Tones is me trying to connect my ancestors via music," Washington says. "As an African-American, a lot of us don't know the country of our origin, that's why most of us take on the ideology of Pan-Africanism. I was trying to connect to my ancestors by connecting African rhythms with a Freddie Hubbard tune which gave me that connection in a different way."
Watch it below.
–

Kamasi Washington's 'Heaven And Earth' album is out now on Young Turks.