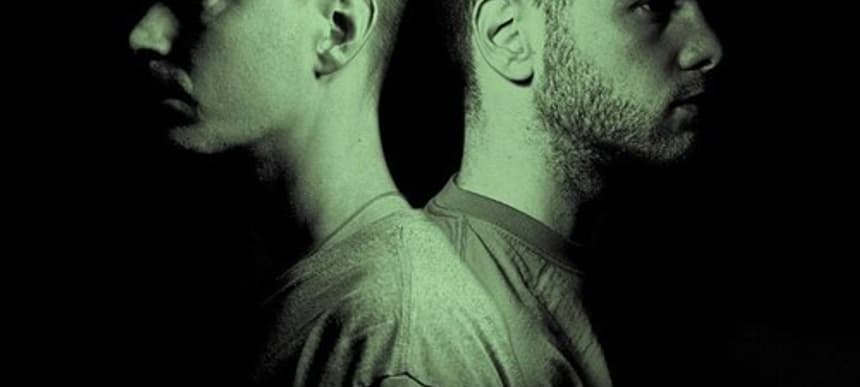 19.05.2014, Words by dummymag
Mumdance and Pinch are going back-to-back for a new mix CD
Given the functional title 'Pinch b2b Mumdance', the mix showcases new music from the two club producers.
Tectonic Recordings are putting out a new mix next month – a back-to-back session between label boss and dubstep original Pinch and occasional collaborator/DJ partner Mumdance.
Graced with the highly functional title 'Pinch b2b Mumdance', the 19-track mix is made up entirely of tracks by the two producers – either solo, in collaboration with one another, or in collaboration with other artists (Mumdance continues his healthy pairing with grime producer Logos).
The mix is billed as a celebration of the UK's dance frontline right now, with Mumdance telling Resident Advisor that, "In my opinion the dance music climate in the UK is enjoying a healthy and extremely interesting transitional period; one which I would draw parallels to the 93/94 "proto" era when people were literally making up the rules as they went along. This mix is an ode to that time and our attempt at throwing some ideas out there, with the hope of sparking some imaginations & pushing things further forward."
The mix – a pre-planned set with much of the music completed specifically for the mix, rather than a freewheeling b2b – will be released digitally and on CD next month.
If you need a quick fix, check out Mumdance's recent Dummy Mix (one of the best we've ever hosted) made up entirely of music from Egypt's Mahraganat movement, as well as Take Time, his new single featuring South London MC Novelist.
Tracklist:
01. Logos – Savanna Overlord
02. Alex Coulton – Sinners
03. Pinch – Obsession (The Possession)
04. Pinch – Obsession (The Possession) (Shed remix)
05. Mumdance – The Sprawl
06. Pinch – Down
07. El-B – Buck & Bury (Ziro remix)
08. Nurve – Wrong Number
09. Mumdance – Doom
10. Mumdance & Logos – Legion (VIPinch Mix)
11. Pinch & Mumdance – Noctis
12. Asusu – Velez (A Made Up Sound Remix 2)
13. Pinch & Mumdance – Whiplash
14. Mumdance & Logos – Bagleys (Reese Tool)
15. Pinch & Mumdance – Double Barreled Turbo Mitz
16. Mumdance & Logos – Move Your Body
17. Ipman – Ghostrunner
18. Pinch & Mumdance – Lucid Dreaming
19. Logos – No Skyline
Tectonic Recordings will release 'Pinch B2B Mumdance' on June 30th 2014.
[via RA]