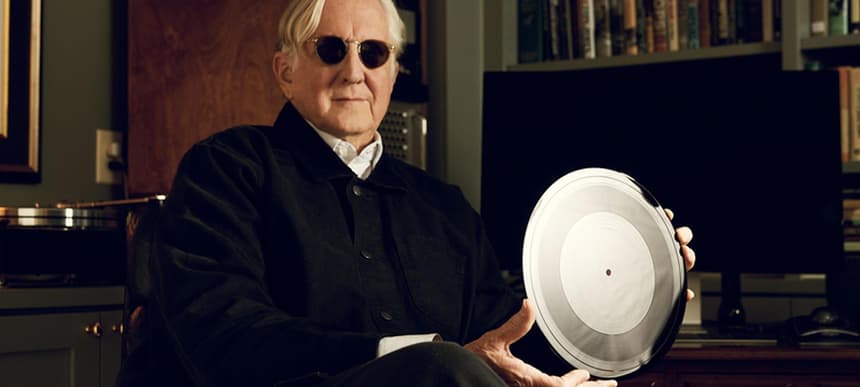 04.05.2022, Words by Billy Ward
New CD-vinyl hybrid dubbed "the first breakthrough in analog sound reproduction" in 70 years
Bob Dylan is said to have re-recorded some classic material to debut the 'Ionic Original'
Legendary US producer and guitarist T Bone Burnett is developing a new disc medium which is being described as the "first breakthrough in analog sound reproduction in more than 70 years."
The new invention, named "Ionic Originals", combines technology from CD and vinyl manufacturing by using both lacquer and aluminium as materials.
Traditionally, vinyl LPs consist of PVC (polyvinyl chloride) plastic with no metal components, whereas standard compact discs consist of polycarbonate plastic with a metal layer. By uniting elements from both manufacturing techniques, the new hybrid disc produces a better sound than CD and vinyl, as well as anything you'd hear from streaming a track digitally, according to Burnett.
In a press release, Burnett positioned Ionic Originals as one-of-a-kind objects and claimed the discs to be the "the pinnacle of recorded sound."
"It is archival quality. It is future-proof. It is one of one. Not only is an Ionic Original the equivalent of a painting, it is a painting. It is lacquer painted onto an aluminium disc, with a spiral etched into it by music. This painting, however, has the additional quality of containing that music, which can be heard by putting a stylus into the spiral and spinning it."
According to Pitchfork, the producer has been working with former band-mate Bob Dylan, who re-recorded some of his classic material to emerge as the debut release on the new medium. No release date has been specified yet.
Burnett has started a new company, NeoFidelity Inc., to distribute Ionic Original and "reset the valuation for recorded music," however, the recent revival of vinyl may prove to be tough competition. In 2020, vinyl outsold CDs for the first time in 3 decades and the vinyl industry has continued to boom ever since.
Do you think Ionic Originals will make a significant impact on the record industry?
Join the Do Music Yourself community on Discord to have your say.
Follow Do Music Yourself on Twitter and Instagram.
Read next: New Brian Eno documentary will use "generative technology" to create unique viewing experiences