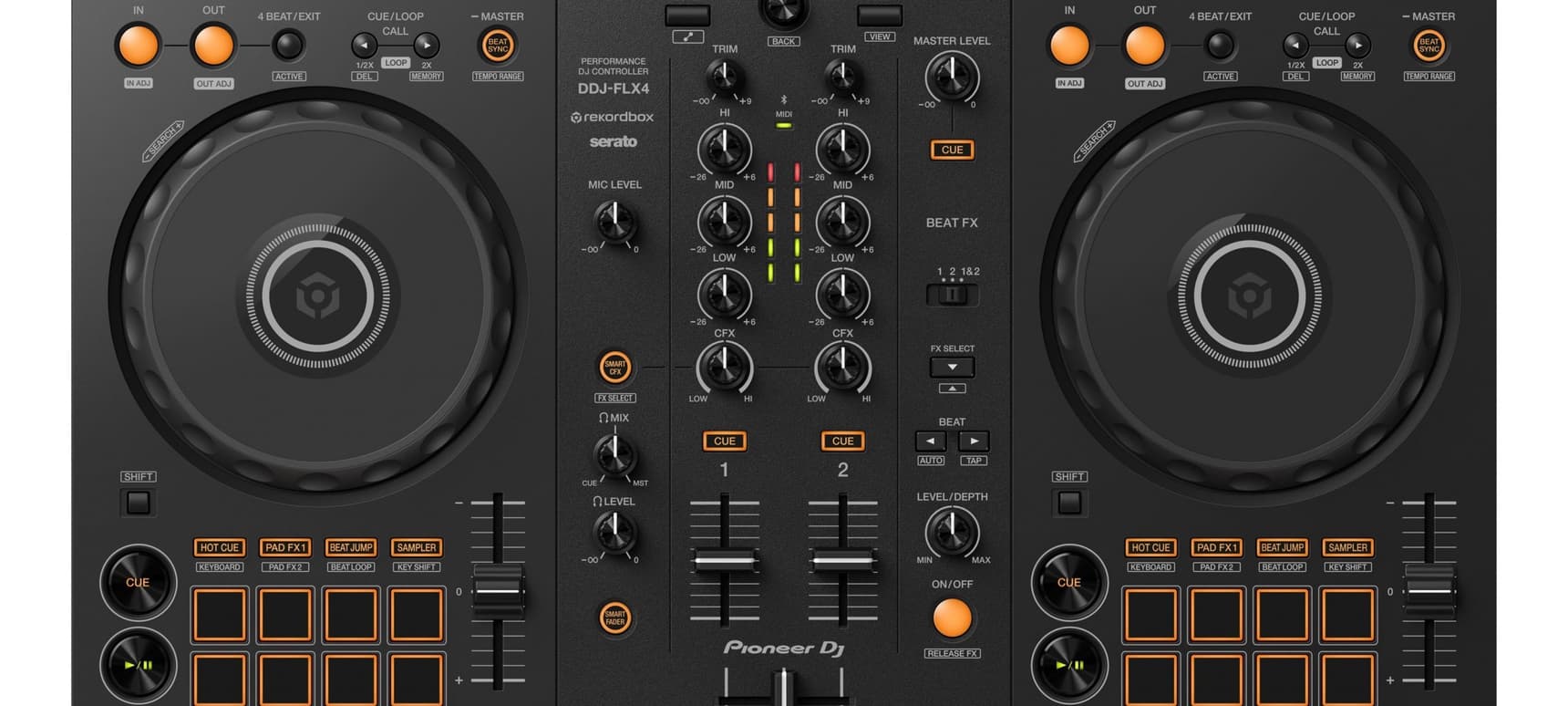 08.11.2022, Words by Billy Ward
Pioneer DJ reveal new controller bringing a professional feel to beginners
The DDJ-FLX4 is available to buy now for £279...
Pioneer DJ have unveiled a new entry level 2-channel DJ controller designed to make people's journey into the world of DJing as smooth and seamless as possible.
The affordable DDJ-FLX4 features a simple, user-friendly design while offering a professional feel, inheriting key traits from the pro layout of the DDJ-400 without over complicating matters.
The controller includes 2 brand-new Smart Mixing features to help you get into the groove of mixing music right away. Switch on Smart Fader to effortlessly transition between 2 tracks by moving the crossfader or channel faders, allowing new DJs to easily jump between genres – a skill that is usually difficult to master.
Its USB audio output of the sound from the microphone means you don't need external equipment such as a mixer or sound card to add your voice to your mix. Instead, the sound from the microphone is output from the controller along with the music, so you can easily share your set via a stream from a single computer. The DDJ-FLX4 is available to buy now for £279.
Throughout October, Pioneer DJ recently held a series of workshops for people of colour across the UK. Breaking down the boundaries to participation that exist in the music industry, people of colour that had never DJ'd before were given the opportunity to learn new skills and gain insight into effective ways to pursue a career in music.
We also recently put out episode 3 of our mini documentary series with Pioneer DJ. Following episodes with BBC Radio 1 DJ and presenter Jaguar and London-based songstress Abisha earlier in the year, chart-scaling producer TSB reveals what it takes to make it in the music industry while granting rare behind-the-scenes access into his living quarters, sneaker collection, studio sessions and more.
For more information, go to pioneerdj.com.
Read next: Pioneer DJ hosts first 'Start From Scratch' event for DJs from underrepresented communities